Main content
Good Bye to Home Farm?
Home Farm, domicile of the currently stricken Aldridges, is a bastion of Ambridge. Held up as the epitome of gracious living, with a luxurious aspect unusual in the village, this early eighteenth century manor house has also been the setting for some of Ambridge's most noteworthy scenes.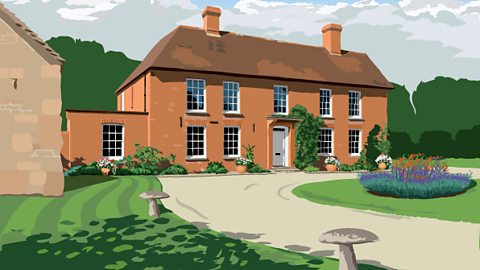 For once it's Brian who is left speechless after Jenny makes the big decision.
Take the swimming pool. Sisters Jenny and Lilian basking in the sun, white wine in hand, gossiping….and then Toby Fairbrother turning it purple when he pours raddle powder (sheep dye) into it.
It's always been a village landmark. When Brian bought Home Farm in the 1970s he could see its potential despite its conversion into flats in the 1940s and restored it to the graceful manor house with Victorian windows we know today.
Jenny helped him with ideas for the restoration and the two were married shortly afterwards. With five bedrooms, beautiful reception rooms and the swimming pool it's no wonder it was the perfect backdrop for Ruth Archer's recent 50th birthday party.
The Home Farm kitchen is one of the Seven Wonders of the World. Designed by Kingsley Harris from Borsetshire By Design and fitted by the two Steves, it caused weeks of disruption and much complaining from Brian about a lack of proper food. Even Brian reckons it was worth waiting for now though as it boasts underfloor heat-ing, granite surfaces, induction hob, boiling water tap, Belfast sink and a white wine fridge.
The kitchen even got its own official opening - a kitchen soiree inspired by Babette's Feast and attended by the great and the good of Ambridge (and Susan Carter after much hand-wringing).
The house isn't just about entertaining. Home Farm is also a workspace. Brian has his office, recently taken over by Adam which led Brian to decamp to the Bull, and Jenny has an office upstairs where she sweats over the village website.
It's also, let's not forget, a working farm. The lambing pens are only about 200 yards from the house, there's a fishing lake and a fishing hut and of course it is the conten-tious home of daughter Kate's business venture, Spiritual Home.
Home Farm may appear to be a graceful, serene manor house but with occupants like the passionate Aldridges there's never a dull moment. From illicit sexual activity bursting a bouncy castle in the grounds to Lilian using it as a refuge from her latest doomed love affair, it's seen a lot. What does the future hold for Home Farm? We'll have to wait and see.