Main content
2019 season guide
Welcome to the 125th season of the greatest classical music festival on the planet!
With 8 weeks of extraordinary music making from July through to September, enjoy over 150 events including more than 80 concerts of orchestral, choral and chamber music. Featuring many premieres; over 20 of which are BBC commissions of new works.
>> What's on - view the festival's event listings
Find on this page an overview of the festival, introductory videos plus links to events selected to illustrate the themes and range of the season.
Proms on the BBC
Many Proms are televised and the Proms' own weekly magazine programme returns on Saturday evenings on BBC Two with lively discussion with star performers from the festival and insights into the week's music.
>> TV schedule
Nearly every Prom is broadcast live on BBC Radio 3
>> The Proms on Radio
and you can enjoy the Proms on the go with downloads from BBC iPlayer and BBC Sounds.
>> 7 ways to get the Proms
Discover classical music with the Proms
If you are a music lover who is new to classical music the Proms is the perfect place to start exploring.
£6 Promming tickets are available on the day for every Prom or enjoy every note on Radio, TV and online.
Take a look at concerts in our Classical for Starters category to find much-loved favourites from the world of classical music you may recognise.
And don't miss this video of recommendations of things to try from the Proms Director David Pickard, answering questions from saxophonist Jess Gillam, who performed at last year's Last Night of the Proms.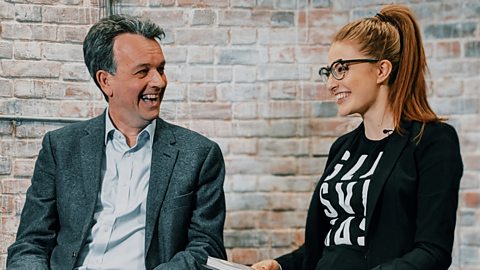 Saxophonist Jess Gillam in conversation with Proms Director David Pickard
Themes for 2019
Theme: We celebrate 50 years since the lunar landing and take a broader look at the link between music and the world around us.
Theme: We cross boundaries and embrace different traditions.
Theme: We celebrate 150 years since the birth of Proms founder/conductor Henry Wood
The Proms continues Wood's tradition of programming new work with commissions of over 20 works from established and new composers including

>> Hanz Zimmer
The festival includes a broad selection of the premieres that Wood brought to the UK. These include long-established major works, including by Debussy, Janacek, Mahler, Sibelius, Rachmaninov, Ravel and Tchaikovsky.
Look out too for composer-themed nights, following Wood's tradition.
Theme: We reflect the history of classical music in a series of 8 chamber concerts from Cadogan Hall
Free and Get Involved events
There are lots of free events at the Proms including pre-concert talks and participation events.
>> Free events
>> Get Involved