Main content
Fatherhood: 'I felt like my feelings were trivial compared to my wife'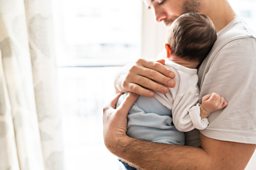 (Photo: Getty Images)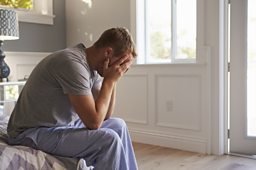 (Photo: Getty Images)
Nial Giacomelli's fictional book 'The Therapist' has opened up a conversation about dads' mental health and paternal post-natal depression.
"I felt the sense that my feelings were trivial in comparison to my wife and I think that was something that really stuck with me," he told Nihal Arthanayake on 5 Live.
"Just the idea of becoming a father, what that entails, I think that men don't really have those kind of conversations and discussions around their anxieties.
"The book itself is kind of a surreal investigation of men's health in general, and it talks about the cost of personal ignorance when it comes to mental health . I think a lot of men often suffer in silence and in certain situations, and aren't even necessarily aware that they are suffering with something.
"I think there are elements of both and, to be clear, I think you can support your partner whilst also struggling yourself, I don't think one migrates the other.
"This idea of the stoic man and the idea that we have to hold it together is harmful. I think it creates this vacuum that begins to fill up with self-doubt. Especially when you look around and don't see people having these conversations, you start to wonder, have I missed some fundamental lesson or is there some wisdom that hasn't been imparted or that hasn't been passed down to me?"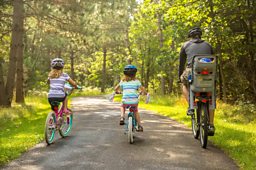 (Photo: Getty Images)
5 Live listener Steve has two step-children and a three-year-old son.
"My wife looks back [at when his kids were babies] and says that I was there in body but my mind wasn't there.
"The pressure of becoming a father was really tremendous for me. Unfortunately my mother had passed away a couple of months before we found out my partner was pregnant and it was very much a case of one going out and one coming in. I had a catalyst of dealing with a death and then obviously a child coming into the world.
"I've always thought there is a stigma around a father having to be there 'to be the rock' for the partner. Sometimes men can crumble just as much as anyone else. That's why I really champion the fact that mental health is being talking about in a much wider spectrum and there is a no longer a stigma that men have to be silent.
"In my own situation it was really difficult. I remember being curled up in a ball on the sofa. I wasn't able to move because of the anxiety being that high. The panic attacks were coming in three or four times a day. And at one stage my partner didn't even know if I was going to be at the birth because it was that bad.
"Everyone has friends. Everyone has people they can open up to about their feelings. But, I believe firmly that even though talking helps, it's the guidance you need through mental health that will help you deal with the circumstances and understand what is happening within your body."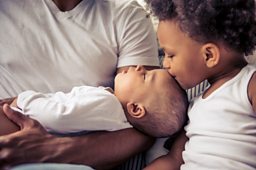 (Photo: Getty Images)
Tom (not real name) contacted the programme. He has three children, including a new-born baby.
"It [Man up] is quite a toxic phrase. What it really means, is squash your feelings, don't talk about it, and repress and bottle up everything you're going through. That is no way to deal with life stresses, especially when you have just had a child.
"The feeling of anxiety has increased each time [having children]. I get the feeling of, will I be able to cope? Will I be able to spend as much time with my children?
"Those feelings of anxiety: how will I cope with three children? It certainly made the third time a lot more difficult."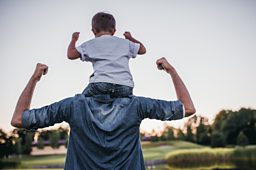 (Photo: Getty Images)
BBC Radio 5 Live listeners got in touch via texting 85058:
"Best thing I've done and I've loved every minute of it but I feel like I'm in the minority when I say this - most men I know have found it difficult. In many cases because they don't feel as involved as they would like. Difficult to raise given what mothers endure." John
"Becoming a parent was the hardest thing I've ever done. I've needed counselling the last few years as sleep deprivation took over. Will never forget standing holding my screaming three-day-old, feeling completely helpless and alone, despite my beautiful, brilliant wife who had just been through a very tough birth. Terrible guilt too. Three-and-a-half years on we are a very happy family but still exhausted. In answer to your question, dads can definitely find it hard. Talking helps so much." Jonno in Warwickshire
"I didn't find having our first child such a change. I could still watch football, play video games, those kind of things, while also enjoying taking our son for long walks and enjoying the new things you look forward to. It was the arrival of our second child where it was a real 'woah' moment. The fact that there is now two children and two parents, the dynamic changed and there's very little downtime, challenging but great." Craig in Berkshire
5 Live's Nihal Arthanayake speaks to an author whose new book has sparked a conversation about fathers' mental health, and hears from dads who felt too guilty to talk about it.
Actress Jennie McAlpine, whose dad died in 2017, investigates for BBC Radio 5 Live.

Six things you didn't know about a condition which leaves people without a 'mind's eye'.

From rosacea to acne - we've been finding out what impact your skin has on your life.