Main content
Power Laps
Every performance road car that comes to the Top Gear test track eventually ends up in the hands of our tame racing driver.
The Stig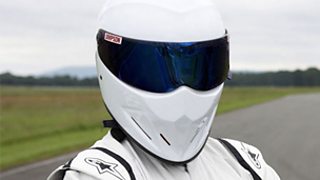 Some say that his face appears on high-value stamps in Sweden and that he's afraid of bells. All we know is, he's called the Stig.
He doesn't do sponsorship, excuses or post race press-conferences. He exists for one reason alone - to wring every last drop of performance out of any car he drives, giving us a definitive lap time around our demanding test track.
| Car used | Time (mins) |
| --- | --- |
| Ariel Atom V8 | 1.15.1 |
| McLarenMP4-12C | 1.16.2 |
| Lamborghini Aventador | 1.16.5 |
| Bugatti Veyron SS | 1.16.8 |
| Gumpert Apollo | 1.17.1 |
| Ascari A10 | 1.17.3 |
| Koenigsegg CCX (with Top Gear spoiler) | 1.17.6 |
| Noble M600 | 1.17.7 |
| Pagani Zonda F Roadster | 1.17.7 |
| Caterham R500 | 1.17.9 |
| Bugatti Veyron | 1.18.3 |
| Pagani Zonda F | 1.18.4 |
| Maserati MC12 | 1.18.9 |
| Ferrari Enzo | 1.19.0 |
| Lamborghini LP670 SV | 1.19.0 |
| Ferrari 458 | 1.19.1 |
| Ariel Atom | 1.19.5 |
| Lamborghini LP560 | 1.19.5 |
| Ferrari Scuderia | 1.19.7 |
| Nissan GT-R | 1.19.7 |
| Ferrari GTO | 1.19.8 |
| Lamborghini LP640 | 1.19.8 |
| Porsche Carerra GT | 1.19.8 |
| Koenigsegg CCX | 1.20.4 |
| Corvette ZR1 | 1.20.4 |
| Ascari KZ1 | 1.20.7 |
| Mercedes McLaren SLR | 1.20.9 |
| Ferrari 599GTB | 1.21.2 |
| Audi R8 V10 | 1.21.6 |
| Ford GT | 1.21.9 |
| Porsche 911 Turbo Convertible | 1.22.2 |
| Audi R8 V10 Spyder | 1.22.3 |
| Ferrari 360 CS | 1.22.3 |
| Porsche GT3 RS | 1.22.3 |
| Corvette Z06 | 1.22.4 |
| Noble M15 | 1.22.5 |
| Lexus LFA | 1.22.8 (wet) |
| Mercedes SL Black | 1.23.0 |
| Murcielago | 1.23.7 |
| Zonda | 1.23.8 |
| Koenigsegg | 1.23.9 |
| Aston Martin DBS | 1.23.93 |
| Veritas RS III | 1.24.2 |
| Prodrive P2 | 1.24.3 |
| Audi R8 | 1.24.4 |
| Aston Virage | 1.24.4 |
| TVR Sagaris | 1.24.6 |
| Mitsubishi Evo FQ400 | 1.24.8 |
| TVR Tuscan | 1.24.8 |
| Bentley Continental Supersports | 1.24.9 |
| Porsche Boxster Spyder | 1.24.9 |
| Merc E63 AMG | 1.24.9 |
| Noble M400 | 1.25.0 |
| BMW M1 | 1.25.0 |
| Lotus Exige S | 1.25.1 |
| BMW M3 Saloon | 1.25.3 |
| Lamborghini Gallardo Spyder | 1.25.7 |
| Lotus Evora | 1.25.7 |
| Lamborghini Gallardo | 1.25.8 |
| BMW Z4 M | 1.26.0 |
| Porsche Cayman | 1.26.2 |
| Porsche 911 Carrera 2S | 1.26.2 |
| Brabus Biturbo Roadster | 1.26.2 |
| BMW M5 | 1.26.2 |
| VXR Bathurst | 1.26.3 |
| Lotus Exige | 1.26.4 |
| BMW M3 | 1.26.5 (m) |
| Jaguar XFR | 1.26.7 |
| Chevrolet Corvette | 1.26.8 |
| Lexus IS-F | 1.26.8 |
| Mercedes CLS 55 AMG | 1.26.9 |
| Aston Martin Vanquish S | 1.27.1 |
| Aston Martin DB9 | 1.27.1 |
| Holden Maloo | 1.27.1 |
| Telsa Roadster | 1.27.2 |
| Porsche 911 GT3 | 1.27.2 |
| TVR 350C | 1.27.5 |
| Nissan 370Z | 1.27.5 |
| Audi RS5 | 1.27.5 (m) |
| Subaru Cossie | 1.27.7 (w) |
| Camaro | 1.27.9 |
| BMW M3 CSL | 1.28.0 |
| Roush Mustang | 1.28.0 |
| Renault Megane R26R | 1.28.1 |
| BMW Z4 | 1.28.2 |
| Marcos TSO GT2 | 1.28.2 |
| Subaru WRX Sti | 1.28.2 |
| BMW X5M | 1.28.2 |
| Mitsubishi Evo X | 1.28.22 |
| Dodge Viper SRT-10 | 1.28.5 |
| MG SV | 1.28.6 |
| Porsche 911 Carrera S | 1.28.9 |
| Mitsubishi Evo VIII | 1.28.9 |
| BMW Alpina Z8 | 1.29.0 |
| Mercedes CL65 | 1.29.0 |
| Ford Focus RS | 1.29.3 |
| VW Golf W12 | 1.29.6 |
| Zenvo ST1 | 1.29.9 (very wet) |
| Alfa 3.7 GTA Autodelta | 1.30.0 |
| Ford Shelby GT500 | 1.30.0 |
| Subaru Impreza STI | 1.30.1 |
| Vauxhall Monaro VXR | 1.30.1 |
| Aston Martin DB7 GT | 1.30.4 |
| Golf R32 | 1.30.4 |
| Ford Focus RS 500 | 1.30.8 (w) |
| Audi S4 | 1.30.9 |
| Porsche 911 Turbo | 1.31.0 |
| BMW 760Li | 1.31.2 |
| Vauxhall VX220 turbo | 1.31.3 |
| Vauxhall VXR8 | 1.31.3 |
| New Audi TT | 1.31.4 |
| Honda NSX Type R | 1.31.6 |
| BMW M3 | 1.31.8 |
| Nissan 350Z | 1.31.8 |
| Mazda RX-8 | 1.31.8 |
| BMW 535d | 1.31.8 |
| BMW 130 | 1.31.9 |
| Mercedes S63 AMG | 1.32.0 |
| Ford Focus RS | 1.32.2 |
| Mazda 6 MPS | 1.32.2 |
| Lotus Esprit V8 | 1.32.5 |
| Audi TT V6 | 1.32.7 |
| MG ZT | 1.33.0 |
| Noble M12 GTO | 1.33.1 |
| Mercedes SL 55 AMG | 1.33.2 |
| Volkswagen Golf R32 | 1.33.2 |
| Audi Q7 V12 TDI | 1.33.2 |
| Cadillac CTS | 1.33.3 |
| Honda Civic Type-R | 1.33.5 |
| Holden Monaro | 1.33.9 |
| Ford Mondeo ST220 | 1.34.5 |
| Jaguar XKR | 1.34.7 |
| Ford Focus ST | 1.34.9 |
| Volvo S60R | 1.35.0 |
| Ferrari 575M | 1.35.2 |
| Vauxhall Vectra VXR | 1.35.3 |
| Our Car | 1.35.4 |
| Fiat 500 Abarth | 1.35.5 |
| Alfa 147 GTA | 1.35.6 |
| Lotus Elise | 1.35.6 |
| Aston Martin Vanquish | 1.36.2 |
| Renault Clio V6 | 1.36.2 |
| Honda Civic Type R | 1.36.5 |
| Alfa Romeo Brera | 1.36.9 |
| Saab 95 Aero | 1.37.9 |
| Maserati 3200 GT | 1.38.0 |
| Alfa Romeo 8C | 1.38.2 |
| Bowler Wildcat | 1.39.4 |
| Bentley Arnarge | 1.40.8 |
| Overfinch Range Rover | 1.44.0 |
| Aston Martin DB5 | 1.46.0 |
| Hawk HF 3000 | 1.48.2 |
| Porsche Paw Au Chocolat | 18.37.00 |
| 1986 Porsche 959 | DNF |
| 1987 Ferrari F40 | DNS |
W / M = Times for a wet / moist course
DNF = Did Not Finish
DNS = Did Not Start