Main content
Watch Scottish Ballet's incredible interpretations of Stravinsky
14 December 2017
In Scottish Ballet's autumn 2017 tour, The Rite of Spring and The Fairy's Kiss - both set to live scores by Stravinsky - made for a double-bill that pushed the company's dancers and musicians to their limits. Now, in partnership with The Space, both productions - filmed at The Festival Theatre, Edinburgh - are available in full via BBC iPlayer.
The Rite of Spring, left, and The Fairy's Kiss. All photos: Andy Ross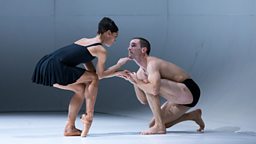 Intense and visceral, Christopher Hampson's The Rite of Spring (Le Sacre du Printemps), created originally for Atlanta Ballet, is presented 100 years after the original production revolutionised the world of dance and music.
Set to Stravinsky's exhilarating score, performed live by the full Scottish Ballet Orchestra, Hampson uses three dancers to reinvent the now infamous story of remorseless human sacrifice with brutal physicality and primal energy. This challenging work examines themes of violence, obedience and domination. It is in turns delicate, aggressive, rhythmic and dissonant, and uses a big orchestra to full effect.
Stravinsky wrote The Rite of Spring for Sergei Diaghilev's Ballets Russes company. It caused sensation when first performed in 1913 as it was unlike anything ballet audiences had heard before. It is now considered to be one of the most influential musical works of the 20th century.
The Rite of Spring amassed five star reviews when performed at the Edinburgh International Festival in 2013 and again in September 2017 as part of a national tour.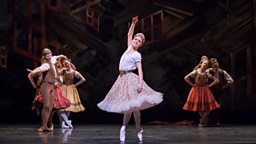 Inspired by Hans Christian Andersen's fairytale The Ice Maiden, The Fairy's Kiss (Le Baiser de la Fée) tells the story of a boy cursed with a kiss, destined for immortality.
The Fairy's Kiss was originally created in 1960 and has had only one revival since. While its choreographer, Sir Kenneth MacMillan rarely created fairytale ballets, it was the richness and complexity of Stravinsky's score that lured him in.
Scottish Ballet brought new life to the production to mark the 25th anniversary of the death of MacMillan. The full Scottish Ballet Orchestra came together to lift this score off the pages.
It amassed five-star reviews during its recent national tour, and was the only revival production presented as part of the National MacMillan Celebration at the Royal Opera House, Covent Garden, in October 2017.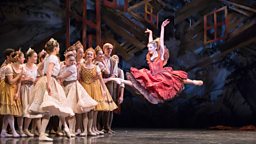 More from Scottish Ballet