Main content
Six vital ingredents for a great supper club
Supper clubs are now a lively part of the city experience – a way of quickly getting under the skin of a place.
You book online and turn up for what's usually a great meal and a meeting with strangers who might turn into friends.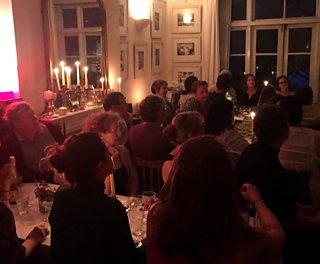 A supper club night in full swing.
Kerstin Rodgers (aka Ms MarmiteLover) launched the underground restaurant movement in the UK in 2009.
She based it on the paladares movement in Cuba which was started by keen cooks and entrepreneurs who opened their homes to strangers – usually tourists – who wanted to eat outside the state-run restaurants and meet the locals.
If you fancy setting up a supper club, Kerstin has some suggestions:
1. Be organised
Become a list person. Make a shopping list, getting everything in the day before unless it's fish. Make a prep list, ticking tasks off as you go.
Make sure you have enough plates, cutlery, glasses, chairs, tables.
2. Be clean
While people are interested to see the interior of your house in all its messy authenticity, do clean the bathroom, have clean towels, toilet paper, a clean fridge, oven and kitchen.
Ear buds seem to be popular in the bathroom, no point fighting it!
3. Take a food hygiene certificate
Find out what temperature your fridge and freezer should be and don't store meat and fish above vegetables.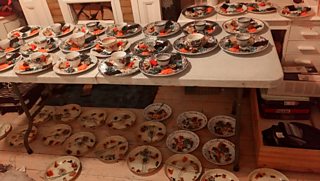 Good preparation is key.
If you want to make this a regular event, get public liability insurance from a specialist company.
4. Make the best use of your time and equipment
For instance, in a three course meal, have a cold starter or a soup which can be prepped beforehand, a hot main course and make dessert the day before.
As you improve you can play around and take more risks but at the beginning play safe. Remember people are paying for this!
5. Plan for it to take all day to prepare
You cannot get home from work and start a supper club.
There should be no more than 15 to 30 minutes between courses. I once went to a supper club where the hostess only started prepping when she got home from work at 6pm. By 8pm we started to eat. By 10pm I'd had one course. I left. I was hungry!
6. You can't do it all by yourself
If your sous chef or helper drops out at the last minute, ask – no, plead – for help from your parents or children. My daughter started front-of-house aged 13: service was sulky and "emo", with a side of eye-rolling. No matter.

In Eating with Strangers, Sheila Dillon hears from people who believe that eating with strangers is the greatest pleasure in life, and people whose lives have been transformed by those meals.
Further Listening on Radio 4
We've uncovered eight reasons why unaccompanied eating might actually be a good thing.

Giorgio Locatelli and Sheila Dillon present the BBC Food & Farming Awards 2017 in Bristol.

The Food Programme explores ingredients from The Ark of Taste.