Main content
The inside track...
Nick Robinson is one of the Today programme's presenting team. But politics is still in the former BBC Political Editor's bloodstream, and in his new Political Thinking podcast, Nick brings together ideas and interviewees for in-depth analysis that won't entertain spin or soundbites. What makes him tick?
How are you with those 3.30am starts?
You never get used to it is the truth, but I'm getting more used to it. Rising at 330 in the morning is not only a very weird thing to do but is also – a friendly doctor told me – the time at which most people die; it is literally the moment where the body's rhythms and cycles drop, as it happens the actual moment of waking up.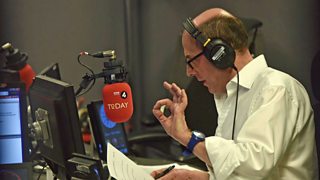 But I can broadcast within a minute: I'm alert, there isn't a groggy moment, but I do find that 12 hours later, not unnaturally, that's when you start to feel slightly like you have jet-lag. I'm now an unapologetic afternoon napper – 20 minutes, half an hour; it's one of the very few microscopic advantages of having had cancer that when I was on chemotherapy I had to power-nap, otherwise I would collapse – it sort of removed all the embarrassment and shame of it.
What does working on Today mean to you?
Two years in it suddenly feels like normality – when I first took the job it was a hugely emotional experience, because my best friend from the age of 8 had as his dad this famous guy – Brian Redhead – who was the presenter of Today. I was rather close to Brian: it happened he was on my route home from school and I used to go in for a glass of milk and a slice of cake.
As is well known, I was in a horrible car crash in which my best friend died. Therefore coming to Today was more than just a job, it was, in a bizarre way, a life journey, really.
Being in it now, it's my job, but I still retain that sense every day of this incredible privilege that, even despite online, mobiles, the spread of information, we are very often for very many people the first thing they hear in their day, of what happens out there in the news, and it is incredible to be telling people something for the first time.
I remember waking up, checking my phone and seeing the news about the Manchester bombing. That's my own home city, and I have to say that as I said the words, I had a heavy sense of responsibility.
Nick is famous for his succinct verbal summaries. Where does that skill come from?
A lot of journalists for obvious reasons start by writing: the traditional route used to be the local paper, but these days you might do it by writing for a website, or writing your own blog.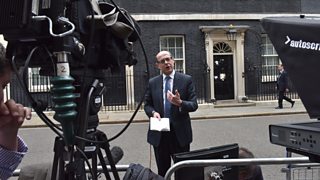 Nick preparing one of his famous summaries outside 10 Downing Street
But I didn't write – I was verbal. I was in the debate club at school, Oxford Union, and the funny thing is I got something from Brian Redhead – I would come home like a teenager does and quite often find Brian and my dad polishing off a bottle of whisky, sort of talking about the ills of the world. They would be like, go on, tell us what you think…
And my grandparents did as well. They were German-Jewish refugees and my grandfather used to sit very reverentially listening to the World Service of the BBC, and from the age of about 10 he would say, "Well, what do you think?" And I would say, "Think about what?" "Well, what do you think about what the Israelis are saying about Palestine?" And I'm thinking, I'm 10!
What it did teach me is a verbal approach where I try to construct explanations of things and edit as I'm going along. Funnily enough when I'm trying to work out what I think, much to the irritation of my family, I may adopt an argument to test it out, and they go, "You don't really think that do you?" and I go, "Of course I don't think that…" I'm testing an argument.
What's different about the podcast?
The nice thing about the podcast is that it gives me an outlet not just to do an interview, but to give some thoughts: as my producer says, "What's your take on this, how does it seem to you?" and I hope what people will get is a little pull-back of the curtain, about how things work; why we ask some questions the way we do, and not others in an interview; why did a politician behave the way they did, how does the way they behave relate to something I experienced ten or 20 years ago.
And also I hope the interviews benefit from the fact that I know a lot of these people: we've had private conversations often dating back years. The most pleasure I get is when you can get things into a podcast and you think I've only ever heard that in private. It might not be a revelation, but it might be just getting people to talk in a more relaxed way than they often do, in front of a microphone.
Because the podcast interviews don't claim to be only about the news of the day, I don't have to apologise for asking people what makes them tick, what makes them the people that they are – you're instantly into a space the politicians quite rarely enter.
It's more intimate: Jon Lansman the founder of Momentum talked about the importance of his Jewishness, to joining the Labour party, which he knew was a big deal when he said it, because of the accusations of anti-semitism particularly against particularly the Left of which he is a leading figure; or Ruth Davidson talking about her sympathy for Tim Farron, because she is a Christian and a passionate believer as well as gay, and he'd wrestled with some of those feelings. And Ed Miliband talking about the extent to which his personality was the problem, or whether politics has shifted to makes his ideas more popular.
One thing I feel passionately about, and you will hear on the podcast, is that you should hear people. The idea that there are people who are beyond the pale, whose ideas are so toxic, and are so irritating that you don't want to hear them: of course there are limits – I won't be inviting racists on to the podcast.
But my view is that if someone makes a thoughtful and thought-provoking case, albeit one that may be rejected by 99 percent of people, you should hear it, and you should hear the alternative as well.
What has Nick learned from his kids?
I noticed in the last election campaign that my kids, two of whom have the vote and one is not yet old enough, admitted a real irritation when ideas were discussed in terms of, "well, that was discussed by Michael Foot, or Neil Kinnock": they've never heard of these people – it was before they were born.
And they are irritated if things are only discussed in terms of "will this make the other bit of the party angry", or "will it alienate this group of voters": they want to hear ideas discussed in their own right. Whether they are good or bad, that's for them to judge, not us.
And there is nothing better than having children to get a sense of how things are changing … One of the reasons I'm doing a podcast is that my kids listen to lots of podcasts: in fact my youngest has his own Manchester United podcast. My middle son thinks I'm embarrassingly light on history: he's a history student, and he recommended The Rex Factor which is a very entertaining way in; and he also listens to American podcasts because he's interested in US politics. My daughter slightly less appropriately recommended I listen to My Dad Wrote a Porno.
I also see them obsessively (we joke because they say I'm obsessively on my phone) read stuff on their phones, where the sourcing isn't always very obvious. But I've also seen as they've lived through the same turbulence we all have – Trump, Brexit, Scottish Referendum, two general elections, a change of PM – that it becomes more important for them to learn the importance of finding places and people you can trust.
You have to start to make judgments as to whether that person or that website or that news organisation is trustworthy. Not that they always get it right, not that they don't ever have views, but that they are basically in the business of informing people, not pumping propaganda in your direction.
All pictures © BBC
About Nick Robinson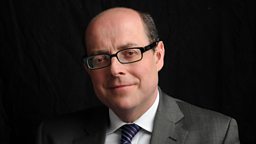 Nick Robinson is the BBC's former political editor. He started as a presenter on Today in November 2015. "I cannot remember a time when my morning did not begin with Today - the programme - setting the nation's agenda," Nick says. "As a child it was the sound not just of the latest news and the sharpest comment but also of my best friend's dad, Brian Redhead, who inspired my love of radio."
Nick took over from Andrew Marr as the BBC's political editor in September 2005. During his time in the role he covered two general election campaigns, the formation of the first coalition in 75 years and the referendum on Scottish independence.
Nick began his career doing work experience for Piccadilly Radio in Manchester. As a trainee BBC producer he moved on to interviewing the Blue Peter tortoise for John Craven's Newsround and catching crooks on Crimewatch.
Later he became Deputy Editor of Panorama and On the Record before moving in front of the microphone as a presenter on Radio 5 live and Chief Political Correspondent at BBC News 24. He was Political Editor of ITV News before returning to the BBC in the same role.
Born in Macclesfield, Cheshire in 1963, Nick attended Cheadle Hulme School, then University College, Oxford where he studied politics, philosophy and economics.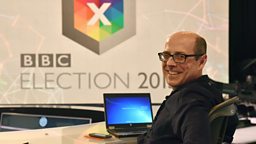 Nick in election mode
Can he ever switch off?
"I can switch off (but not enough) in a mixture of ways. Football. I had a busy day yesterday and went home to watch the Bobby Charlton documentary – I'm a big United fan and am lucky enough to have met Bobby a few times. I sat joyfully and gurgled in front of the telly.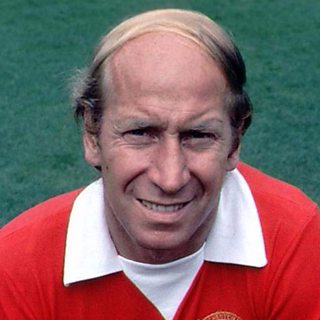 "When I can, although it's all too rarely, I like to sail. I'm a very bad sailor with a rubbish dinghy. I enjoy walking the dog.
"But if I really want to switch off (my kids laugh about this) it's a very hot bath. Put some music on. With a book.
"And I live in the city, but I'm not from a city. As a kid I used to walk in the Peak District, so for me it's about space. If I'm in London, and can't get out, I go to the river. Just being on the South Bank, say, combines the bustle, the hubbub, the youth, but together with space – St Paul's one way, the boats going down the Thames. But if I can get out to Suffolk, seeing the space open up, the enormous skies, the water. I'm lucky enough to have been on safari – it's the sheer scale of what you see. I am on safari in Suffolk.
"The test is – do you reach for your phone? The moment you know you've switched off is that impulse that so many of us have to find out what just happened. Is there an email? Is there a text? Gone. Don't care. The ultimate test – you hear the ping, and you go, 'Don't care!'"
A word to the wise...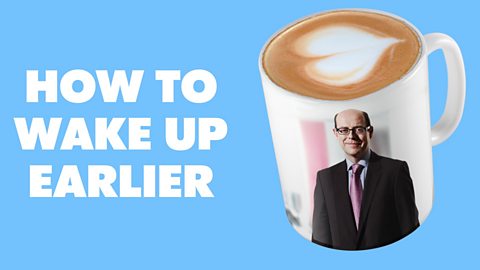 Nick Robinson gets ready for his new role on BBC Radio 4's Today programme.
Political Thinking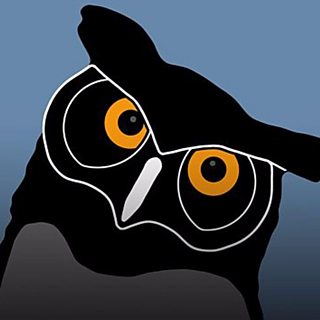 Nick Robinson talks about what's really going on in British politics.
Politics, current affairs and puzzles on Radio 4