Main content
Heaven Sent: The Fact File
The read through for Heaven Sent took place on Thursday, 18 June, 2015 and filming began the following week on Wednesday, 24 June.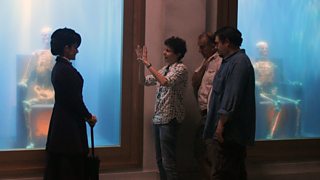 Rachel Talalay directs Michelle Gomez in Dark Water
Heaven Sent and Hell Bent were both directed by Rachel Talalay who was also at the helm for series 8's two-part finale. She described this year's episode 11 as 'one of the most complicated and different episodes that I've ever done… It just has my head in spaghetti!'
The episode is almost entirely a one-hander meaning Peter Capaldi as the Doctor is alone for much of the action and delivers all the dialogue except for a few words spoken by Jenna Coleman. This led to a unique situation insofar as Peter Capaldi's is the only name in the opening titles.
As the Doctor's time machine doesn't technically appear in Heaven Sent, the adventure joins the ranks of Mission to the Unknown, The Sontaran Experiment, Genesis of the Daleks, Midnight and a handful of Third Doctor stories (from the period he was exiled to Earth) in which the TARDIS doesn't feature.
Although the figure stalking the Doctor is unnamed in the actual episode it's called 'the Veil' in several listings and 'The Veil' in the closing credits. The entity is played by Jami Reid-Quarrell who appeared as Colony Sarff in The Magician's Apprentice and The Witch's Familiar.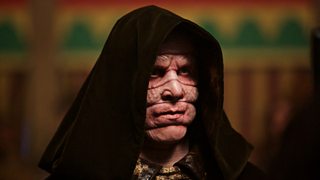 Jami Reid-Quarrell as Colony Sarff in The Magician's Apprentice
The Doctor says, 'Assume you're going to survive! Always assume that!' This echoes Clara's line in The Witch's Familiar, when she observes the Time Lord '…always assumes he's going to win. He always knows there's a way to survive. He just has to go and find it.'
'Tell them I came the long way round…' In The Day of the Doctor, the Doctor declares, '…at last I know where I'm going. Where I've always been going. Home, the long way round.'
The Brothers Grimm were Jacob (1785–1863) and Wilhelm Grimm (1786–1859), two German academics and authors who together specialized in collecting and publishing tales from folklore. Although they didn't invent stories from scratch they re-told and re-wrote tales such as Cinderella, Snow White and Hansel and Gretel.
This isn't the first time the Doctor has referenced the Brothers Grimm. In State of Decay he says to Romana, 'Have you ever heard of the Brothers Grimm?' When she replies that it's 'no time for fairy tales' he points out, 'They also discovered the Law of Consonantal Shift. How language changes over the years.' If you want to know more about the Grimms, check out this fascinating edition of In Our Time.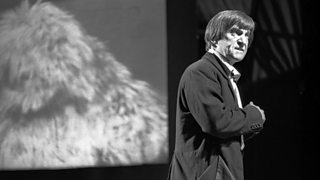 The Second Doctor, on trial on Gallifrey in The War Games
We're back on the Doctor's home planet – Gallifrey! Although we only learnt its name in The Time Warrior (1973/74) we first visited it in 1969's The War Games. In that story the Doctor is asked why he 'ran away' from the Time Lords and replies, 'What? Well, I was bored…' In the very first episode of Doctor Who, the Doctor gave a different spin on his wanderings, implying he was an exile from his world and telling Ian and Barbara, '[My granddaughter] Susan and I are cut off from our own planet, without friends or protection. But one day we shall get back. Yes, one day. One day.'