Main content
Ten top tips for campsite cooking
In a summer camping special, the Food Programme spent a night around a Monmouthshire campfire, discovering the possibilities of food and drink in the great outdoors, and the joys of campfire cooking.
Feel inspired to spend a night or two under the stars yourself? Then grab a portable stove or gather up some firewood and take a look at these handy tips for al fresco feasting.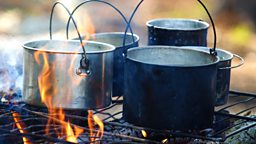 Remember: keep those matches dry!
1. Forage for food
Wherever you pitch up, it might be worth taking a stroll before dinner and seeing what edible plant life there is nearby. You might get lucky! Keep your eyes peeled for wild strawberries, wild garlic, gooseberries, apples, dandelions and mushrooms. But before eating any wild plant, be 100% sure it's not poisonous. Take a good book to help you identify things and if in doubt, give it a miss!
2. Keep your matches dry
The fire's constructed, the food is in the pot, and your tummy's rumbling. But it's been drizzling all day and the matches are damp. Disaster! Avoid a crisis by keeping your matchbox in a sandwich bag, or by bringing a reliable lighter or two. And to help a campfire on its way on a damp day, pre-prepare homemade firelighters by soaking cotton wool pads in wax. It also means you'll never be short of an ear plug when your fellow camper starts snoring…
3. Chop your food on a Frisbee
The lip round the edge makes the Frisbee a handy cross between a bowl and a chopping board, and stops food from flying off on a breezy day. It's a light alternative to a wooden board, means there's less to pack and it might even trick the kids into getting involved with the food prep. So pop that Frisbee in your rucksack. Go on, chop, chop!
4. Beware of the wildlife
Make sure all your perishables are packed away at night, safely concealed from any opportunistic animals. No one wants a rude awakening from a scavenging squirrel or a hungry badger. One technique for keeping food off the ground, away from any four-legged friends or creepy crawlies, is to wrap it in a plastic bag and hang it from the branch of a nearby tree. It might just flummox a greedy human too.
5. Pack a snack (or ten)
Cooking on a campfire or a trangia can be great fun but it's far from fast. And low blood sugar will result in even slower progress. So make sure you supplement your meals with some handy, high-calorie foods that don't involve any prep. Bring out the biltong and cured meats for a savoury snack, or nuts and dried fruits will provide a vital energy boost.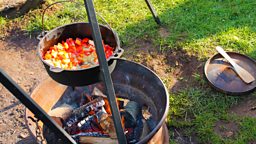 Make sure you bring your oven gloves.
6. Protect your hands
Pots and pans on an open fire will get hot! At all costs avoid using a wet tea towel, an old jumper or the end of your sleeping bag and pack your oven gloves.
7. Make an outdoor oven
If you're cooking over a fire, you can turn your saucepan into a makeshift oven by (carefully) popping hot coals on the lid. This way you can drop some dumplings on top of your stew and bake them to perfection.
8. Spice things up
Pack a bag of chilli flakes and sprinkle liberally to transform even the blandest of campfire dishes into a taste explosion. And if you want to bring a wider range of herbs and spices then an old Tic Tac box makes the perfect portable container.
9. Don't forget the marshmallows
They provide the perfect pudding for a night under the stars, and a sociable one at that. Genevieve Taylor, the author of How to Eat Outside, recommends attaching charity shop forks to the end of bamboo cane so the kids can safely cook marshmallows over the flames without singeing any eyebrows.
10. Have a back-up plan
Of course, summertime in Britain doesn't automatically mean sunshine. And even the most seasoned of campers will struggle to get a fire blazing or keep a stove alight in driving wind and rain. So make sure you've got the means to rustle up an emergency cheese and pickle sandwich from inside the tent. And it probably wouldn't hurt to look up the number of the local takeaway before setting off…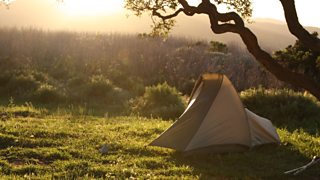 Pitch perfect: Phoebe Smith reveals the secrets of wild camping.
The Food Programme team go camping to discover the possibilities of food and drink in the outdoors.

Break out of the lunchtime automatic pilot and eat something that tastes good!

Do you think you're a real coffee connoisseur? Take the plunge.