Main content
11 Things you didn't know about King Henry VIII's Great Progress
You might find it tough travelling up the M1 in heavy traffic - but spare a thought for your ancestors. If you lived in 1541 and you were going on King Henry VIII's Great Progress from London to York, you'd have been walking for weeks in the cold and wet, through mud and horse droppings, or riding on horseback getting bum-ache and pneumonia.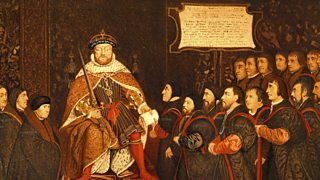 Henry's Progress: total submission was all that was required.
C.J. Sansom's Tudor crime novel, Sovereign, follows lawyer detective Matthew Shardlake during Henry VIII's spectacular royal progress to the north.

Travel back in time now and see what it was like:
1. The Great Progress was organised at speed after a conspiracy against the King was uncovered in Yorkshire that year.
2. It was armed and three times the size of a normal Progress – and it travelled further than a royal progress had done for over 50 years.
3. Its aim was shock and awe: to show the power of the King, establish his authority, and to gain the submission of all his subjects.
4. On June 30, more than three thousand people left London at once – a remarkable sight, the carts stretching along the road for over a mile.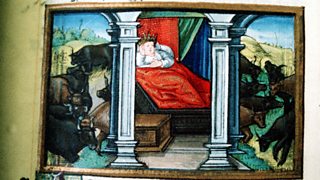 The King was guaranteed a comfy bed and plenty of hunting - those further down the pecking order had to make do with whatever they could find.
5. In the weeks beforehand, the King's purveyors had roamed London at speed, stripping shops and warehouses of food and other supplies.
6. Rain beset the Progress in July, so the King indulged himself at Hatfield in a spectacular hunt, bagging two hundred stags and does, young swans, two boats' full of river birds and as much of great pikes and other fish.
7. On the way north, accommodation was commandeered instantly and huge tented encampments set up in surrounding fields for the thousands of nobles, soldiers, cooks, and those employed in the King and Queen's household.
8. Further down the chain on the Progress, people slept with their horses not just in stables, but in makeshift stables constructed in deliberately ruined and plundered monastic churches, following the dissolution of the monasteries.
9. Henry VIII wanted also to form an alliance with King James IV of Scotland at York. But the Scottish King did not come.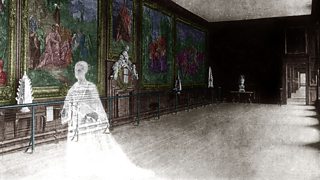 The ghost of Catherine Howard is said to haunt Hampton Court Palace. The young Queen ran down the corridor trying to reach the King at prayer to plead for her life - but was dragged back screaming by guards before she could reach him.
10. On the long progress, Henry's 5th wife, Catherine Howard is said to have begun secret assignations with a member of her husband's privy chamber. She was executed in London the following year – just like her cousin, Anne Boleyn, King Henry's second wife, 6 years earlier.
11. The people of York were requested to lay sand and ashes on the streets to ease the King's passage but they refused.