Main content
Sports-mad poet serves ace verse
The eyes of the sporting world turn to Wimbledon as SW19 once again welcomes the world's best tennis players.
Steeped in history and tradition, the Championship has become synonymous with strawberries and cream, Henman Hill (or Murray Mound), Hawkeye, a real life hawk named Rufus and the gamble of the British summertime weather.
Those symbols have been used as inspiration by one Get Creative reader who's turned to verse to celebrate the tournament, which itself embraces poetry as lines from Rudyard Kiping's If are emblazoned above the players' entrance to Centre Court.
Some of you may remember the sport loving IT worker Jonathan Clark who wrote a poem to spur on the competing teams in rugby's Six Nations in the spring. In the spirit of Get Creative, which aims to unleash the artist in all of us, he's again put pen to paper with his focus on the greatest tennis competition in the world.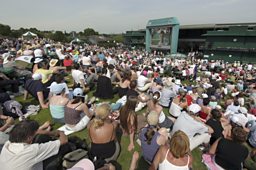 An ode to SW19
We dream of British winners, we dream of Britain's cream We dream of British strawberries, in SW19
It's common to think of Wimbledon in the last week of June
The greatest tennis tournament it cannot come too soon
We dream of British winners, we dream of Britain's cream
We dream of British strawberries, in SW19
There's all the pomp and ceremony combined with tennis whites
The magnificence of those manicured courts it's such a pristine sight
Precise white lines are marked out, hawkeye has an eye upon the tennis
Rufus the Harris Hawk protects the courts from that pigeon menace!
We're ready for inclement weather, that takes on the form of showers
We're prepared to sit on Murray Mound and while away the hours.
We love the joy of tennis, champagne and scones and cream
We anticipate the winners and yes there is that dream.
The ball boys and the ball girls recruited from local schools
Race across the base line, Merton Borough's finest jewels
Scamper beneath the net chord, handing out towels and tennis balls
Well drilled, well trained and focused, at the players beck and call.
Quiet please no shouting, it's a game of concentration
A bit like lemon and barley, available at the water station.
Players they are welcomed from all around the world
Almost every nation, the flags are all unfurled.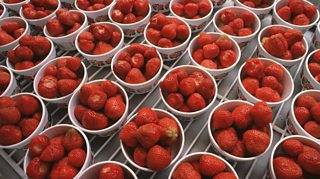 We all have our favourites we love to cheer them on Enjoy this famous two weeks that we call Wimbledon!
As for all the players, those white swans look so serene
Beneath the genteel exterior players race across the green
Unleash the power of service and hope for a better return
Dominate the net, no passing shots to spurn.
Double handed backhand, forehand full of fast top spin
In search of the perfect winner, to pass, to lob, to win.
A game to love is the aim of most, avoid dreaded tie breaks
Hold your serve and hold your nerve, a victory needs that break.
So Federer, Djokovic and Nadal
With Murray too they all stand tall
Williams, Wozniacki accompanied by Sharapova
The seeded players of Wimbledon mustn't be rolled over.
So all of us spectators our heads on pendulums
As we watch the to and froing of these seeded big guns.
We all have our favourites we love to cheer them on
Enjoy this famous two weeks that we call Wimbledon!
Whether it's poems, painting, performing or pin-cushion making, share your artistic skills with Get Creative on social media sites using the hashtag #bbcgetcreative
Meet the world-record holding crafters making a crochet Christmas project

One of a handful of aspiring artists whose painting was chosen for the Royal Academy's Summer Exhibition

A retired designer who painted a Canaletto-style painting, replacing the buildings with those of his home town

A jewellery designer who discovered a love for digital printing and uses it as a way to relax and to cure jet-lag

A dedicated mum and knitter who makes retro tank tops for her rugby- mad son and his friends to add a splash of style to the stands

A stitcher who joined a sewing group to meet like-minded people. She's made tea cosies and draught excluders as gifts and hopes to move to dressmaking

A stroke survivor who has used painting, music and writing to rehabilitate. He shared his first self-portrait using his affected hand with Get Creative

A keen cross stitcher and crafter who uses it as a way to relax and wind down after a day content producing for Get Creative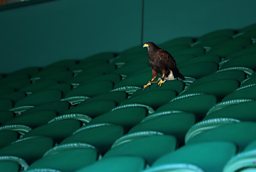 Rufus the hawk. Photo: PA
The poetry of sport
It's not words but digital wizadry that usually occupies Jonathan Clark in his role as IT worker. But the father of three from South West London finds writing poems an antidote to the stresses of everyday life.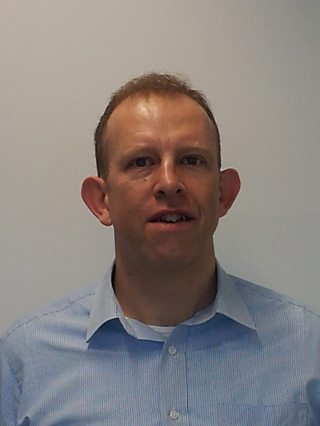 Get Creative reader Jonathan Clark
"Poetry is great escapism and I try and put a humorous view on things. I like to release some things that are inside my head and the best way to do it is through poems," said Jonathan, whose day job is in a briefing centre in the City of London demonstrating the benefits of video conferencing solutions.
"They tend to be rhyming so not sure it is poetry, but hopefully a step above the nursery variety! Helps with the daily commute too."
He doesn't just write poetry about tennis and rugby. A keen cyclist, he's also taken inspiration from being on two-wheels, the National Lottery and even birthday celebrations.
Although Jonathan himself won't be going to Wimbledon, his two daughters Sophie and Katy have been lucky enough to secure tickets - as a reward for completing A levels and GCSEs.
Ideas to exercise your mind