Main content
Five reasons why we love Parry's Jerusalem
In the sporting arenas of Britain and Ireland, de facto anthems exist for all but one of the representative nations: the Scots have Flower of Scotland, the Welsh have Hen Wlad Fy Nhadau (Land of my Fathers) and since the 1995 Rugby World Cup there has been a powerful and catchy all-Ireland anthem, Ireland's Call. Only England is left out: Swing Low, Sweet Chariot doesn't cut it and many people say the anthem of England should be Parry's Jerusalem. But – not just for English folk – why does Jerusalem set the pulses racing?

1. It's the tune...
Jerusalem is an extremely artful piece of composition. It begins with a short introduction comprising an opening chord which acts as a call-to-attention, followed by a brief passage establishing a feeling of grandeur and solemnity before ushering in the first line.
The music follows William Blake's text closely, each verse describing a perfect musical arc through the climactic points of each verse ("Was Jerusalem builded here?" and "Till we have built Jerusalem") then down again to the "dark satanic mills" and "in England's green and pleasant land".
Ironically, the music for each shares a problem with God Save the Queen – it ends on a falling phrase, one of the reasons why Britain's national anthem is thought to be a bit pedestrian. But Parry solves this by adding a short tail-piece, or coda, which finishes on a high.
2. The words are a bit bonkers, but hey...
The "feet in ancient time" are those of Jesus of Nazareth. The words allude to a widely-debunked myth that Jesus, as a young man, visited England in the company of Joseph of Arimathea, a tin merchant. This links to the idea of the "Second Coming", although any visit by Jesus would have been during the "unknown" years before he began his ministry - more of a "First Coming" for the people of England.
"Was Jerusalem builded here?" references the concept among churches that Jerusalem symbolically represents Heaven, a place where the faithful may enjoy eternal peace and love. The "dark, satanic mills" are assumed to refer to the physical embodiments of the industrial revolution which had begun around 1760.
Building Jerusalem will involve a struggle, for which the English must arm themselves, with "bows of burnished gold", "arrows of desire" and a "spear"; the "chariot of fire" is sent by God in the Biblical Book of Kings to fetch the prophet Elijah and take him directly to heaven.
Thus armed, in the second verse, the writer pledges to continue the fight until Jerusalem is established. The description of England as a "green and pleasant land" has passed into the language in the same way that so much of English phraseology is actually embedded Shakespeare.
About the composer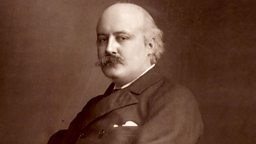 C Hubert H Parry (1848-1918)
Hubert Parry was one of the key figures in the British musical renaissance of the late 19th and early 20th centuries, as composer, educator and writer. Born into the landed gentry (his family's country seat was Highnam Court, near Gloucester), he studied at Eton and Oxford, and under family pressure went into the City, before the growing success of his compositions allowed him, in 1877, to devote himself full-time to music.
Parry's musical style was influenced primarily by the great German tradition, from Buxtehude to Brahms and even Wagner, at a time when most English musicians considered the latter beyond the pale. Much of his output consists of choral music: oratorios, sacred and secular cantatas, motets, anthems, service music, part-songs and hymns. But he also composed four symphonies, a Symphonic Fantasia, a set of Symphonic Variations and other orchestral works; music for piano, organ and various chamber ensembles; and 12 sets of English Lyrics, an important component of the English song repertory.
After his death at the age of 70, Parry was largely forgotten for many years, But recently, a growing number of recordings and Jeremy Dibble's pioneering biography have begun to restore Parry's reputation: his 1887 ode Blest Pair of Sirens, the 1902 Coronation anthem I was glad and his late unaccompanied Songs of Farewell (1916) remain popular with choirs and choral societies, while Jerusalem holds a proud place as one of the finest and best-known of national melodies.
Profile © Anthony Burton/BBC
Jerusalem, with all the stops pulled out...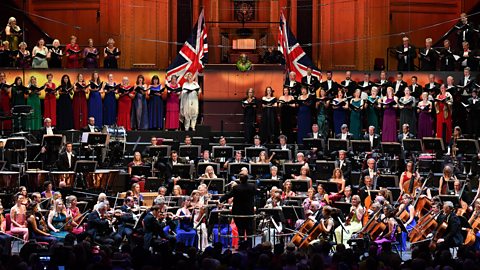 The 2018 Last Night performance with the BBC SO and Chorus conducted by Andrew Davis.
3. Jerusalem has impeccable liberal credentials
Blake's poem lay undisturbed for much of the 19th century. In 1916, poet laureate Robert Bridges included it in an anthology, The Spirit of Man, which was intended to fortify readers' spirits at a time when the world was facing destruction and slaughter on a wholly unprecedented scale.
In the Preface, he wrote, "From the consequent miseries, the insensate and interminable slaughter, the hate and filth, we can turn to seek comfort only in the quiet confidence of our souls; and we look instinctively to the seers and poets of mankind, whose sayings are the oracles and prophecies of loveliness and loving-kindness."
It therefore made perfect sense for Bridges to ask Parry to set Jerusalem to music for a meeting of Fight for Right, a nascent movement intended to boost morale among Britain's beleaguered soldiers.
Initially reluctant because of the ultra-patriotic tone of the Fight for Right campaign, Parry overcame his reservations, eventually telling his former student Walford Davies, the first conductor: "Here's a tune for you, old chap. Do what you like with it."
According to Parry's biographer, Prof. Jeremy Dibble, "Jerusalem was an instant hit. Parry's music, coupled with Blake's words encouraged an exhausted British public, and our soldiers, to keep going."
The poem, by William Blake (1804)
And did those feet in ancient time,
Walk upon Englands* mountains green:
And was the holy Lamb of God,
On Englands pleasant pastures seen!
And did the Countenance Divine,
Shine forth upon our clouded hills?
And was Jerusalem builded here,
Among these dark Satanic Mills?
Bring me my Bow of burning gold;
Bring me my Arrows of desire:
Bring me my Spear: O clouds unfold!
Bring me my Chariot of fire!
I will not cease from Mental Fight,
Nor shall my Sword sleep in my hand:
Till we have built Jerusalem,
In Englands* green &* pleasant Land.
*As written by Blake
4. Jerusalem rapidly developed a life of its own
In November 1916, Parry orchestrated Jerusalem, and in 1922 Edward Elgar, who admired Parry, made the lush and luxurious orchestral arrangement which is usually heard today.
No less a figure than King George V himself is said to have preferred Jerusalem to God Save the King.
Parry was a keen suffragist, conducting Jerusalem at a National Service for Women at the Royal Albert Hall in 1917. The following year he agreed with the National Union of Women's Suffrage that it could become the women voters' hymn, and copyright was assigned. After the NUWS disbanded, the copyright was re-assigned to the Women's Institute, where it is sung to this day as an essential ingredient of branch and national meetings.
The conductor Sir Malcolm Sargent introduced Jerusalem to the Proms in the 1950s. It is now a staple, alongside Rule Britannia!, Land of Hope and Glory and Auld Lang Syne, of the audience participation element in the Last Night festivities.
5. Sport is a big fan of Jerusalem
Although the world of politics clings on to Jerusalem – it's sung at Labour Party conferences along with The Red Flag – sport has really taken Jerusalem to its bosom. It spawned the title of the iconic athletics film, Chariots of Fire. It's the English team anthem in rugby league, and the official hymn of the England and Wales Cricket Board. A 2010 public poll by Team England preferred Jerusalem to Land of Hope and Glory and God Save the Queen for Commonwealth Games medal ceremonies.
Will Jerusalem ever usurp the national anthem for the England team, at high profile rugby union and other sporting internationals? Perhaps. After all, no less a figure than King George V himself is said to have preferred it.


How the very English 'Jerusalem' came to be loved by people from different cultures.

Watch Parry's ecstatic setting for chorus of Milton's ode, At a solemn Musick.

Jonathan Agnew reflects on England's stunning and unexpected victory in the 2005 Ashes.