Main content
10 things we learned from Anne-Marie Duff's Desert island Discs
Anne Marie Duff has worked prolifically as an actor in television, theatre and film. She has undertaken such formidable roles as Joan of Arc, Queen Elizabeth I for the BBC and Lady Macbeth on Broadway and at the National Theatre. She first won wider recognition when she played Fiona Gallagher in Shameless, the widely acclaimed Channel 4 series. She joins Kirsty Young for a disarming and honest interview. Here's what we learned…
1. She's a "real bookworm"
Anne-Marie was born to Irish immigrant parents and grew up on a council estate in West London. She recalls her parents being fantastic dancers who listened to a lot of reggae. She says her painter-decorator dad was super bright and very well read and although the family didn't own a lot of books, they went to the library all the time. "I still am a real bookworm", she says.
2. She used money from her Saturday job to pay for singing lessons
On joining the school choir, Anne-Marie learned that she could "really sing." She recalls, "I found myself a singing teacher in the Yellow Pages and I used my money from my Saturday job to pay for my singing lessons." Her teacher, Phyllis, a "wee old lady" who taught at the Royal College of Music, made a huge impact: "She was so extraordinary for me. I'll just never forget her little blue eyes and how hard I worked with her. It also cracked my mind open to a whole world of music that I'd never heard before." Anne-Marie thought about pursuing a career as a singer and talked about it in great depth with her teacher, who looked at her and said, "I think you have the soul of an actor."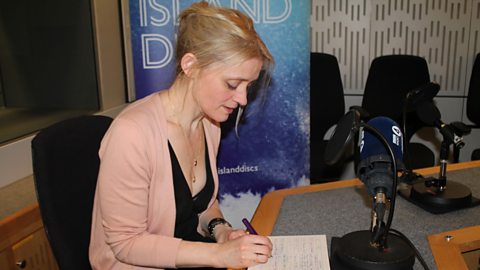 Anne-Marie Duff on her wonderful music teachers.
3. She struggled to get into drama school
Anne-Marie says, "I found it very difficult to get into drama school, and so I didn't get in the first time round." She admits that it was crushing: "I had no other plan and also I didn't know how else to do it. I had no one in my life involved in that world. And for me it was absolutely about becoming a classical actor." Her dad gave her the support she needed and she recalls how he put his arm around her and said: "You just have to be patient and keep believing and try."
4. She was told she was never going to be a leading lady
She says she was "the runt" at Drama Centre London, where she trained, and was pretty much told that she "wasn't ever, ever going to be a leading lady" and would only ever play small parts. But her constant fear that she would be asked to leave put fire in her belly: "I wrote a thousand letters in my final year and walked straight into work."
5. Playing Joan of Arc was a "dream come true"
"I had dreamt about playing that role in my teens", says Anne-Marie, so when she was offered the part, she "literally couldn't speak for about 20-minutes." She also reveals that during the performances she used to have a box of soil backstage, which she would rub on her feet: "We wanted the notion of her being a pilgrim at the very beginning of the play, so… my feet were filthy like I'd done this huge walk in peat or something."
6. On the opening night of Saint Joan, she felt like she was playing Glastonbury
I'd never had my face on a poster like that before. I wasn't the person that'd sold tickets before... I am out there tonight and I'm gonna blow your minds.

Anne-Marie Duff on playing Joan of Arc
Anne-Marie had never worked in an auditorium the size of the Olivier at the National Theatre before and says, "I felt like I was playing Glastonbury… I stood there, backstage, I remember it so clearly with the soil on my feet, and felt like a rock star. That's the only way to describe it. And I've never had that feeling since. I'd never had my face on a poster like that before. I wasn't the person that'd sold tickets before. It was a really lovely feeling of devil-may-care. Of going, you know what, give me my guitar, I am out there tonight and I'm gonna blow your minds."
7. She once walked offstage in the middle of a show
She was playing the suicidal Nora in Ibsen's A Doll's House when she froze on stage: "I became very aware that I was unhealthily pushing myself into the character's noggin… My perspective completely shifted and I actually had the sentence in my head 'I don't want to be a crazy person and I'm definitely not going to be a crazy actress.' So I walked off stage."
Thankfully, cast member Paterson Joseph put his hands on her shoulders and said "Anne-Marie, there are 250 people out there who have paid a lot of money for their tickets." She says she just needed to hear something "tangible and practical and kind". She walked back onstage, told the audience she'd choked on one of the macaroons in the play and finished the show: "It was a real wake up call".
8. She has a superstitious pre-show ritual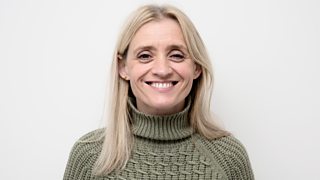 Photo by Kenneth Cranham
Anne-Marie admits she is "fantastically superstitious" and won't say Macbeth (unless she's in the play). "I have little rituals that I do before shows: different ones on different shows and one specific one I do on every play… I always have to have a shower at half hour call" to wash the day off. She also wears different perfumes when playing different characters.
9. She's very proud of her Irish heritage
Anne-Marie says her Irish heritage has "afforded me so many gifts... One of the things I adore about that culture… is the notion of standing up, in a group of people, and singing." For her final track she picks Marrying the Sea by Declan O'Rourke because to hear an unaccompanied voice is fantastic and "has the effect of alarming all my nerve endings."
10. Her luxury item makes her feel like "a million dollars"
Slightly embarrassed by the luxury item she'd take to the desert island, Anne-Marie admits she'd choose beautiful underwear: "As an actor, most of the time you have to dress like an unmade bed, 'cause you're going to rehearsals and god knows what you'll be doing, but underneath all of that I always have lovely underwear." She laughs, "I could run around in the most divine bra and pants and feel like a million dollars!"