Main content
Could YOU make this? Five jawdropping crafts from around the UK
For some of us it's a hobby; a chance to get some 'me time' or a way to escape our busy lives. For others it's our very livelihood. But whatever our reasons there's no denying it: Britain is a nation of crafters. Making is in our make up and a brand new BBC Four television programme hopes to showcase this extraordinary side of our country.
To whet your appetite we've teamed up with the programme to bring you these five unique and inspiring works of art by extraordinary makers from around the country. And the programme, working title Britain on the Make, wants to hear from you (more details below).
'Counterknit' by Kate Talbot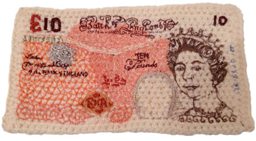 Embroidery on a piece of knitting
Kate says: "I made 'counterknit' after a conversation with a friend about how difficult it was to make money from art. It is a tongue in cheek response to how I make my money by physically having to make it. I chose the £10 note purely because I happened to have that note in my purse at the time. Although it is a humourous piece it also addresses the fact that people often take art purely at face value and don't appreciate the time, energy and true cost involved in making something unique."
'Dial M for Monster' by Lauren O'Farrell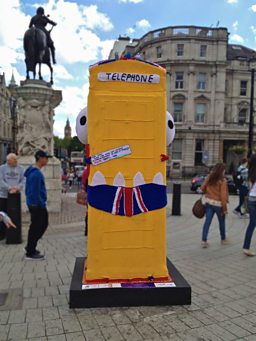 Knitted part by hand and part by knitting machine the pieces were then sewn together
Why did you make this piece?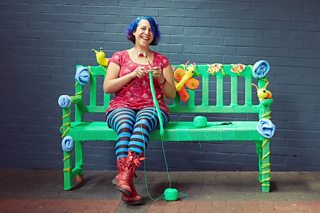 Lauren O'Farrell
Dial M for Monster (also known as Muncher) was created for the BT Artbox Project in 2012 to raise awareness and funds for the 25th anniversary of the NSPCC's Childline. Muncher is essentially a phonebox monster who roams the streets on London masquerading as a telephone box in order to eat people. He never eats children as he finds they pay more attention and are thus much harder to catch. Pickings have been slim since mobile phones so he has been known to snack on passing pigeons.
How did you feel making it?
This piece took months of work to design and make as he is partly handknit, partly made on manual knitting machines in acrylic yarn and then sewn together by hand. I always find it magical and slightly surreal to have a character I first see in my mind come to life in my hands. As a writer originally, it is a form of stitched storytelling for me.
What does this piece mean to you?
Muncher survived two months in all weathers on the Trafalgar Square roundabout during a warm but rainy summer in London. The city took him to their heart (often sending me updates and photos on social media) and he fared surprisingly well for a giant handmade monster on the streets of one of the world's busiest cities. The fact I was able to show that yarn can make art as well as socks and jumpers, for such a great cause and in such an odd and unique way made this a project I am proud of. The piece was sold to raise money for the charity once his work was done, which makes him much less of a monster than he appeared.
'Once Upon A Time' by Su Blackwell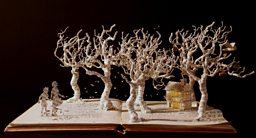 Paper sculpture
Su Blackwell: The sculpture is inspired by, and made from a vintage book of Grimm's Fairy Tales. 'Once Upon A Time' isn't based upon one particular story. Rather, it is inspired by a generic reading of 'Grimm's fairy tales'. It is about the discovery of fairy tales and of learning to read, and of the sense of magic that is opened up when reading these tales for the first time.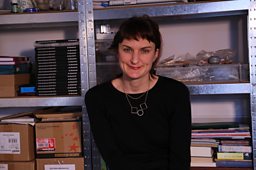 Su Blackwell
Now we want to hear from you!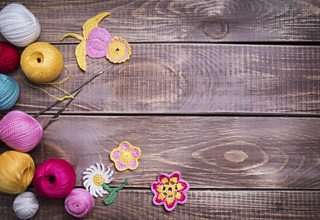 If YOU are a passionate maker and would like the chance for images of your work to be featured in an upcoming BBC programme that celebrates the joy of making throughout the UK please email madewithlove@rdftelevision.com to receive a submission form and all the information you need to take part. Don't forget to take a look at the terms and conditions once you receive the form.
'An Autumn Afternoon' by Claire Lindley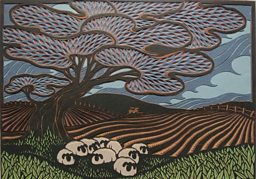 Paper cutting
Claire Lindley: Autumn Afternoon was inspired, in a roundabout way, by where I live as I'm surrounded by hills and fields, wildlife and farm animals, I often see hares in fields full of sheep. I daren't count the hours exactly but approx 40, I'm a slow worker. There are anywhere from 3 to 6 layers over the whole picture.
'Echoes of Light' by Tim Rawlinson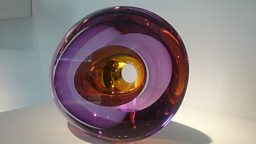 Glass blowing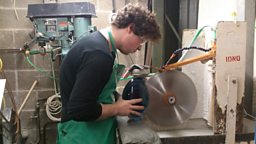 Tim cutting
Tim explains: This is a piece of glass called Echoes of Light. I love working with glass – it's such an energetic medium that feels so alive. The process is extremely time consuming and needs absolute focus as one tiny mistake can mean the whole piece is unusable!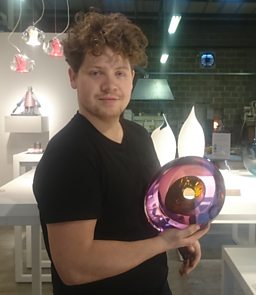 Tim Rawlinson
The producers of Britain on the Make:
"This is a programme about the joy of making. Whether it is origami, stained glass, mosaic, knitting, or jewellery, we want to celebrate the incredible skill and creativity of Britain's makers up and down the country, showcasing the beautiful and surprising things that ordinary people are making with their own hands."
Tips For Taking A Great Photo Of Your Make
Thinking of submitting a make to the Britain on the Make team? Here are some helpful hints from the production team: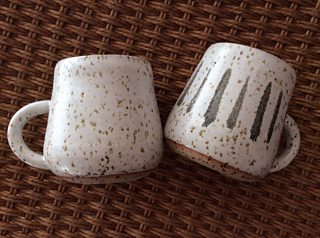 1. LOCATION
Find a clear space to take your photo.
2. COMPOSITION
Keep your make in the centre of your image, and take a landscape photo where possible. They may need to crop the image so leaving an even amount of space around the image will make this easier.
If you have a really large image such as a quilt, focus on an impressive section of the quilt.
3. RESOLUTION
Avoid zooming in on your image.
4. LIGHTING
Find a location with the best possible light. Soft natural lighting which avoids harsh shadows is best.
If you can't make use of natural light, avoid strong directional lights.
Avoid using the flash on your camera or phone.
5. FOCUS
The less light you have the more likely your image is to be out of focus.
Use a tripod or a flat surface to keep your camera / phone steady.
Check your camera settings or tap the screen of your smartphone to make sure it is in focus.
6. BACKGROUND
Use a plain background that makes your make stand out (Bright colours work well for pale objects a white background for colourful items).
You may also like...
Friends and colleagues Mike and James, who help run a media communications service, have both found poetic inspiration in their home city of Birmingham. The film was made by Maeve from BBC Current Affairs.

For the past 25 years Joan Chan has run a fish and chip shop in the Wirral with her husband Billy, but after he became ill she decided to revisit her passion for pottery.

Artist and Get Creative Champion Tracy McGuinness Kelly has turned her talents to designing huge murals with the help of groups of schoolchildren.