Main content
Sauce, Specs and Stan: What did we learn from Ed Sheeran's Desert Island Discs?
Many major musical superstars have been castaways on Radio 4's iconic desert island, but not a single one has got near to Ed Sheeran's recent chart domination. At one point he held nine spots in the top 10 singles chart; Elvis, Cliff and various Beatles can't claim that. He's received Brits, Grammys and Ivor Novello awards, collaborated with the biggest stars on the planet and played to millions of frenetic fans about the world. At 26, he's staggeringly successful. Not bad for "a pasty ginger bloke in a scruffy t-shirt". But what else did we learn from Ed's Desert Island Discs?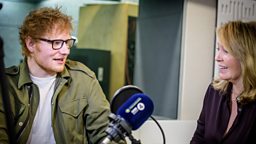 Ed Sheeran in conversation with Kirsty Young.
It started with a riff
Ed's whole musical journey has a rather unusual source. He was watching the Queen's Golden Jubilee concert in 2002 when a man with an eye-catching, graffiti-splattered guitar took to the stage and played a riff that would change Sheeran's life. It was Eric Clapton playing his classic Layla. "That day I said, 'I want to be a musician. I want to play guitar.' I got a guitar for Christmas and that was the first song I learned." He went so far as to find a replica of Clapton's guitar and performed with it on TV. Next morning Ed received an email from the great man himself reading simply, "Nice guitar".
That day I said 'I want to be a musician. I want to play guitar'
Songwriting machine
For some tunesmiths, their craft involves hours of intense labour, sweating over one particular piece of music until they forge it into the perfect song. But Ed describes a slightly different approach to writing. "If I'm in album making mode," he explains, "it'll be four or five songs a day and there'll be no thought process. Get a guitar and just write a song. Twelve out of a hundred might be good."
Not in the friend zone
Little Ed says he wasn't exactly a popular child. "I was a bit of a weird kid. I had huge blue NHS specs. I had a huge port wine stain birthmark on my eye and a stammer. And I lacked an ear drum so I couldn't go swimming. I didn't feel like I fitted in anywhere." It was only after taking up the guitar and writing songs that he started to make friends.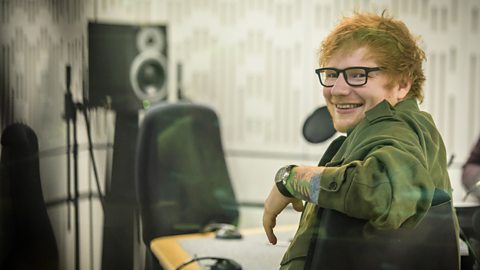 Singer-songwriter Ed Sheeran on his TV-free childhood.
Eminem cured his stammer
Despite being sent to speech therapists to fix his persistent stutter, it was actually the introduction of Eminem's The Marshall Mathers LP into his life at the age of 12 that really helped him. "I learned all of the album back-to-back. And he raps at such a fast pace that my stammer would go when I rapped."
I learnt all of the album back to back. And he raps at such a fast pace that my stammer would go when I rapped.
Box never
Growing up in an "artsy" family, Ed wasn't really permitted much TV viewing as a kid. "We only had David Attenborough on VHS and that's all we were allowed to watch." But his early forays into music were soon derailed by the denizens of Springfield as he decided to stop singing and start Doin' the Bartman. "I didn't last long in the church choir. The Simpsons was on. That's when I started watching TV."
Early setbacks
Hard to imagine now, but Ed's early musical career was less than glittering. "I couldn't really hold a tune, up until I was about 16," he told Kirsty, but even when he had found his voice, getting it on tape was another matter. His first release was not fondly remembered. "I recorded it on a four-track in my bedroom. Oh God, it was dreadful." Despite this damning self-assessment, Ed persevered with his musical apprenticeship.
Finding his way
Having left home and moved to London at the age of 16 and playing gigs constantly, Ed's musical abilities soon improved. He took the plunge and travelled to LA, where he learned the importance of standing out. On his return home, he realised that performing at singer-songwriter gigs wouldn't mark him out from the crowd and he started to flirt with the capital's Grime and Hip-Hop scene: "People would look at you and say, 'what is he doing here?' and that was more fun for me because you would have to win them over." Soon people began to take notice.
Pressures of fame
Ed's fame soon escalated and he began to play more high profile gigs. He admits he wasn't immune to the pitfalls of fame that he had been warned about. "I don't think I did deal very well with it. I did lose myself for a bit. You can't really not go mental in that setting. My real schoolmates had always been the constant thread of sanity. I now employ four of them and they work on my tour."
Situation critical
Always beloved by his fans, Ed has had a harder time with the critics who have often been less than delicate about his perceived talents. On receiving one- or two-star reviews for his debut album, Ed took it hard. "They kind of crushed me. I wanted to be a successful musician my whole career and all of the papers that I read slated it." But despite this reception the album was a huge success. "I got really down. But then the album came out and sold 102,000 in week one."
Granite work surfaces
Some successful artists spend their millions on racehorses, fancy restaurants or a solid gold Jacuzzi. Not Ed. Instead he decided to buy his parents a new kitchen. "Kitchens are expensive, mate. Why are kitchens so expensive?"
Loving the red stuff
It emerged that Ed has a near fanatical devotion to tomato sauce. He's taking a lifetime's supply to his desert island as his luxury item. "You get fish and chips somewhere and they don't have ketchup: I don't know what to do. What are you going to do with that?"
Great taste
We also discovered that Ed is a massive Desert Island Discs fan, so we can forgive him anything. "This is the peak of my career. It's all downhill from here. Every single weekend as a kid I listened to this. I'd love to do Desert Island Discs again when I'm 40 or 50." We'll see you in 2037, Ed.