Main content
Michael Fassbender made nursery rhymes TERRIFYING
Oscar nominated actor, racing driver and, er, terrifying nursery rhyme narrator - Michael Fassbender proved he has PLENTY of strings to his bow when he popped into Greg James's studio.
Read on to find out exactly what went down...
The Snowman sounds AWESOME (but scary)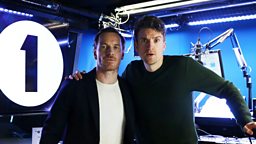 It's nearly Halloween and it's KIND of nearly Christmas - so it seems only appropriate that Michael came in to talk about his terrifying new film The Snowman, an adaptation of Jo Nesbo's Scandi crime thriller novel. Greg said it was, genuinely, "my favourite film of the year." It's gotta be good then, right?
While Michael seems like a lovely guy, the character he plays sounds a bit trickier. He's a, "really flawed detective, a bit of a loner, and I think he's got only one friend. And he's very antisocial, but a brilliant detective - with a drinking problem."
The star had a great time filming in Scandinavia, where he actually tried skiing for the first time. Is he a pro? "It was excellent," he said. "I get down the hill. Not with a great deal of style or elegance, but I get there."
Michael MIGHT just be in the wrong career...
Guitar player? Sports car racer? Michael is looking at updating his CV.
Greg and Michael actually have a lot in common - well, one thing in common. They both have their racing driver's license. Michael even shows off a bit of his stunt driving prowess in The Snowman.
So in another life, could Michael have been more of a Lewis Hamilton figure? Turns out it wasn't his only potential profession...
"This would have been my absolute dream but it's just so expensive to get into motor racing, even at a karting stage," he said. "I wanted to be a lead guitarist when I was around 15, in a metal band, that was sort of my first dream. But then a friend of mine came round my house and just started playing the electric and I thought, 'Ok, he's excellent, and I'm never going to be able to be at that standard.' So I decided to act instead!"
We reckon it's turned out alright for him in the end.
"You can't make a 'moo' creepy"
From clowns to snowmen, plenty of horror movies seem to work by making something supposedly joyful and innocent creepy. So, naturally, Greg decided to challenge Michael to compete with him reciting classic nursery rhymes in as scary a manner as possible - over a horror movie musical backdrop.
And it was amazing! We'll never hear "Twinkle Twinkle" in the same way again.