Main content
'No rubbish, no fluff, no filler': Making hits in 47 minutes with Clean Bandit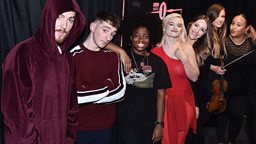 In 2008 a group of friends at Cambridge University formed a band that mixed classical music with electronic beats.
In 2017, with three number one singles and collaborations with some of the biggest names in music under their belt, Clean Bandit performed their new single I Miss You with Julia Michaels in the Radio 1 Live Lounge.
"We wanted to be like Radiohead," says Grace Chatto, the band's cellist, about the band's ambitions when they first started writing and recording together.
"When they started experimenting with electronic music, it gave us the idea that it might be a cool idea to do."
The idea was indeed cool and it also brought the group huge success, with songs such as Rather Be, Rockabye and Symphony becoming hits across the world. Judging from the early response to I Miss You, Clean Bandit have struck gold again.
Watch Clean Bandit perform I Miss You with Julia Michaels
"It took 47 minutes to record I Miss You," says Jack Patterson, one of the two producers in the group.
"I played some chords, Julia went into the booth and just wrote the song on top of that.
"At the end of 47 minutes she sung the whole song straight and that is actually the vocal that is on the record."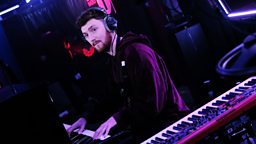 I Miss You is Clean Bandit's softest, most intimate single yet but it is a long way from the raw, punchy sounds of their early releases such as A&E and Mozart's House.
But despite their evolution and the success it has brought, these early moments still hold a very special place in the band's hearts.
"A&E is one of my favourite songs we've made in terms of the production," says Grace.
"I find the production in A&E very beautiful, it reminds me of Ace Of Base, the way the bass has that space and the reggae."
Watch the video for Clean Bandit's first official single, A&E
Despite the stark difference between songs like A&E and I Miss You, the Clean Bandit ethos remains the same on both their early and modern material.
"It's all about making these single lines the best they can be," says Luke Patterson.
"No rubbish, no fluff, no filler."
Clean Bandit also performed a Dua Lipa and Sisqo mash-up in the Live Lounge
Sean Paul, Zara Larsson, Anne Marie and Jess Glynne are just some of the artists who have guested on Clean Bandit tracks, but the trio have a very firm idea of who they want to one day get in the studio with. They want to record a track with Lana Del Rey.
"I think she's one of the greatest artists of our generation, along with Marina and The Diamonds - but we've already made a song with her," says Grace - with Jack suggesting a duet between the two.
"There's a similarity in some of their work and as singers, Lana's range is crazy."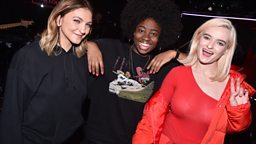 They've yet to try for Lana, but there is one other artist Clean Bandit have their hearts set on working with, even if their first attempt didn't go quite to plan.
"We'd also love to work with Bruno Mars, so we tried," says Grace.
"We tried doing a remix for him but he didn't like it. We need to try again."
Clean Bandit + Bruno Mars = a collab we can totally get on board with. If at first you don't succeed, guys, pleeeeease try again. Our playlist thanks you in advance...
I Miss You by Clean Bandit and Julia Michaels is out now
Listen to Clean Bandit's full Live Lounge session right here.