Main content
Take Part in Musicals: The Greatest Show!
Thanks for everyone who sent their submissions for The Joseph Singalong.
Watch the performance of Jac Yarrow and our singalong choir on 7th February on BBC One.
We are no longer accepting entries, the below is for reference only.
Do you love musicals? Do you love to sing along to the biggest hits? Do you fancy performing alongside a West End leading man? Well here's your chance...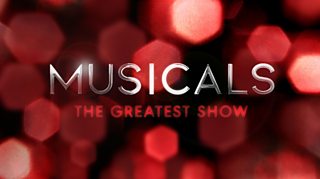 BBC Radio 2 and BBC One are raising the curtain with a very special show - direct from the West End - featuring a glittering cast of UK and international stars performing songs from the musicals.
This promises to be a magical evening that delivers an experience we've all been missing for far too long – a night at the theatre! Hosted on radio and television by Sheridan Smith... it puts the songs, the shows, and the stars back on stage at the world famous London Palladium.
And we're giving you the chance to be one of those stars by taking part in a huge virtual sing-a-long!
Led by the star of Joseph and the Amazing Technicolour Dreamcoat, Jac Yarrow, we're going to unite the UK for a rendition of Any Dream Will Do sung by BBC listeners and viewers who will make up a virtual choir from across the country.
How you can take part
We want you to be a part of our nationwide choir and sing along to Any Dream Will Do. Feel free to perform solo, or you might want to involve people in your designated household (in line with your local government's rules) for a group rendition.
Don't worry, you don't need to have the voice of an angel to take part - you can even mime along! This is all about celebrating the fun of musical theatre.
What you need to do...
plus some tips to help your video be featured
Download the backing track and lyrics. Don't worry you don't need hi-tech kit or super-fast broadband.
Then film yourselves in portrait. Hold your phone as you normally would, not on its side.
We only want you to sing the lines in bold.
Have a go at the whole song. Don't worry, you don't need to get every line right! Remember to have fun and smile.
It would be great if you could play the backing track to sing along to on one phone or computer/device, and film yourself singing on another.
If you're on your own, listen to the backing track on headphones as you sing.
If you're with other members of your household play the track in the background. But remember keep the volume as low as possible so we hear more of you than the backing track in your film!
Then email your submission to anydreamwilldo@tbimedia.co.uk
If you have problems attaching the video file to an email because it is too large, feel free to use a file sharing platform like Dropbox, One Drive or WeTransfer - just remember to still make sure it is sent to anydreamwilldo@tbimedia.co.uk
Closing date: 26th January 2021
Finally...
Film safely and responsibly – observe all the current government advice and rules for where you live in the UK.
Please confirm that the people in your video are members of your household - including extended and support bubbles where permitted by your nation's government.
If you are filming inside your own home please check these points:
- Please do not film in a child/young person's bedroom
- Please do not film in anyone's private space or communal areas without their consent (e.g. their bedroom, a communal space in shared accommodation, bathrooms etc)
- Please check that you don't have any pictures showing people (e.g family pictures in the background)
- We advise you not to film in front of valuable items.
Remember you and your homes may be seen on national television
If you are filming outdoors please do so in your own gardens/outdoor spaces
– please do not gather in public in a way that could breach your nation's current guidelines on outdoor meeting and social distancing
Please DO have fun whilst following the above
Any Dream Will Do - Lyrics
Music: Andrew Lloyd Webber Lyrics: Tim Rice
Please sing the lines in bold
LYRICS:
I closed my eyes, drew back the curtain
To see for certain what I thought I knew
Far, far away, someone was weeping
But the world was sleeping
Any dream will do
I wore my coat,
I wore my coat
with golden lining
Ah Ah Aahh
Bright colours shining,
Ah Ahh
wonderful and new
And in the east,
And in the east
the dawn was breaking
Ah Ah Aahh
And the world was waking
Ah Ahh
Any dream will do
A crash of drums, a flash of light
My golden coat flew out of sight
The colours faded into darkness
I was left alone
May I return
May I return
to the beginning
Ah Ah Aahh
The light is dimming,
Ah Ahh
and the dream is too
The world and I,
The world and I,
We are still waiting
Ah Ah Aahh
Still hesitating
Ah Ahh
Any dream will do
May I return
May I return
to the beginning
Ah Ah Aahh
The light is dimming,
Ah Ahh
and the dream is too
The world and I,
The world and I,
We are still waiting
Ah Ah Aahh
Still hesitating
Ah Ah
Any dream will do
Give me my coloured coat, my amazing coloured coat
Give me my coloured coat, my amazing coloured coat