Main content
Artists flock together to promote visual arts
18 September 2015
We've heard of storks delivering babies, now birds have been arriving at schools to promote the message about visual arts. And all thanks to artists who flocked together to make it happen.
Artists, makers, designers and craftspeople were openly invited to make, sculpt, paint, draw or make a print of a bird and send it to AccessArt's Share-a-Bird project. A label was attached naming the artist and describing their inspiration before being sent to schools in the UK to act as a catalyst to encourage pupils to engage with art. Now, over 160 original artworks are being sent to schools.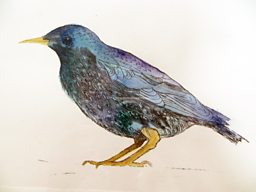 Starling by Ange Hart - "Be creative and enjoy yourself – don't worry about getting it 'right'"
The project was the brainchild of Get Creative champion AccessArt creative director Paula Briggs as a way to spread the message about the visual arts in schools while promoting artists and their work - with no money changing hands. Speaking to Get Creative, Paula asks: "How many children regularly see art made by artists, in the flesh, up close, close enough to touch?"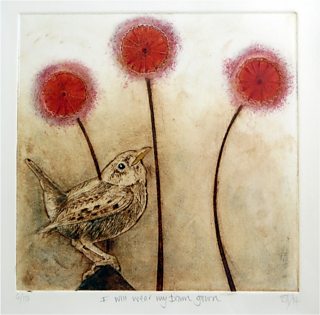 I will wear my brown gown by Suzi Thompson. Inspired by nursery rhymes and fables her mother used to read to her
"Schools are still studying historical artists but we need to raise awareness of contemporary artists," she said. And she underlines the hands-on nature of the project with the emphasis on 'more making in schools'.
AccessArt tries to link up schools with artists who are local to their areas, but it can be any type of art which acts as a catalyst. "We try to keep up the quality of the art but we try to keep it as open as possible," she said.
The idea for the project came about during Paula's daily ritual of feeding the birds at 6.30am. She'd written a book called Drawing Projects for Children but once it was finished couldn't bring herself to open the pages.
"It was too strange, I couldn't look at what I'd written so one morning I thought 'I'm going to open a book, rip it apart and make sculptural birds from the pages'."
"I sent some pages to a friend and colleague and asked her to make some birds, which she did. She sent them back and it was so exciting to get them in the post. Opening the box, taking them out and having a look at them.
"The fact that she'd done this out of her own free will, it felt like a gift," Paula said.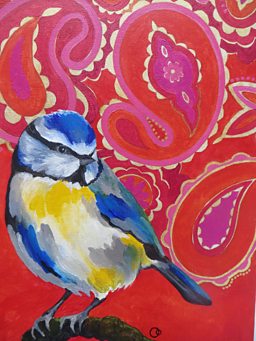 Veronique Oodian: "The blue tit is one of my favourite birds. I love how they are so small. I have decorated the surroundings of this bird in paisley with gold to illustrate how much I think this bird is truly gorgeous."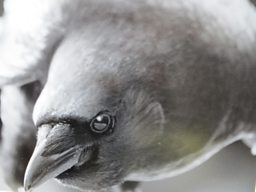 Colleen Wilson: "I look at the world much differently since starting to learn photography. I see beauty everywhere, interesting lines, chnages in light, in everyday life. Grab a camera and have some fun!"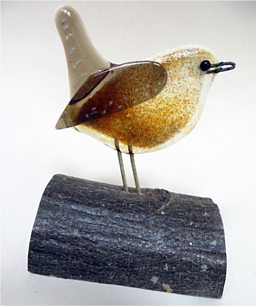 Ann Donnelly: "I take daily inspiration from the birds in my garden for my freestanding fused glass bird sculptures. I particularly enjoy making the smaller garden birds. When making a Wren in glass, I try to capture the essence of this energetic little bird. Each sculpture is made out of three layers of fused glass. I do hope you enjoy creating your own birds. The most important thing is to try and capture the spirit of your bird in your work."
That's when she had the idea of asking artists to do the same - to make a bird out of any medium and send it to AccessArt which would then pass them on as a gift to schools. More than 400 artists have supplied birds to be distributed and 350 schools have signed up to recieve the free, contemporary artwork. But still AccessArt is encouraging more schools and artists to take part.
"We like the idea that this flock of birds from artists across the UK has gathered and is being sent out so they can migrate across the UK, reminding us all about the visual arts."
You can see the artwork on AccessArts Pinterest page.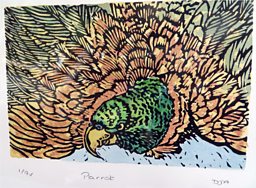 This linocut by Douglas Anderson formed part of a series of animal studies combined to create a zoo poster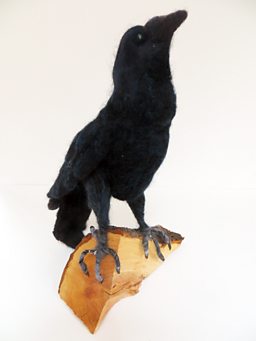 Charlotte Hills: "Corvids, one of the cleverest bird families are one of my favourite birds. They are incredible problem solvers and have a phenomenal memory. Ravens are also a feature of much myth and storytelling and I love the idea of stories being collected around this one."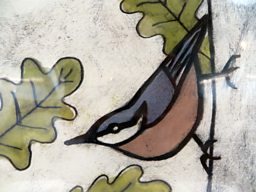 Anna Tosney: "I hope you enjoy your project! I'm inspired to draw the things around me. This cheeky Nuthatch loves coming to the bird feeder in the garden and hangs upside down to eat the seeds."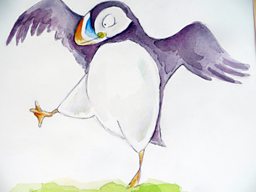 Deborah Partington: "This puffin has winged its way to you, preparing to fly with a message that you can achieve anything if you aim high enough. Happy flying!"
Elsewhere on Get Creative