Main content
10 Modern Women who helped to change the world
8 March 2017
On International Women's Day a new book, Modern Women: 52 Pioneers casts a light on inspiring women who have helped change the world for the better. BIDISHA picks out her personal top ten and talks to the author about the challenges women still face.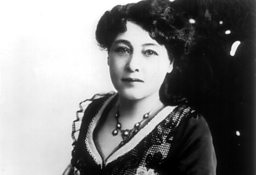 Alice Guy-Blaché, Film director, 1873-1968
Alice Guy-Blaché was a prolific director in both Paris and Hollywood, spanning comedies, westerns and melodramas and promoting female leads. She worked during the early days of Hollywood, when women directors, including Lois Weber, Mabel Norman and Dorothy Arzner were pioneers of the burgeoning motion picture industry.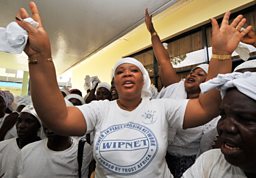 Leymah Gbowee (centre) is greeted by fellow women's rights activists in Monrovia. Photo by ISSOUF SANOGO/Staff via Getty.
Leymah Gbowee, peace activist, born 1972
Nobel Peace Prize winner Leymah Gbowee has spent her life uniting women in campaigning against militarised violence, rape, child exploitation and male dominance of the peace process within her home country of Liberia, across West Africa and as part of international women's peace and activism networks.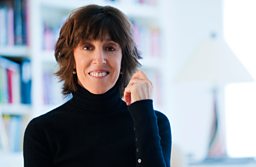 Writer and Director Nora Ephron. Photo by: Scott McDermott/USA/NBCU Photo Bank/Getty Images.
Nora Ephron, writer and director, 1941-2012
Nora Ephron is the Oscar-nominated writer of classic romcoms Sleepless in Seattle and When Harry Met Sally, the director of You've Got Mail and Julie And Julia and the author of countless books reflecting the frustrations and joys of women's lives with punchy wit and sobering realism.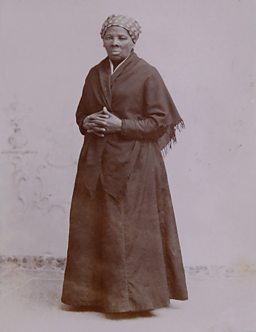 Recently found photograph of escaped slave, abolitionist Harriet Tubman. Photo by Chip Somodevilla/Getty Images
Harriet Tubman, abolitionist, 1822-1913
Harriet Tubman spent her childhood working on a plantation in Maryland. She escaped slavery and saved hundreds of other enslaved people, including her own parents, through her work on the Underground Railroad. During the American Civil War she was a nurse, a spy and a military leader.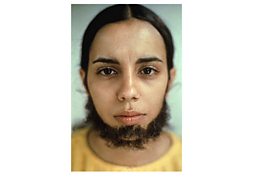 Ana Mendieta pictured here in her artwork Untitled Facial Hair Transplants from 1972. Photo: The Estate of Ana Mendieta Collection LLC, Courtesy Galerie Lelong New York.
Ana Mendieta, artist, 1948-1985
Ana Mendieta was a photographic and performance artist who staged eerie scenes of female sacrifice, death, ritualism, rape and remembrance, often featuring herself in silhouette, entombed or covered over. Following her suspicious and violent death after a row with her partner, artist Carl Andre, her work is all the more haunting and powerful.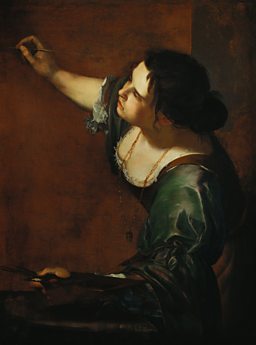 Self-Portrait as the Allegory of Painting, 1638–9, Artemisia Gentileschi.
Artemisia Gentileschi, painter, 1593-1653
Artemisia Gentileschi survived rape (by one of her artist father's friends), legal defamation during the trial and subsequent notoriety to become the first woman member of the Academy of the Arts of Drawing in Florence. The first woman artist to run her own studio, she painted the classic, violent and visceral Judith Slaying Holofernes.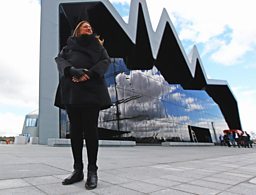 Architect Zaha Hadid outside the Glasgow Riverside Museum that she designed. Photo by Jeff J Mitchell/Getty Images.
Zaha Hadid, architect, 1950-2016
Zaha Hadid is renowned for creating buildings which are mountainous, sinuous and flowing, having built all over the world from Beijing to Baku. Born in Iraq, she established her practice in the UK, won the prestigious Pritzker Prize in 2004 and the RIBA Royal Gold Medal in 2015.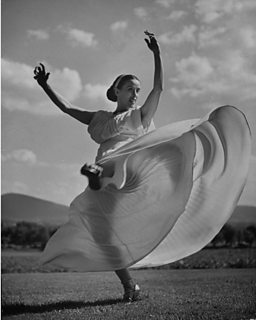 Martha Graham executing one of her famous swirling turns. Photo by Jerry Cooke/Pix Inc./The LIFE Images Collection/Getty Images.
Martha Graham, dancer and choreographer, 1894-1991
Martha Graham's career as contemporary dance's chief innovator lasted more than 70 years. Between 1926 and 1930 she choreographed 79 new works and in 1932 was the first dancer ever to be awarded a prestigious Guggenheim Fellowship. She created her last piece in her nineties.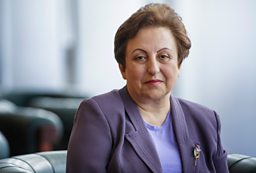 Iranian lawyer Shirin Ebadi, Nobel Peace Prize winner 2003. Photo by Thomas Trutschel/Photothek via Getty Images.
Shirin Ebadi, lawyer, born 1947
Iranian human rights lawyer Shirin Ebadi has been imprisoned, received death threats and worked under surveillance and intimidation during the course of her career fighting gender inequality, patriarchy and lenient judgements against perpetrators of sexual violence. Since 2009 she has had to live in exile.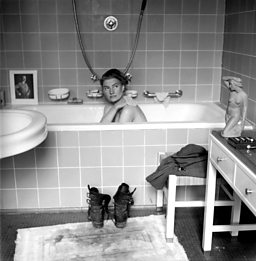 Pictured after the death of Hitler and formal surrender of Germany, American photographer Lee Miller sits in a bath in Adolf Hitler's home, Munich, Germany, 1945. A portrait of Hitler sits on the edge of the bath, Miller's combat boots are on the floor in front of it. Photo by David Scherman/The LIFE Picture Collection/Getty Images.
Lee Miller, photographer, 1907-1977
Lee Miller began as a model and a muse to artist Man Ray but quickly transcended that role to become an international war photographer. She photographed the concentration camps at Dachau and Buchenwald as well as writing about her experiences of witnessing combat during World War II.
Bidisha talks to Kira Cochrane, author of Modern Women: 52 Pioneers
It's not often that one volume weaves together the stories of a Russian cosmonaut, an American pilot, a German Resistance fighter, a Kenyan environmentalist, a Japanese mountaineer and an Icelandic pop star. Kira Cochrane's book Modern Women: 52 Pioneers, achieves such a feat.
An inspiring and revelatory edition of potted biographies, it crosses disciplines, countries and centuries, with one aim: to celebrate "women who led really big lives, who broke down boundaries, who make us think differently about the possibilities for women," says Cochrane.
Modern Women includes celebrated figures like TV mogul Oprah and architect Zaha Hadid as well as international activists "who pioneered the fight for LGBT rights, who were at the forefront of the civil rights movement, who championed equality and freedom," says Cochrane, who is quite the role model herself. She is Opinion editor at The Guardian as well as the author of two novels and editor of the anthology Women of the Revolution.
Modern Women reminds us how much is possible for women, yet how much still stands in our way. Discrimination, sexual violence, betrayal, abuse, marginalisation and injustice are perennial obstacles, regardless of the time, profession or geography of each woman's life.
"Women are still marginalised within the public eye – we see that in lots of different fields," says Cochrane. "But these women provide a partial roadmap in showing what we can do to change the world.
"It's a way into thinking about feminism and civil rights and campaigning, thinking about what's necessary, both personally and politically, to fight for equality.
"I'd hope Modern Women is a positive contribution to the movement, so people can read it and feel uplifted and inspired by all the work these incredible women have done."
Modern Women: 52 Pioneers by Kira Cochrane is published on 2 March 2017 by Frances Lincoln.
Inspirational women on BBC Arts