Main content
15 memorable sporting moments from the 90s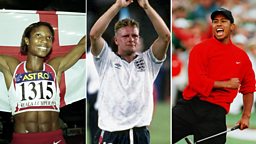 Top photo: Stu Forster /Allsport; Mark Leech/Getty Images; Timothy A.Clary/AFP
In Radio 2's Passion, Penalties and Pavarotti - Italia 90, Gabby Logan takes us back to the summer of Nessun Dorma, World in Motion, and Gazza's tears.
The programme looks at the tournament's cultural impact and how it changed the face of English football forever. Alongside archive anecdotes and commentary, we hear how it influenced the likes of footballer turned presenter Peter Crouch and singer-songwriter Jack Savoretti.
To coincide with this special programme, below we take a chronological look at the defining sporting moments from the decade - from Italia 90 to the emergence of new global icons like Serena Williams and Tiger Woods, to history-making teams like the treble-winning Manchester United squad of 1999 and the legendary Chicago Bulls, led by one Michael Jordan.
Gabby Logan travels back and relives some memorable tales, great games and epic emotions of Italia 90.
1. Italia 90 and football going stratospheric (1990)
Pavarotti's 'Nessun Dorma'. New Order's 'World In Motion'. Gazza's tears. Despite its low goal tally, Italia 90 was the World Cup tournament where football truly became the game we know today, sowing the seeds for a more glitzy, emotional form of the game, watched by hundreds of millions around the world. England's performance, reaching the semi-finals under the guidance of Bobby Robson, was only matched 28 years later (by Gareth Southgate's 2018 vintage) and their shoot-out defeat to West Germany would be the first of many modern tournament heartbreaks.
It did not begin auspiciously, with a dour 1-1 draw against Republic of Ireland, but Robson's side – featuring the likes of Gary Lineker, David Platt, Mark Wright, Terry Butcher, and their new star player, a 23-year-old Paul Gascoigne – saw off Belgium in the last-16 and a tricky Cameroon side in the quarter finals.. But they fell at the crucial hurdle when Chris Waddle and Stuart Pearce missed penalties in a semi-final shoot-out against the Germans.
It was not to be for England, but the knock-on effect of Italia 90 was monumental. "Italia 90 is clearly the World Cup that had the most transformative impact on English football," says historian Dominic Sandbrook in Passion, Penalties and Pavarotti. "That may seem odd, people will say, 'but what about 1966?' But [England's World Cup win in] 1966 changed nothing… it didn't mark a fork in the road at all. It was a great summer but that is all it was. Whereas Italia 90 made a massive structural and cultural difference to the way that football was perceived."
The sheer magic of Italia 90 spilled over into the rest of the decade too. Not least in February 1992, with the foundation of the Premier League. 22 clubs from England's First Division broke off for more lucrative beginnings, and changed the face of football forever. Here we had big money TV deals, multi-million pound signings, a dominant Manchester United, and a global appeal that has continued to grow in subsequent decades.
2. Stars shining at the Olympics (1992)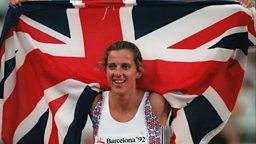 Photo: Jean-Loup Gautreau/AFP via Getty Images
The Olympics were a mixed bag for Team GB during the 90s. The 1996 Games in Atlanta saw Great Britain taking home a disappointing one gold, but the 1992 Olympics in Barcelona was more fruitful, with five golds and a 13th place finish overall. The 1992 Games saw a handful of individual stars shining brightly too, with Sally Gunnell taking home gold in the Women's 400 metres hurdles, Linford Christie triumphing in the Men's 100 metres, and rowers Matthew Pinsent and Steve Redgrave finishing first in the Men's coxless pair, the first Olympic gold for all four athletes.
3. Tanni Grey-Thompson's four golds (1992)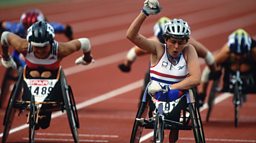 Stu Forster/Getty Images
Welsh wheelchair racer Tanni Grey-Thompson is one of the UK's most celebrated Paralympians, winning 16 medals over the course of four Paralympic Games. Her debut at the Games came in 1992, with Grey-Thompson taking home four golds and a silver in Barcelona. It launched the Cardiff native as a new inspiration for disabled athletes, with Grey-Thompson going on to win one more Paralympic gold during the 90s at the 1996 Olympics in Atlanta, before four more in the Sydney Olympics in 2000. She has since gone on to become a Baroness, being honoured with a Life Peerage in the House of Lords in 2010.
4. Brian Lara's 501 not out (1994)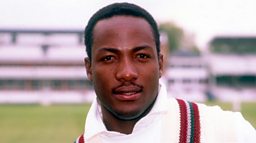 West Indies and Warwickshire batsman Brian Charles Lara became arguably the greatest to ever play the game with his record-breaking first-class cricket tally of 501 not out, versus Durham at Edgbaston in 1994.
Lara hit 64 fours and 10 sixes from 427 deliveries, in turn beating a record previously set by Pakistani batsman Hanif Mohammad (499 runs). His staggering score was a feat of immortality, and it has not been matched 26 years on: To this day, it remains the only quintuple-hundred tally to be recorded in first-class cricket.
The story would be very different had bowler Anderson Cummins not overstepped when delivering a deadly stump yorker. Lara was on just 12 runs at the time, but it was ruled a no-ball. What followed, however, was a truly imperious display.
5. The Tonya Harding and Nancy Kerrigan scandal (1994)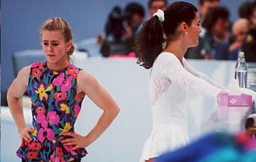 Vincent Amalvy/AFP via Getty Images
A memorable sporting moment of the 90s, but not for purely sporting reasons. U.S. ice skaters Tonya Harding and Nancy Kerrigan were their country's big hopes ahead of the 1994 Winter Olympics; two competitors with very different public images: Kerrigan, the clean-cut all-American and Harding, who came from a troubled home life.
The headline-grabbing rivalry would later be turned into a film - 2017's 'I, Tonya', which saw Harding played by Margot Robbie - after Harding's ex-husband and bodyguard hired a man to attack Kerrigan with the aim of ending the rival's Olympic hopes. The attack would not go wholly to plan (Kerrigan suffered bruises but no serious injury) and Harding would plead guilty to hindering the prosecution by not disclosing her subsequent knowledge of those behind the attacks. Harding and Kerrigan both appeared at the Olympics, with Harding finishing in eighth place and Kerrigan taking home silver.
Although Harding would be banned from skating for life in the aftermath of the scandal, the Oscar-nominated 'I, Tonya' would help rewrite her story as a woman unfairly treated by both the press and those around her rather than the villain status that she was originally given.
6. Jonathan Edwards' unbeatable triple jump (1995)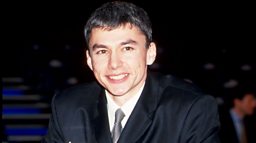 It's one thing to break a world record, another for that record to still be intact a good two and half decades on. But that's what British triple jumper Jonathan Edwards achieved at the IAAF World Championships in Gothenburg during 1995, jumping an unrivalled 18.29 m (60 feet). Edwards later recalled of his historic leap: "My first emotion was relief that, as favourite, I had produced. And then came a wonderful extended peace and quiet while I wandered around in a daze and waited for the distance. I knew it was a bit special but it was only with the roar of the crowd that I knew how special. They saw the scoreboard before me."
7. England's Grand Slam trio (1991-1995)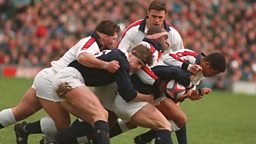 England's Grand Slam trio (1995)
Before Five Nations became Six, England's rugby side kicked off the decade with a period of ascendancy. Under the captainship of Will Carling, they won back-to-back Five Nations championships in 1991 and 1992, before capping off a superb five years with another title in 1995. The latter was particularly notable, as England won all four of their games, beating closest rivals Scotland at Twickenham in the final fixture.
Shortly after, Carling found himself sacked from captain duties after referring to his English Rugby Football Union bosses as "old farts" in a televised interview. This just prior to a crucial Rugby World Cup, too. There was still one golden moment left in the tank for '95, however, when England beat rivals Australia in the World Cup quarter-finals, before being toppled by New Zealand in the semi-finals.
8. Football coming home (1996)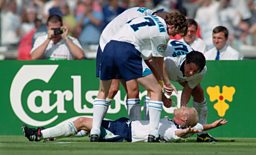 Stu Forster/Allsport/Getty Images
Football came home at Euro '96, for a sun-drenched, heady month in which hosts England's traditional big tournament shortcomings looked, at one point, to finally be over.
For England, the weight of big tournaments often appears to hang heavy on players' shoulders. Be it the decades of hurt after winning a World Cup in 1966, or the exhaustion of playing such big-ticket games immediately after a competitive Premier League, misplaced passes, shanked shots and underwhelming performances are often on the menu. But this wasn't the case at Euro '96. If anything, England and their fans had fun, soundtracked by the suitably sunny 'Three Lions' by Baddiel, Skinner and The Lightning Seeds. Paul Gascoigne scored an iconic solo goal versus Scotland, the Netherlands were thrashed 4-1, and Stuart Pearce fist-pumped the air in a dramatic shoot-out versus Spain.
It ended with sorrow – a missed penalty from Gareth Southgate in another semi-final defeat to Germany – but Euro '96 continues to act as a template for future England sides on how to grab a tournament by the scruff of the neck.
9. Tyson v Holyfield's 'Bite Fight' (1997)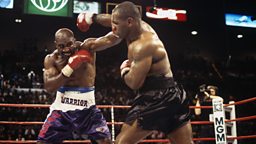 Photo by Focus on Sport via Getty Images
With both Mike Tyson and Evander Holyfield eyeing returns to the ring for charity bouts, speculation has been rife about the possibility of getting a third blockbuster head-to-head between the pair. It would promise to be quite the spectacle, especially if the last fight between these two heavyweights is anything to go by.
1997's Holyfield v Tyson II, a follow-up to Holyfield's knockout win the previous year, brought in a whopping 180 million in revenue and made headlines after Tyson was disqualified for biting off a part of his rival's ear, an infamous incident that would lead to the event being dubbed "The Bite Fight". It would allow Holyfield to keep his WBA Heavyweight Championship belt and would cause Tyson to briefly lose his boxing licence as a result.
If the two do combine for a rematch, Holyfield fancies his chances. He recently told BBC Radio 5 Live: "When they see me box at 58-years-old, they're gonna go 'wow, how did you do that?' Taking care of yourself, listen to your momma, listen to your father."
10. Tiger Woods making history (1997)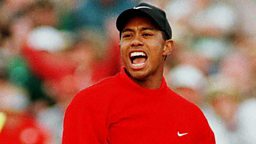 Timothy A.Clary/AFP
Tiger Woods was no stranger to success in 1997, but a record-breaking Masters victory truly put the world's most famous golfer on the map. It was the 21-year-old's first major tournament success, and his margin of victory – 12 strokes ahead of his rivals – was only eclipsed by Old Tom Morris at the British Open in 1862, some 135 years prior, with 13 strokes. In other words, this was the greatest modern achievement the sport had seen.
Up to a point: Woods went one further in 2000, winning the U.S. Open with a stunning 12-under-par, 15 strokes ahead of his closest competitors. His '97 accolade was the pace-setter, however, and it led to a period of dominance that spanned almost seven years. After a public downfall, he returned to winning ways in 2019 by once again emerging victorious in the Masters.
11. The emergence of Denise Lewis (1998)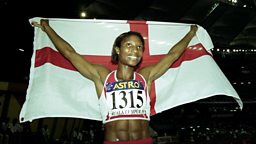 Photo: Stu Forster /Allsport
Before a Sydney Olympics gold in 2000, heptathlete Denise Lewis announced herself as one of the UK's finest athletes with two gold medals in one year: In 1998, she won the European Championships in Budapest, and the Commonwealth Games in Kuala Lumpur. Both occasions were testament to her sheer all-round consistency, as she triumphed with scores of 6559 in the European Champions, and 6096 at the Commonwealth Games. She remains one of the UK's greatest ever heptathletes, alongside Jessica Ennis-Hill and Katarina Johnson-Thompson.
12. Chicago Bulls' historic repeat three-peat (1998)
Jeff Haynes/AFP via Getty Images
One of 2020's biggest TV hits has been Netflix's The Last Dance, a 10-part documentary series looking back at Michael Jordan's final season with the Chicago Bulls in 1997-1998. You don't have to be a basketball fan to be hooked by the show either, as the story is strong enough to engage even those with limited knowledge of the sport.
Throughout the 90s, Jordan and his Bulls team had been the dominant force in the NBA, winning three back-to-back championships between 1991 and 1993. It would have been a mean feat for any team, but this was a Chicago side that had never even won one championship title in their then three-decades long history, let alone three in a row.
And that's not all either, later in the decade the Bulls would go on to become the first modern-era team to achieve a three-peat twice. They won an addtional trio of titles between 1996 and 1998 after Jordan's return from a 18-month retirement (and brief switch to baseball) and with an iconic line-up that included the likes of Scottie Pippen, Dennis Rodman and Steve Kerr. A truly remarkable story all round.
13. Jane Couch pushing things forward for women's boxing (1998)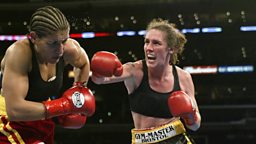 Photo by Jed Jacobsohn/Getty Images
Jane Couch had been boxing for four years before her landmark case that allowed her to become fully licensed in the sport, making her the UK's first-ever pro female boxer. Aided by a pro bono legal team that consisted of barrister Dinah Rose and solicitor Sarah Lesley, Couch was successful in her claim of sexual discrimination against the British Boxing Board of Control.
She later told the BBC: "It was three women against the establishment, and it was the last male bastion that we knocked down." Although Couch says she was still "berated by the press" and "frozen out by promoters" following the ruling, she was "very emotional" witnessing female boxers flourish at the 2012 Olympics in London, something she directly played a part in paving the way for: "Seeing British female boxers like Natasha Jonas, Savannah Marshall, it was just brilliant to see… [but] there's still a long way to go - like in women's football, women's rugby and women's cricket. But women's boxing is on the rise."
14. Man Utd's history-making treble (1999)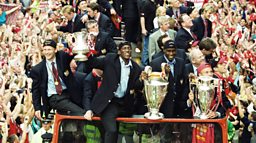 Morris & Stenning/Mirrorpix/Getty Images
Manchester United's treble-winning Champions League final against Bayern Munich in 1999 has continued in football folklore as one of the greatest sporting comebacks. But some of the other memorable moments from the team's history-making season are often overlooked. In fact, most of the season was marked by the kind of comeback spirit that Alex Ferguson's team would come to represent.
Five games into the campaign, his side were in second place, and would leave it to the final game, a 2-1 win against Tottenham at Old Trafford, to finally clinch the title. Then there was the tense FA Cup semi-final replay against Arsenal in April, which saw Peter Schmiechel save a penalty in the dying seconds to send the match into extra time. A superb solo run from Ryan Giggs (which came with an equally attention-grabbing celebration involving the removal of his shirt) sealed United's place in the final. And who can forget the remarkable comeback against Juventus in the Champions League semi-final? That game saw United two goals down after just 10 minutes, only to go on to win 3-2.
All culminating in Teddy Sheringham and Ole Gunnar Solskjær's stoppage-time smash-and-grab to cement the side's place as one of football's most iconic.
15. Serena Williams storming on the scene (1999)
Little did we know how familiar a sight it would become: Serena Williams triumphing in a Grand Slam final, defeating World No.1 Martina Hingis in straight sets to win the US Open.
She has won 22 more Grand Slams since, including five more U.S. Opens, but that is not to take away from the history made in 1999. She became the first African-American woman to win a Grand Slam in the "Open Era" (ie. since 1968), and she beat reigning champion Lindsay Davenport in a thrilling three-set semi-final.
The year began with defeat in the third round of the '99 Australian Open, and she missed out on Wimbledon due to injury. But her U.S. Open heroics kickstarted two decades at the very top.
Gabby Logan travels back and relives some memorable tales, great games and epic emotions of Italia 90.
From gold medals to missed penalties. Cast your mind back and see if you can score a perfect 10/10