Main content
Robin Lane Fox introduces the Archaeology Collection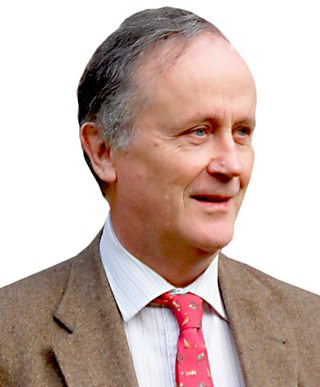 Robin Lane Fox
Robin Lane Fox has been a Reader in Ancient History at Oxford University since 1990 and Fellow and Tutor in Ancient History at New College, Oxford since 1977. His many books include Alexander the Great, Travelling Heroes and A History of the Classical World. He was the presenter and author of Greek Myths: Tales of Travelling Heroes, a 90-minute BBC Four documentary (2010), and starred in Charging For Alexander, a BBC Four Documentary (2004) about his role as a leader of the cavalry in Oliver Stone's epic film, Alexander (2004). Since 1970 he has been the weekly gardening columnist of the Financial Times and his latest gardening book is Thoughtful Gardening (2009).
Buried Treasure: Archaeology at the BBC
Archaeology is a special success among the BBC's ventures into the past. From the 1950s onwards big audiences have been retained for programmes on the search for past people, ancient sites, monuments, objects and even sunken ships like the Mary Rose. In the 1950s archaeology was still a young science and outsiders often confused it with simple treasure-hunting.
The BBC's programmes transformed archaeology's popular profile and made stars of some of its exponents. Above all, they are reasons why archaeology was included in the courses in new universities of the 1950s and 1960s and why so many students wanted to take them. The subject spanned the notorious "arts-science" divide of a "two-culture" Britain. How did the BBC first develop the subject? The BBC Four Archaeology archive collection presents fascinating answers, in good old black-and-white.
Who now would guess that archaeology first came on screen in 1952 through the quiz show Animal, Vegetable, Mineral? (1952-59). On it a panel of experts were being asked to guess the identity of an object to which they were given at most an indirect clue. Why not ask some archaeologists in, too, to guess the identity of objects from the distant past? With hindsight the production team was one of the BBC's most inspired choices. The young David Attenborough was an assistant producer and directed the camera work. Its creator and producer Paul Johnstone was undoubtedly the future king of BBC archaeology, who was to sustain the subject for more than 30 years, masterminding Buried Treasure (1954-59), and then more than 200 programmes for Chronicle (1966-91), his special child.
I am one of many, including Magnus Magnusson, who owe my first TV pilot-test to the great Paul's readiness to take a risk. In my case it led to a note in 1971 saying "nerves get in the way, but there may be a future one day." I had to wait till 2004, but the competition was stiff.
Within a few years, two of Animal, Vegetable, Mineral?'s experts, Mortimer Wheeler and Glyn Daniel, had been chosen one after the other as TV Personality of the Year. They became Britain's best known pundits on the buried past. Both were British rather than English. Wheeler, born in Edinburgh, had served with bravery (winning a Military Cross) in the First World War and had gone on to direct and organise the National Museum of Wales. Wheeler was already vastly experienced and had excavated ancient forts and castles in Yorkshire, Kent and Wales. In the 1940s he had been made Director-General of the Archaeological Survey of India no less, where he did some of his most challenging work on sites of the very early Harappan culture. Admirably he had set up a training school near his main site, Mohenjo-Daro, and he continued to help and be welcomed in the newly-formed Pakistan.
"Mortimer Wheeler and Glyn Daniel became Britain's best known pundits on the buried past"
Daniel was born a Welshman and had written a doctorate on a lifelong love, the megaliths of northern Europe. He, too, had had experience of India, in 1942 when he was in charge of the interpretation of wartime aerial photographs, a type of evidence which Wheeler would one day use in his field excavation of Pushkalavati.
The public loved Daniel's Welsh wit but above all they loved Wheeler's inexhaustible expertise, his self-presentation and his amazingly trimmed handlebar moustache. The great prehistorian and early archaeologist Gordon Childe joined the Animal, Vegetable, Mineral? team and ran Wheeler's facial hair a close second. This panel of past Titans is all male and mainly soberly suited. Tobacco pipes are much in evidence, a prop which Wheeler always exploited artfully. In the 1950s, the TV Brains Trust and the publishing of a "Home University Library" were part of the same milieu. Trusted, popularising male experts were descending to a level to which we could gratefully ascend.
The live recordings were preceded by legendary lunches, with plenty of drink. Nonetheless not even the National Museum of Prague, iron-curtained at the time, could catch out the team with the objects which it sent to challenge them in 1956. Childe, we see, knew an ivory statuette of a woman from c18,000 BC when he was shown one, especially one with such prominent breasts. Wheeler was not to be caught out by a bronze bull from Bohemia in the 4th Century AD. When nobody knew, he would ad lib "a salad bowl, clearly, with two internal sections" or enter a disclaimer when faced with a weird sort of object; "I know very few women who look like that." The hairstyle, the moustache, the pipe and declamatory manner make it hard to believe, but in real life Sir Mortimer was famously seductive to women.
Confidence grew and in Buried Treasure Paul Johnstone turned his prize-winning team on to some perennially fascinating questions. He made them sample the last meal as eaten by Tollund Man, found with its traces inside him after 2,000 years in a Danish peat bog. It was certainly not a BBC pre-programme lunch and Wheeler delighted his fans by declaring that Tollund Man had "committed suicide because he could stand his wife's cooking no longer."
The transport of Stonehenge's 60 huge stones; the early dating of the walls of Jericho, the unmasking of the Piltdown Man hoax; these problems and many others are still jewels of the archive under Johnstone's inspired direction. In 1958, Wheeler even presented a cast-iron refutation of pro-Apartheid polemicists who were trying to claim that the impressive ruins of Greater Zimbabwe could only have been built by white outsiders.
By now Wheeler was a celebrity and was going solo with a series on Greece, Armchair Voyage (1958) and then another on The Grandeur That Was Rome (1960). So much was still being done by voice-over and Wheeler never walks forward to camera, let alone beside it, the modern presenter's real test. Throughout Wheeler aims for the bigger generalization which will relate these subjects to our own day. A modern producer would force him to cut his words by at least three quarters. The choice of music is also a subject awaiting critical analysis.
Some nine years before Kenneth Clark dismissed all Roman art as derivative in his own superb series Civilisation (1969), it is fascinating to hear Wheeler crediting it with realistic portraiture, an art of the ordinary man and the world's first romantic movement. Even in 1958 he had asserted that "it is not fashionable to be pro-Greek". Few scholars then, and even fewer now, would agree. If only the series had been filmed in colour... Leptis Magna in north Africa is one of his star turns but it would have been ten times better.
The most recent series in the Collection, Sir Mortimer and Magnus (1974) was filmed two years before Sir Mortimer passed away. There are archive gems here; his admiration for his predecessor Flinders Petrie whom he knew well; the near inclusion of Piltdown Man in Churchill's History of the English-Speaking Peoples as the "first Englishman"; and for me especially, a riveting reflection on his excavation in Pakistan of Charsadda, a site linked to my own subject, Alexander the Great. Once, it had been dug by the remarkable Sir John Marshall on whom Wheeler's memories, as in each of these late archive pieces, are oral history, lost otherwise to knowledge.
Like archaeology programmes, archaeology itself has changed. Wheeler's identifications often tend to the famous and the romantic, whereas the slow arts of field-survey or pollen analysis and the study of processes, not named individuals, were not in such evidence in his formative years.
The BBC Four Archaeology Collection has so much to amaze us, looking back with such different tastes and formation, but it, too, is part of a story of the past and the public. That story is itself history on the grand scale.
Robin Lane Fox, April 2013
BBC Four Collections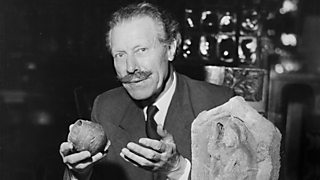 A collection of programmes charting the BBC's first ventures into archaeology programming, available to watch on BBC iPlayer.