Main content
10 Things You Never Knew About The 1966 World Cup Final
There has been so much said about the 1966 World Cup Final over the past 50 years, but here are a few lesser known facts about the match.
1. The Germans weren't England's bogey team (yet)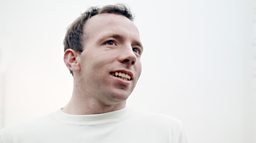 Losing to Germany (and their fore-runners West Germany) has become a habit for the England national team in the '50 years of hurt' since 1966, as German sides have knocked them out of 4 World Cups in that time. It wasn't always like that, however. Going into the '66 final, England's record against West Germany read: played 7, won 6, drawn 1, lost 0. The victories included a 1-0 friendly win at Wembley earlier in 1966, with Nobby Stiles the goalscorer.
2. They think it's all over… it will be on Tuesday!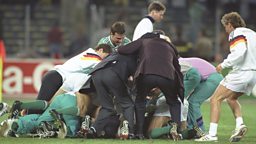 Another typical feature of English failures at major tournaments over the past 50 years has been losing on penalties, but this was never going to happen in 1966. If Geoff Hurst hadn't scored twice in extra time and the scores had stayed level, a replay would have been played the following Tuesday evening. And if the replay finished as a draw? The World Cup winners would have been decided by a lottery.
3. The national anthem was sung for only the second time in the tournament
England's players may have come under criticism in recent years for not joining in with the national anthem, but the 1966 team couldn't have been blamed if they'd forgotten the words. This was because the final was only the second game of the tournament at which anthems were played (the other was England's opening match against Uruguay). The FA wanted to avoid the embarrassment of the anthem of North Korea, officially unrecognised by the foreign office, being played on English grounds.
4. West Germany almost had to play without 'Der Kaiser'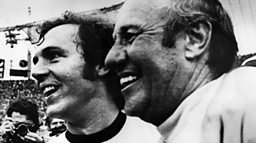 20-year-old Franz Beckenbauer was one of the breakout stars of the 1966 tournament, scoring 4 goals and impressing with his link-up play, but he very nearly missed the final. Beckenbauer was booked in West Germany's group game against Argentina and again in the semi-final with the USSR, but FIFA decided to ignore the second one and chalk it up to a case of mistaken identity.
5. No foul language allowed by referee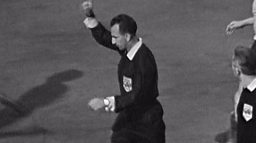 Swiss referee Gottfried Dienst was chosen to officiate the final, with the fact he was multilingual perhaps a factor in the decision. After controversy in the quarter-finals when German referee Rudolf Kreitlein sent off Argentinian captain Antonio Rattín while Rattín claimed to be asking for a translator, FIFA may have wished to avoid a repeat. Dienst warned ahead of the final that he "knew all the German swear words and more English ones than many people think".
6. Tickets didn't cost an arm and a leg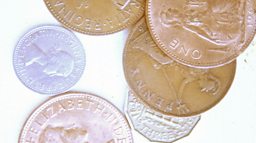 A ticket for the final could be bought for as little as 10 shillings – that's 50p or, adjusting for inflation, £8.73 in today's money. Had England made it to the Euro 2016 final, even those fans lucky enough to secure the cheapest tickets would have shelled out almost ten times that amount at 85 euros.
7. Wages were much lower too (but quickly rising)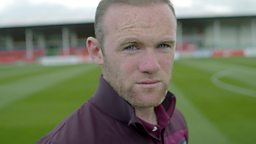 George Cohen, who started every England game in the 1966 World Cup including the final, was on a wage of around £80 a week at the time – roughly £1,400 in today's money, which is less than current England captain Wayne Rooney earns in an hour. However, Cohen and his England team-mates might have considered themselves lucky, as it was only 5 years since the maximum wage of £20 a week had been removed!
8. One player's family had divided loyalties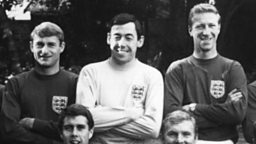 Gordon Banks' wife Ursula must have been in two minds on final day, as she was West German. The England keeper had met Ursula in 1955 while doing his national service – he was a regular in the clothing shop she worked in. Ursula said "I shall be torn, but I'll be rooting for England". Her support wasn't repaid by the FA, however, as they decided against inviting players' wives to the winners' banquet!
9. The England players received more than one medal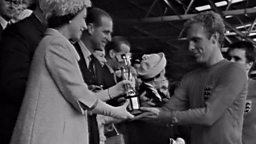 Many of the 1966 England side have sold their World Cup winners' medals in the 50 years since the triumph. However, they may have kept another medal, as Cissie Charlton (mother of England stars Bobby and Jack) brought eleven 'miraculous medals' to the final to give the England players. The medals were called 'miraculous' because they were a gift from a group of nuns at a college in Durham.
10. Not everyone heard Wolstenholme's words
Geoff Hurst's third goal at the end of extra time has come to be inextricably linked with the famous words of the BBC's Kenneth Wolstenholme: "Some people are on the pitch, they think it's all over… it is now!" Not all TV viewers heard this commentary as the goal went in, though. ITV were also screening the match live, with Hugh Johns commentating. Johns' words as the final goal went in? "Here's Hurst, he might make it three. He has! He has... so that's it. That is IT!"