Main content
Vic Galloway – A Festive Fifty
As each year goes by and the musical landscape changes it's great to see that the 'album' endures as an art-form for music fans across the globe. Every year I like to point you towards a 'Festive 50' – some you'll know already, a few you might not. Lots of them are homegrown and stand tall next to all the others. There's pop, indie, punk, R'n'B, soul, electronica, hip-hop, reggae, rock and a whole heap more in there… Please investigate and enjoy!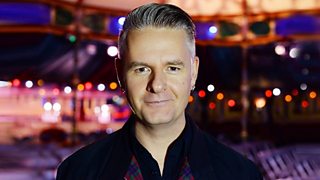 There's pop, indie, punk, R'n'B, soul, electronica, hip-hop, reggae, rock and a whole heap more in there…
Albums of the year:
Sault – 5 & 7 (Forever Living Originals)
Actually 2 albums but hey… both released in 2019.
Then in alphabetical order:
Andrew Wasylyk – The Paralian (Athens of the North)
Anna Meredith – Fibs (Moshi Moshi)
Avalanche Party – 24 Carat Diamond Trephine (So Knee)
Bis – Slight Disconnects (Last Night from Glasgow)
C Duncan – Health (Fatcat)
Callum Easter – Here or Nowhere (Lost Map)
Cate Le Bon – Reward (Mexican Summer)
Cloth – Cloth (Last Night From Glasgow)
Declan Welsh & The Decadent West – Cheaply Bought, Expensively Sold (Modern Sky)
Deerhunter – Why hasn't everything already disappeared? (4AD)
Edwyn Collins – Badbea (AED)
Fat White Family – Serf's Up (Domino)
Flamingods – Levitation (Moshi Moshi)
George McFall – XIV Surrounder (Tenement)
Ibibio Sound Machine – Doko Mein (Merge)
Idlewild – Interview Music (Empty Words)
Jaakko Eino Kalevi – Dissolution (Weird World)
James Blake – Assume form (Polydor)
James Yorkston – The route to the Harmonium (Domino)
Kaputt – Carnage Hall (Upset the Rhythm)
Karen O & Dangermouse – Lux Prima (BMG)
Lee Scratch Perry – Rainford (On U Sound)
Les Bof! – Voila (Dirty Water)
Mermaidens – Looks me in the Eye (Flying Nun)
Meursault – Crow Hill (Common Grounds)
Mungos Hifi & Eva Lazarus – More Fyah (Scotch Bonnet)
Nick Waterhouse – Nick Waterhouse (Innovative Leisure)
Oceans of the Moon – Oceans of the Moon (Castle Face)
Oh Sees – Face Stabber (Castle Face)
Out of the Ordinary – Stranger Things Have Happened (Ramrock)
Pom Poko – Birthday (Bella Union)
Sacred Paws – Run around the sun (Rock Action)
Sarathy Korwar – More Arriving (Leaf)
Savage Mansion – Revision Ballads (Lost Map)
SHHE – SHHE (One Little Indian)
Show Me The Body – Dog Whistle (Loma Vista)
Siobhan Wilson – The Departure (Suffering Fools)
Sleaford Mods – Eton Alive (Extreme Eating)
Snapped Ankles – Stunning Luxury (Leaf)
Stillhound – Stillhound (Lost Oscillation)
Sudan Archives – Athens (Stones Throw)
The Membranes – What nature gives… nature takes away (Cherry Red)
The Ninth Wave – Infancy (Distiller)
The Twilight Sad – It won't be like this all the time (Rock Action)
The Vegan Leather – Poor girls broken boys (Midnight Pink)
The Visual – Moments of being (Mink)
Thom Yorke – ANIMA (XL)
Unloved – Heartbreak (Heavenly)
Weyes Blood – Titanic Rising (Sub Pop)
And here's the disclaimer before the shouting starts… this is my list, and you can make your own if you like. I hope you get some inspiration from it though... Buy, borrow or stream them all.
Track of the Year: The Twilight Sad – I/m not here [missing face] (Rock Action)
Compilation album: Tiny Changes – A Celebration of Frightened Rabbit's 'Midnight Organ Fight'(Atlantic)
Live Act of the Year: Oh Sees
Merry Christmas, Happy Hogmanay - all the best for 2020… and the new decade ahead!
Cheers,
Vic xxx
Music on BBC Radio Scotland
Live performances from across the musical landscape recorded in front of an audience at BBC Radio Scotland's Pacific Quay.

Join Vic Galloway for the best in new music, classic tracks, gig reviews, votes, vinyl, MP3s and just about everything else

Bruce MacGregor presents Radio Scotland's flagship folk programme and brings you the very best of today's music and song.

End the day in the company of the song writing masters of country, folk, blues, soul and rock'n'roll.

Seonaid Aitken presents interviews, sessions and artist profiles plus jazz from across the sub-genres.

Jamie MacDougall plays the iconic classical music that's the soundtrack to our lives and tells the stories behind the music-making.

Nicola Meighan plays pop favourites and rarities from round the corner and around the world; including punk and soul hits, 80's classics, indie, rockabilly, reggae and contemporary artists.

Ricky Ross enters the musical landscape of Americana and alternative country. Featuring new and classic tracks, with Ricky taking a closer look at the stories behind the songs