Main content
Spicy Rice Noodles
Acclaimed photographer and well-known vegetarian Mary McCartney demonstrates one of her favourite vegetarian dinner party dishes, Yummy Spicy Rice Noodles.
Vegetarian Spicy Rice Noodles
This noodle dish is totally moreish. It's spicy, peanutty and irresistible as either lunch or dinner. The main thing is to not to overcook the rice noodles as they will get heated again when you warm all the ingredients together at the end.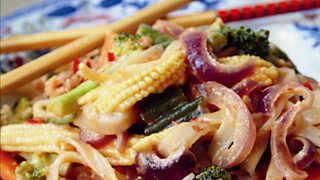 The recipe is taken from her new cookery book, 'Food'.
Subscribe to our podcast to be kept up to date with all cookery items.
Ingredients
For the sauce:
3 tablespoons crunchy peanut butter
2 tablespoons chilli jam, or 4 tablespoons sweet chilli sauce
300ml heated vegetable stock
1 tablespoon toasted sesame oil
a pinch of salt
2 tablespoons soy or tamari sauce
6 tablespoons coconut milk
For the noodles and vegetables:
3 bundles flat rice noodles (approx 400g)
2 tablespoons toasted sesame oil, plus more for the noodles
125g baby sweetcorn, cut into pieces, or 150g tinned or frozen sweetcorn
2 medium carrots, thinly sliced
1 medium red onion, halved and thinly sliced
125g green beans, chopped
150g broccoli, broken into small florets
3 cloves garlic, finely chopped
chopped peanuts and coriander, to serve (optional)
Preparation method
Put all your sauce ingredients into a mixing jug, and mix together well, so that the heated vegetable stock softens the ingredients together. Set aside while you prepare the vegetables
Cook the rice noodles following the packet instructions (but maybe a minute less than they suggest), then drain them in a colander and toss them in a little sesame oil to prevent them from sticking together. You do not want the noodles too soft, but still al dente, as they will be heated again in the vegetables and sauce at the end
To prepare the vegetables, heat the 2 tablespoons of sesame oil in a large frying pan with deep sides (or use a wok or big saucepan). Stir-fry all the vegetables together with the garlic for about 3 minutes on a medium to high heat, until the vegetables are just starting to soften slightly
Pour the sauce onto the vegetables in their pan and simmer gently for 4-5 minutes, until the vegetables are cooked through but still have a good bite to them and are not too soft.
Now stir in the cooked rice noodles. Mix together well and heat through. I serve this hot, and sometimes garnished with chopped peanuts and chopped coriander.
Browse previous recipes
Seeking to create perfect pumpkin soup, cracking curry or unbeatable bread and butter pudding?
More Food on the BBC
Browse our selection of recipes from top chefs, cooks and food writers who have joined us on Woman's Hour.