Main content
Five showbiz veterans revealing another side in Edinburgh
2 August 2018
The Edinburgh Festival Fringe might be best known as a proving ground for up-and-coming actors and comics, but this year a number of experienced acts are also making their debuts... just not doing what you might expect.
Frank Skinner: Career change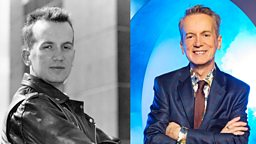 Image of Frank Skinner from 1990 courtesy of Trinity Mirror / Mirrorpix / Alamy
Frank Skinner has stepped out of his comfort zone by penning a play called Nina's Got News.
Skinner is a highly experienced stand-up - he won the Perrier Award back in 1991 - but 2018 is his first Edinburgh Fringe as a playwright. He is one of four writers who have never written for the stage before - along with Bim Adewunmi, Katherine Parkinson and Beryl Richards - who were invited to take part in the DEBUT project run by BBC Arts in conjunction with production company Avalon.
Skinner was incredibly excited by this career development. "This is such a brilliant initiative. Thirty years in comedy and I never knew I was only one encouraging phone call away from writing a play. I put down the receiver and picked up my laptop. Suddenly, I feel like a man of the theatre. I am hankering for a fedora."
Frank in the theatre
The well-known comic and broadcaster spoke to The Afternoon Show about his new play
Julie Hesmondhalgh: From cellar to Fringe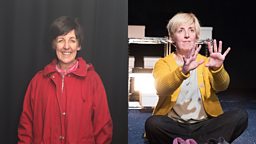 Image of Julie Hesmondhalgh dressed in the signature Hayley Cropper red coat by Jo Hale / Getty Images
Julie Hesmondhalgh might be one of the most recognisable faces on British television but her love of live theatre is bringing her to Edinburgh.
Hesmondhalgh came to public attention for her portrayal of Hayley Cropper in Coronation Street between 1998 and 2014 and she has since gone on to star in acclaimed shows Broadchurch and Happy Valley. In 2018 she is heading to Edinburgh for the first time in The Greatest Play in the History of the World...
Hesmondhalgh told The Herald that the piece was a bespoke creation, crafted in her own home. "A bit ago I asked my husband [Ian Kershaw] to write a show for me that we could take on the road for the rest of our lives, travelling the world with a few props in a suitcase and the words in my head in perpetuity, a one woman play about something universal that wouldn't age over time. And that we could take to Edinburgh first. Where else would we start the adventure? He kept disappearing to the cellar for an hour at a time over one Christmas, then presented me with the first draft of The Greatest Play in the History of the World... shortly afterwards. Best present ever."
Su Pollard: Comedy to drama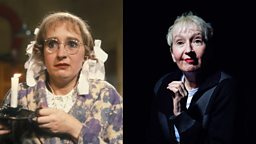 Su Pollard is known for her comic roles on TV, her Fringe debut sees her tackling a serious social issue.
Pollard made her name on Hi-De-Hi! and went on to star in other BBC sitcoms like Oh Doctor Beeching! and You Rang M'Lord? But Pollard is taking on a dramatic role in her first Fringe show Harpy, about a woman who is ostracised by her neighbours due to her hoarding. The play was written for her by Fringe First winner Philip Meeks, who juggles writing plays with performances as a panto dame.
Pollard told Rev Stan's Theatre Blog that this was the perfect opportunity for her to try the Fringe: "I've often been asked to go to Edinburgh but I've either been busy with other shows or the right play hasn't been sent my way. What's fantastic about this is I've been there from the start and Philip's told me about every stage of his thinking and the writing process. I feel as if I've really helped to create the role."
Jason Donovan: Candid conversation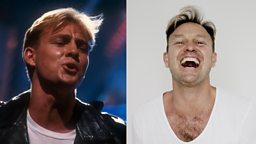 Jason Donovan's career has taken a few turns since his days on Top of the Pops - a candid account of his life is bound to make for an interesting listen.
The soap star who became a pop star and then a West End musical star, has had some well-documented drug addiction problems. Now he's coming to Edinburgh for five nights with an 'in-conversation' show called Jason Donovan and His Amazing Midlife Crisis.
It won't just be all talk though - Donovan will also serenade the crowd with acoustic renditions of hits like Too Many Broken Hearts and Especially For You.
Allan Havey: Ticking the bucket list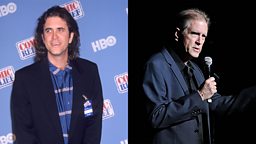 Image of Allan Havey in 1990 by Ron Galella / WireImage / Getty
The Edinburgh Fringe is the place to test your mettle as a stand-up.
Allan Havey is a veteran of the US comedy scene, regularly playing in the Comedy Cellar in New York over the last three decades. He's taking his show, Allan Havey Stands Up, to Scotland for the first time. "The Edinburgh Fringe has been on my bucket list for years. It's become like a mythical beast that needs to be slayed. Plus, the idea of doing 25 one-night stands without getting on a plane is too damn appealing."
Havey might not be a household name in the UK but there's a good chance you'll recognise his face. As an actor he's starred in acclaimed TV shows including Mad Men, Billions and the Man in the High Castle.
More from the Edinburgh Festivals 2018