Main content
Continue your musical journey
Throughout the summer of 2016, BBC Music Get Playing invited amateur players up and down the UK to join in a musical celebration like never before. BBC presenters learned instruments and inited you to do the same - includlng Radio 3's Sarah Walker on the drums, Radio 4's Rev Richard Coles on the organ and The One Show's Angellica Bell on the cello.
Over a thousand of you dusted off old instruments - or learned new ones from scratch - and joined Sarah, Richard, Angellica and many more BBC presenters in playing the Toreador Song in the BBC's first ever Virtual Orchestra, using ABRSM's Toredor Tips to help you practice.
Get Playing events were held by Making Music and Music for All's members and now all the Get Playing Partners ABRSM, Making Music and Music for All can help you continue your musical journey.

ABRSM (The Associated Board of the Royal Schools of Music)
ABRSM is the Associated Board of the Royal Schools of Music and we are delighted to have been a partner in the BBC's 'Get Playing' initiative.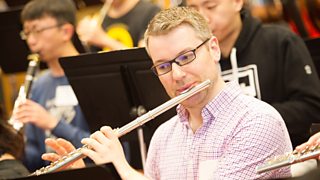 Supporting music-making at a High Scorers' Concert in Hong Kong.
At ABRSM we are passionate about music and we want to play our part in helping everyone who has taken part so far to Keep Playing.
Here are some ways ABRSM may be able to support you:
On BBC Music Get Playing, the Toreador Tips on Piano, Guitar, Trumpet, Violin, Clarinet and Timpani helped you tackle the Toreador Song so you could join the Virtual Orchestra.
Our Get Playing Ten Minute Takeaways will help you get the most out of your practice as you continue your musical journey.
Making Music
For more than 80 years, Making Music has been at the forefront of supporting amateur music making in the UK, fighting to ensure a thriving music scene for everyone to enjoy.

From samba groups to symphony orchestras, we represent over 3,100 amateur groups and 170,000 musicians across the nation, bringing together music makers and groups of all genres and abilities, alongside policy makers and stakeholders.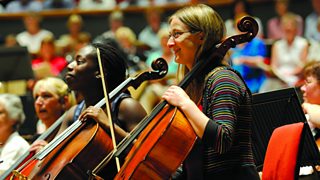 Chandos Symphony Orchestra cellists at Verdi Requiem Day, West Midlands. (Photo: Lindsey Wilson)
Music for All
The Music for All charity is delighted to have been a partner with the BBC in the "Get Playing" initiative and we want to offer our full support to everyone we can to help them continue with their musical journey.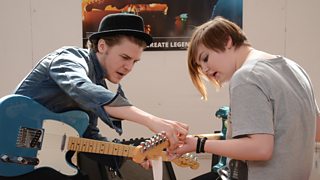 Learn to Play day, London
We believe that music making is a life enhancing and life changing activity that should be able to be enjoyed by everyone. That's why Music for All exists - to bring the world of music making to as many people as possible in the UK.
Here are some ways we may be able to help:
We donate instruments and music tuition to individuals to those who need them.
We make grants available to address the musical needs of community music groups and educational organisations.
We bring free of charge 'Learn to Play' experiences to people of all ages and backgrounds. The National Learn to Play Day will next take place on 17/18 June in 2017 at hundreds of venues throughout the UK.
If you are looking for a quality musical instrument shop for advice and support, go to Trusted Music Store.
A wealth of resources to help candidates and their teachers prepare for ABRSM exams and assessments,