Main content
How Dave Eggers' new book filters the American Dream through Yemeni coffee
Dave Eggers' new book The Monk of Mokha tells the true story of a young Muslim-American doorman who dreams of reinvigorating the coffee industry of his war-torn ancestral homeland, Yemen. For The Arts Hour, the author tells CHLOE VELTMAN about Mokhtar Alkhanshali's dangerous journey from a fancy San Francisco lobby to remote plantations and back.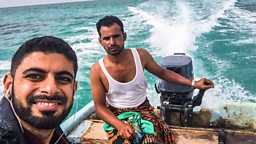 Mokhtar Alkhanshali, left, crossing the Red Sea – on a small fishing boat
In his latest non-fiction book, Dave Eggers – the bestselling author of the memoir A Heartbreaking Work of Staggering Genius and the dystopian tech novel The Circle – focuses on the life of Mokhtar Alkhanshali and illustrates the powerful contributions that young immigrants make to American life.
The Monk of Mokha tells the story of this resourceful Yemeni-American who, despite growing up in a rough downtown neighbourhood of San Francisco, goes on to become a swashbuckling coffee entrepreneur.
Alkhanshali starts out as a smart but directionless young man leading a dead-end life as a doorman (or "lobby ambassador") of a swanky San Francisco apartment building.
This coffee from Yemen has gone 6,000 miles, through war zones and over the sea

Dave Eggers
But when a friend randomly tells him about the role his ancestral home of Yemen played in helping to found the coffee trade, Alkhanshali becomes obsessed with learning everything he can about the beverage.
He didn't just learn about coffee, he also learnt about the the places it grew. He spent three years touring the coffee farms of Yemen, some so remote they were only accessible after a long hike on foot, getting to know the people and their stories.
In March 2015, as he was preparing to leave Yemen to return to the US to have his samples judged at the world's biggest coffee conference in Seattle, the civil war in Yemen intensified.
With both civilian airports bombed and no commercial flights operating, Alkhanshali headed for the Port of Mokha – the world's original coffee trading port – and hired a fisherman to take him on a seven-hour journey across the Red Sea in a small fishing boat with no radio or navigation equipment.
He stepped off that boat on the shores of Dijibouti, a small country on the horn of Africa with little more than the clothes on his back. But vitally, for the business he had spent years trying to develop, he had managed to keep hold of his two suitcases of coffee samples.
Eggers and Alkhanshali first met some years ago through a mutual friend while the author was working on another project. When the two reconnected to talk about a possible article Eggers planned to write on the subject, the author realised Alkhanshali's story had the makings of a great book.
In a studio at KQED in San Francisco during an interview for a forthcoming edition of The Arts Hour, Eggers tells me that he was initially drawn to the incredible bravery of Mokhtar Alkhanshali.
The coffee side of the story didn't interest him at all, at least not at first. But after Alkhanshali gave him a quick crash course in coffee cultivation and why knowing where food comes from matters, Eggers saw that the story was about more than his protagonist's larger-than-life journey; it was about the importance of fair trade.
Eggers now knows what goes into each cup. "This coffee from Yemen has gone 6,000 miles, through war zones and over the sea, and represents hundreds of years of expertise in the Yemeni highlands."
Hear the interview
On March 19, Dave Eggers talks to The Arts Hour from San Francisco about The Monk of Mokha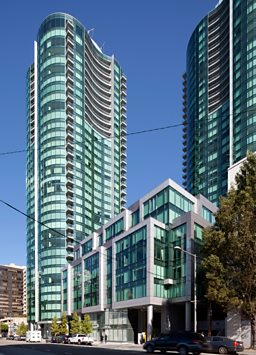 Alkhanshali worked at the Infinity apartment complex in San Francisco | © Westend61 GmbH / Alamy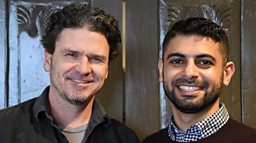 Dave Eggers and Mokhtar Alkhanshali became close during the writing of the book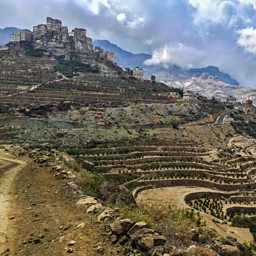 Coffee grows on plantations in the Yemeni highlands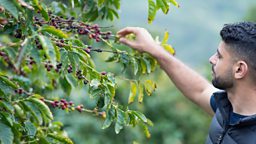 Mokhtar Alkhanshali inspecting some of the red coffee beans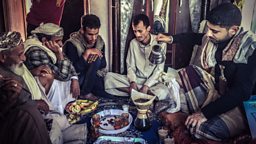 Alkhanshali samples a cup of coffee in Yemen
Under Alkhanshali's tutelage, he soon became a convert to artisanal coffee. "The weird thing is is that anything you eat or drink starts to taste better if you're thinking about the people who make it right," says Eggers.
For his part, Alkhanshali didn't know what he was getting into when Eggers approached him about telling his story.
"I actually had no idea he was a famous author when I met him, and still didn't know even when he asked me if I was interested in doing a book," Alkhanshali says. "I had to have a friend tell me who he was, and only then did I look him up and see all these amazing books he had written."
I actually had no idea he was a famous author when I met him

Mokhtar Alkhanshali
As Eggers worked on the The Monk of Mokha, Alkhanshali and he became close. "He's very attentive and caring," Alkhanshali tells me. "There were a lot of empty tissue boxes left over after some of our interviews."
While the book has already attracted positive critical response from readers in the US in the few weeks since it's been published, Alkhanshali is eager to see what the coffee farmers he works with in Yemen have to say about it.
"They're just completely thrilled that people all over the world are learning and reading about them and what they do," Alkhanshali says. "I can't wait for the book to be translated to Arabic and be able to go back and give them all copies."
The book is the latest exploration of the immigrant experience from Eggers, following on from his 2007 novel What is the What, about a young Sudanese refugee, and Zeitoun, the writer's 2010 real-life account of a Syrian American's experience of Hurricane Katrina.
"I never conceived of it as a series," Eggers says of the triptych. "I guess I'm attracted to stories of people who leave everything behind and risk everything on a dream."
Most artists and writers in the United States gave up on the 'American Dream' long ago. As the comedian George Carlin joked, "It's called the American Dream because you have to be asleep to believe it." But not Eggers. The author is on a mission to keep the American ideal of hard-scrabble success alive.
"Sometimes people think it's some old cliché or it's no longer true. But it's absolutely true," he told me. "There are millions of stories of the American Dream dreamed well. But more so than any time in the last 40 years, I think that dream is not being respected."
For Eggers, the American Dream can best be understood through the stories of courageous immigrants, especially the young 'DREAMers' – the estimated 3.6 million undocumented immigrants brought to the US as children whose fate the Trump Administration hasn't yet made its mind up about.
"These dreamers are being villainised," Eggers says. "I just am almost in a state of paralysis most days because I cannot figure out why so many young people would be put in such peril."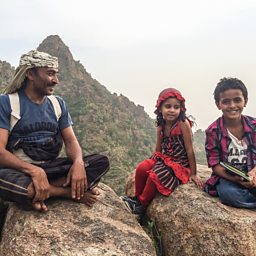 Alkhanshali built relationships in the local community
More from Dave Eggers
Mariella Frostrup talks to Dave Eggers about Zeitoun, which tells the story of a Syrian-American arrested as a suspected Al-Qaeda member while helping Hurricane Katrina victims.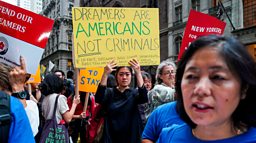 A protest in support of the Deferred Action for Childhood Arrivals (DACA), also known as Dream Act, in New York on October 5, 2017 | © Jewel Samad/AFP/Getty Images