Main content
How to tell the history of the world... in one city
BBC producer Robin Dashwood writes about working on Andrew Marr's History of the World
Two years ago, when we were first working on Andrew Marr's History of the World, one large, nightmare-inducing problem loomed above all the other large, nightmare-inducing problems. How to dramatise 56 different stories from across the globe from 70,000 years of history – all on a very limited budget?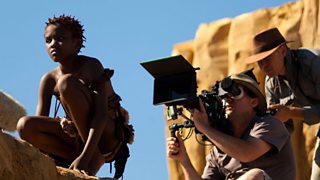 Clearly we didn't have the money to travel round the world filming drama as we went. Instead, the hunt was on for a location which would furnish us with the whole world. We found the answer in Cape Town, South Africa. Not only does it have a highly-skilled film infrastructure in place, they have a plethora of fantastic locations, all within close proximity of the city centre.
When the three directors and the series producer arrived, we were astonished by what we found. With some skillful set dressing, Cape Town's Cathedral became Notre Dame and Wittenberg Cathedrals, while a car park in front of the Town Hall became revolutionary Paris; stunning beaches stood in for Australia and the Caribbean; sand dunes became the Middle East; and forests became, well, forests from every continent. Most surprisingly, a young offenders' institution became a 19th century Chinese street, complete with circling baboons.
Locations dealt with, we needed to find an international cast. Luckily Cape Town is a bit of a melting pot: African, Chinese, European, Middle Eastern you name it, they've got it. Those clearly missing were Aborigines – there were none to be found anywhere in South Africa.
Budgetary considerations meant we had to make a limited number of performers seem like many more - a crowd of 15 often had to stand in for a crowd of 1500. The magic of computer graphics often filled in the missing 1485 – but it was always a challenge.
The shoot itself was exhilarating if exhausting: 56 days, 6 day weeks, 12 hour days. But the sheer professionalism and enthusiasm of the large crew kept the juggernaut on the road. We used two camera crews, which enabled us to double our footage, and our cameras were Arri Alexas – fantastic cameras that gave us an incredibly filmic look. But still, every day was a rush against time to get all the shots we needed.
But, after four exhausting months, we managed to achieve the impossible – we had recreated the history of the world – all in one amazing city.