Main content
The Bilbao effect: How 20 years of Gehry's Guggenheim transformed the city
16 October 2017
Twenty years ago, Bilbao was scarred by acts of terrorism and failing industry. The city decided to gamble on Frank Gehry's Guggenheim Museum. Not only did it help to save Bilbao, it also showed the world the transformative effect of art. As the museum celebrates its anniversary, WILLIAM COOK talked to its director about what was originally a controversial project.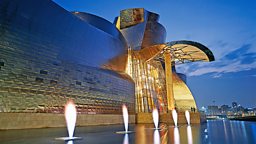 Guggenheim Bilbao with Yves Klein's Fire Fountain artwork, 1961 (fabricated in 1997) | Photograph courtesy Guggenheim Bilbao
Standing outside the Guggenheim Museum in Bilbao, looking out across the waterfront, it is hard to believe that twenty years ago this was a post-industrial wasteland. Bilbao was built on steel and shipbuilding, but by the 1980s those old industries were dying. This gritty Basque city had to find a new direction. It reinvented itself as a hi-tech hub, and the centerpiece of this regeneration wasn't a new factory but a brand new art gallery.
Giant sculptures by Louise Bourgeois, Jeff Koons and Anish Kapoor guard the entrance
Frank Gehry's Guggenheim is one of the great buildings of the 20th Century, the aesthetic equal of Frank Lloyd Wright's original Guggenheim Museum in New York. A riot of twisted metal, more like sculpture than architecture, it's a spectacular landmark. Yet it isn't just an architectural curio – it's also a great arena for fine art.
Giant sculptures by Louise Bourgeois, Jeff Koons and Anish Kapoor guard the entrance. Inside, it's a futuristic maze of glass, titanium and limestone. Sure, the exhibition spaces are unorthodox, but that's not a problem. Half the fun is trying to find your way around.
Gehry's building cost €84 million, plus €36 million on new artworks - a lot of money at any time, especially in a recession. It was hardly surprising the concept attracted fierce local criticism, from both left and right. Yet since opening in 1997, it has attracted 19 million visitors, 70% from outside Spain.
Most foreign visitors stay overnight. Many travel on, throughout the Basque Country. The economic knock-on has been immense, but the biggest benefit has been the way it has reshaped the city. This used to be a grimy backwater, now it is a tourist hotspot. This museum isn't just a cultural impetus, it is a financial motor too.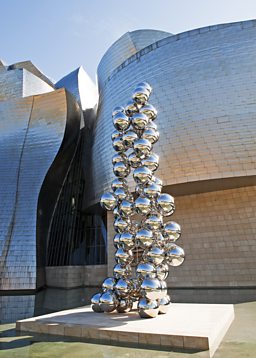 Anish Kapoor, Tall Tree & the Eye, 2009 | Photograph courtesy Guggenheim Bilbao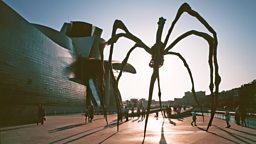 Louise Bourgeois, Maman, 1999 (cast 2001) | Photograph courtesy Guggenheim Bilbao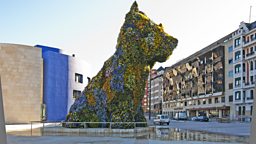 Jeff Koons, Puppy, 1992 | Photograph courtesy Guggenheim Bilbao
In 1997, the idea that art could kick start a flagging economy was still relatively novel. But as Londoners and Liverpudlians have seen, it's an idea that works. Tate Modern and Tate Liverpool transfigured their respective waterfronts. Here in Bilbao, the transfiguration was even more dramatic.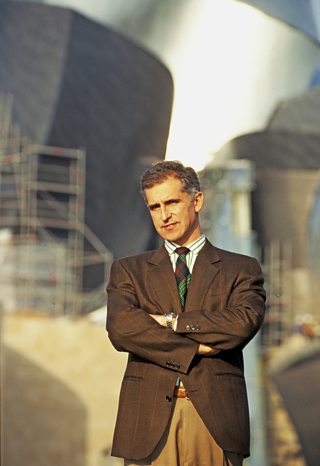 The mission of the museum was that the building would help transform the nature of that site

Juan Ignacio Vidarte, Guggenheim Bilbao's director
Back in 1997, the city was embroiled in bloody conflict, as the Basque separatist group ETA carried out a terrorist campaign against the Spanish state. The ETA ceasefire in 2006 was a key factor in Bilbao's renaissance. Some Basques believe the Guggenheim helped bring this ceasefire about.
The Guggenheim's director, Juan Ignacio Vidarte (photograph by Getty Images), has been on board from the beginning. In his sunlit office, overlooking the river, he tells me how this museum evolved. Born here in Bilbao, his childhood hometown was very different from the city where he lives and works today. 'The news would always be bad,' he recalls. 'Another factory closing, another violent act by ETA.' This museum was an audacious bid to buck this trend.
'It was a very controversial project,' explains Vidarte. 'Public money was involved - so it was politically charged.' It wasn't only the politicians. The voters were also sceptical. Yet despite this pressure, Vidarte and his team weren't interested in building something cheap and cheerful. They wanted to build a museum which would arrest the eye.
'We thought it was important that the face of the building would convey to the world the ambition of the project,' he says. 'Bilbao is not London, it's not Paris, it's not New York.'
Therefore, the architecture had to punch above its weight. Gehry got this completely. His design was a perfect fit.
Once the museum opened, the locals were soon won over. 'The museum has been a major catalyst of economic development,' says Vidarte. 'It has helped the city transform itself.' Directly and indirectly, the Guggenheim now generates about €400 million every year. There are also additional benefits which are impossible to measure, from publicity to civic pride.
'The museum gave the citizens and the politicians the courage to keep moving and be brave, which was what the city needed at that time, because the situation was very dire,' says Vidarte. 'It has become a more open, more cosmopolitan, more contemporary city.'
Yet Bilbao hasn't lost its character. Its industries have changed, but it is still an industrious, gutsy place. Cultural tourism is just one element. Surrounded by high rise flats and flyovers, the museum is integral to the modern city, not a place apart.
What made the Guggenheim so successful was that it wasn't built in isolation - it was part of a wider programme. The river was cleaned up, the city centre was spruced up. 'It was a scar in the middle of the city,' says Vidarte, of the view from his office window. 'The mission of the museum was that the building would help transform the nature of that site.'
Now this riverside is somewhere to hang out, like London's South Bank.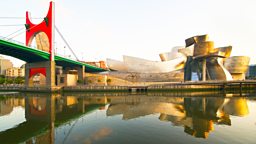 View of the Guggenheim from across Bilbao's Nervión river | Photograph courtesy Guggenheim Bilbao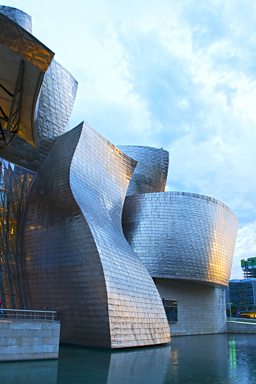 Guggenheim Museum, Bilbao | Photograph courtesy Guggenheim Bilbao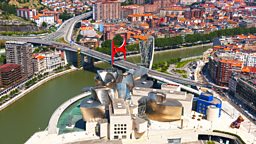 View of the Guggenheim from Bilbao's Iberdrola Tower | Photograph courtesy Guggenheim Bilbao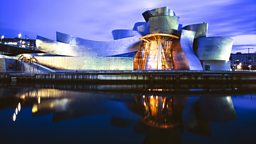 The Guggenheim at night | Photograph courtesy Guggenheim Bilbao
Equally important was Bilbao's new Metro system, which opened in 1995, two years before the museum. Designed by Sir Norman Foster, it is almost as iconic as the Guggenheim. Locals call his subway entrances Fosteritos (they look like enormous seashells).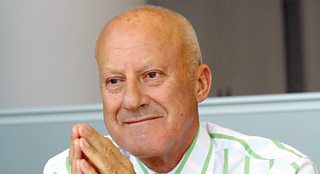 There was something almost religious about my experience in Bilbao, and I will never forget it

Sir Norman Foster, architect, Bilbao Metro
For Foster, working on this project, burrowing beneath the city, was one of the highlights of his career. 'Of all my memories as an architect, going to sites and seeing buildings, nothing compares with my experience in Bilbao,' he said. 'There was something almost religious about that experience, and I will never forget it.'
Spanish architect Santiago Calatrava also helped to regenerate Bilbao. His elegant new footbridge straddles the river Nervion. His compact and graceful airport is an ideal introduction to the city. Would Gehry's Guggenheim have taken off without the work of his fellow starchitects? Of course it's impossible to say for sure, but somehow I doubt it.
So what can other countries learn from Bilbao, and the Guggenheim? If you want to revive a rundown city, is a swanky gallery always a good idea? Not necessarily. The Guggenheim is a fantastic focal point, but it never would have prospered on its own.
'To take away good lessons from this, you have to understand the whole process,' explains Vidarte. 'The museum is just part of a broader plan.'
Yet Bilbao has shown the world that, in the right circumstances, with the right support, a gallery can be a sound investment - not only in a city's cultural life, but in its economic future, too.
This article was originally published in January 2017, at the start of Guggenheim Bilbao's 20th anniversary celebrations.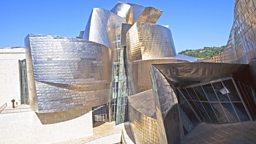 Guggenheim Museum, Bilbao | Photograph courtesy Guggenheim Bilbao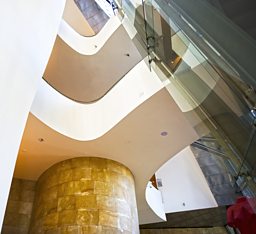 Interior of the Guggenheim, Bilbao | Photograph courtesy Guggenheim Bilbao
More architecture from BBC Arts
More from BBC Arts
All aboard! Trainspotting at the movies as Inside Cinema takes an in-depth survey of trains on film

An interview with the late author from 2011, featuring rarely-seen drafts and lithographs of the title page artwork