Main content
Euro 2016: Iceland - The Force Awakens
By Steve Crossman - BBC World Service
If you've warmed yourself with the steam rising from the great Geysir, or watched as water thunders over Gullfoss waterfall, you'll know that Iceland is a nation of rare beauty.
But any tourist could tell you that and, now that their football team has qualified for an historic first European Championships in France this summer, most casual football fans can probably recite the population of the country (330,000 if you didn't know) and inform you that number is roughly the same as Leicester.
They'll then proceed to tell you that Iceland will be the smallest nation ever to play in the European Championships and that their recent rise has been credited to the development of indoor football halls which defeat the obvious obstacle posed by their extreme winters.
So their new found success is a simple equation, right?
Well, maybe not. In truth football in Iceland is more trendy than it is traditional and whilst their awakening has indeed been relatively recent, it wasn't a building that broke the ice.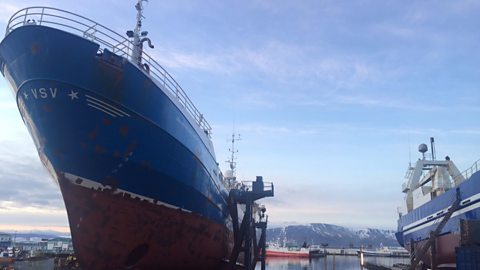 See the men who lifted Iceland from football obscurity including a part-time dentist.
"Facilities are a cheap explanation"
Football Association of Iceland Technical Director, Arnar Bill Gunnarsson: "Most of the players in the current team were 12 to 14-years-old when the halls came in, so they didn't really grow up in them," he says instantly crossing out their arrival as the most significant factor.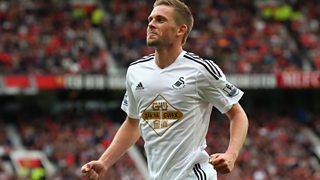 Swansea and Iceland international Gylfi Sigurdsson
"It's always difficult to explain these golden generations but what they have done is played together for a long time. They went to the Euro Under-17s together and the Euro Under-21s, they're the only generation to do that".
Of course even if the football houses had been frequented by Iceland international Gylfi Sigurdsson and his team-mates, all that would have done is levelled one particularly frosty playing field. It still wouldn't explain how a nation so small could rise so high.
Instead it was two men who lifted Iceland to new heights. On paper they sound like the odd couple but Iceland's co-managers, Lars Lagerback and Heimir Hallgrimsson, have hoisted the team by more than 100 places in the Fifa rankings since beginning their partnership in 2011.
Initially Hallgrimsson, a top dentist but football rookie, worked below Lagerback. He has since been promoted to work alongside the Swede who boasts a CV with more than 50 years of experience in football (which probably starts with a bullet point explaining how he took his fatherland to five major tournaments in a row).
Perhaps his success with Iceland has relegated those nine years with Sweden to paragraph two and it's fair to say Hallgrimsson has learned a lot from his more senior colleague.
"Two good cops"
Iceland co-manager Heimir Hallgrimsson: "I've milked him like a cow! It's been an honour for me to work with Lars, I've used my time to learn from him as much as possible".
It's not a one-way street either, Lagerback has also enjoyed their joint venture:
"In the beginning I tried to learn Icelandic, but I was too lazy, for an old man it's good to have a young ambitious man to work with", said Lagerback.
Co-managers are a rare sight these days, so what do they do when they disagree? "We use the Swedish way", Hallgrimsson jokes, "We just keep on talking and talking."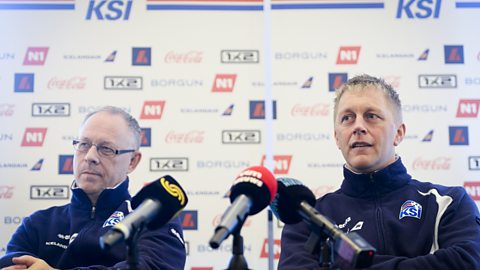 Part-time dentist Heimir Hallgrimsson works as co-manager alongside Lars Lagerback.
The success of Lars and Heimir has ended a run of 23 consecutive failures to reach a major tournament and if you delve into the nation's past it's not hard to see why they have struggled.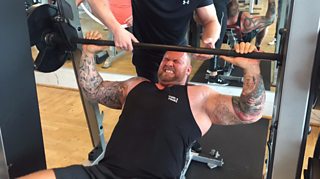 Iceland's strong man and Game of Thrones star Hafhtor Bjornsson:
There wasn't even any football on television in Iceland until the 1960s when tapes of Match of the Day were airlifted in and broadcast a week late. But didn't they already know the scores? No, the papers were two weeks late.
Even when satellites began to bring the action to their television sets, the children of Iceland were unlikely to watch wide-eyed and plot a path to be their nation's first footballing star. Fifty years ago Iceland's sporting idols weren't kicking footballs, they were hoisting medicine balls.
Today 50 foot billboards of big names like Eidur Gudjohnsen can be seen in the capital Reykjavik, but as recently as the 1980s it was the real giants of Icelandic sport that owned the sporting limelight.
A series of victories in the World's Strongest Man competition made muscle-bound power lifters the nation's biggest celebrities, and they're still popular today. If one were to disagree with that statement they'd be wise not to say it out loud in the presence of men like these.
Iceland's strongest man and Game of Thrones star Hafthor Bjornsson: "I've won Iceland's strongest man five times in a row, Europe's strongest man twice in a row, and I've been in the top four in World's Strongest Man four years in a row."
But these days, like most of the nation, he's become a big football fan and Bjornsson, who also plays 'The Mountain' in television series 'Game of Thrones', has a message for Cristiano Ronaldo.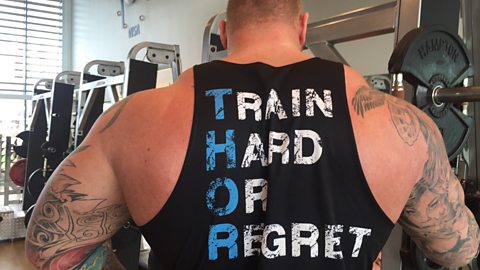 Iceland's strongest man and football fan Hafhtor Bjornsson has a message for Portugal.
While men like Bjornsson's predecessors were being showered with attention, interest in football was beginning to grow in Iceland.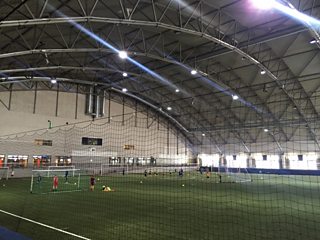 One of the many indoor arenas now established in Iceland
Now this is where the weather comes in. Not right at the beginning, barely in the middle, right here. Because, to turn football from a mild interest into the national sport, facilities had to improve.
Former Everton and Manchester United manager David Moyes spent some time coaching and playing on Iceland's Westman Islands in his youth and he recalls 'black ash pitches and the smell of lava'.
So would he have believed then, that fast forward 30 years or so, they'd be going to a major tournament?
David Moyes: "I'd have said they have no chance, but now I think it's no surprise. When you drive into Reykjavik now you pass all the indoor football arenas, this was a country that could only play football in the summer months. That's one thing, they also didn't used to have any technical players.
"I'm from Scotland though, who are we to judge anyone? They've qualified and we haven't! For a nation of their size it's amazing".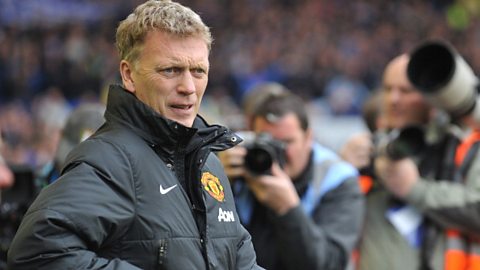 Former Everton and Manchester United manager David Moyes on his Iceland experiences.
So the arrival of indoor halls should secure Iceland's football future and in that sense they have a much bigger role to play in the years to come than they have had up until now. As far as this generation goes, regardless of how or why they've have made it to France, Iceland is going Euro 2016 crazy.
There is a genuine concern that the presidential election in June may suffer from a record low turnout due to so many fans travelling to the tournament, indeed one candidate has admitted publicly that she will leave the campaign trail to see their first game against Portugal.
It's worth remembering though that not everyone has been captivated by the rise of Iceland's football team. One man in particular is not overly impressed:
Jon Gnarr, former Mayor of Reykjavik: "I think it's the gullible nationalism. I might put it in my book, (titled My Stupid Reykjavik). Last year cross-fit was the national sport, then it was MMA and in the winter it becomes handball".
Gnaar is not just a former politician, he is a celebrated actor and comedian in Iceland. Asked to say one thing about his country that would not be mentioned in any tourism guide, he replies:
"If you turn the map of Iceland upside down, it looks like a vomiting pig".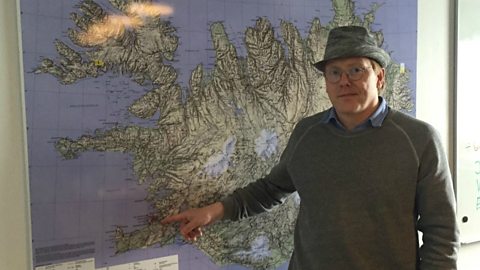 Former Mayor of Reykjavik tells us why Euro 2016 qualification isn't everything
"I think it's the gullible nationalism. Last year cross-fit was the national sport, then it was MMA, then handball".
..................................................................
But Jon is in the minority and, after such a long wait, the vast majority of this nation will stop to watch Iceland start their first ever major football tournament.
Listen out for the song that has become almost as popular as their national anthem. Titled 'Coming Home', it is sung by supporters when their team are on their way to both victory and defeat. You'll also be able to enjoy the so called 'thunder clap', an example of unity between players and fans which is sure to catch on.
The radio documentary 'Iceland, the Force Awakens' was first broadcast on Sportsworld on the BBC World Service. Listen again - http://www.bbc.co.uk/programmes/p03x5pqm
You may also like
Iceland's 37-year-old striker Eidur Gudjohnsen says he's ready for "an amazing time" at Euro 2016 after his nation qualified for their first European Championships.