Main content
Five ways the pandemic has made us rethink our relationship with our bodies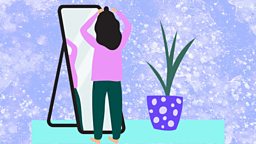 Has the lockdown made you view your body or appearance differently?
Are you less fussed about what clothes you wear or what you look like and more grateful for a healthy body? Or is it still important for you to look and feel your best even if you're seeing fewer people?
As part of Rethink, a series of essays and discussions across BBC Radio asking how the world might change after the coronavirus pandemic, Woman's Hour discussed how lockdown has made us rethink our relationship with our bodies.
Here are the thoughts of political philosopher Clare Chambers, Laura Bates, the founder of the Everyday Sexism Project, Shahidha Bari, professor of Fashion Cultures and Histories at the London College of Fashion and Kate Lister, a lecturer at Leeds Trinity University and the author of A Curious History of Sex.
1. Our bodies are all connected
"In a funny way, what the Covid-19 pandemic has done is that it's made us realise how connected we are to other people, even as we're in isolation", says Shahidha Bari. "My body is connected to hundreds of millions of others in this world. Something that might have happened in China will have an impact on our lives in Britain and on the lives of millions of other people in Bangladesh. All of us are vulnerable to this virus."
"So I think it's alerted us to our connectedness through our bodies. We have to build a world post pandemic that respects that connection."
2. We're more aware of our bodies needing to work well
The health of our bodies has moved to the forefront of our minds as a result of the pandemic, says Clare Chambers. "It makes us profoundly aware that we rely on our bodies working well: on our lungs' breath, on our heart's beat, on our blood's flow. It forces us to acknowledge the fragility of function."
Kate Lister agrees: "It's made people more aware of their bodies, in staying safe and protecting them by staying away from others."
3. It's given us permission to let ourselves go
Grey hair on show? Unshaven legs? Lockdown has given us a "period of invisibility", according to Clare Chambers. "It offers an excuse for letting ourselves go: letting the grey show, letting the hair grow, letting the diet go. It lets us experiment, to find out which things we do to our bodies make us feel good and which don't. Were our beauty practices really for ourselves, or were they for others after all?"
When 'normal life' starts up again, I think there will be a lot of reassessing the energy and time we put into our appearance.

Kate Lister
Kate Lister believes that it's brought a "blanket permission". "If you see people out and about and they've not got their roots done or they're wearing a tracksuit or whatever, everyone just understands, 'well we know why, don't we'?"
"The thing is, it's happened to everyone. It's not like turning up at work after a drastic haircut and everyone notices just you. It's given people permission to let things go and that could be a powerful thing."
"When 'normal life' starts up again, I think there will be a lot of reassessing the energy and time we put into our appearance. People might drop the fake tan now that they've let it fade and readjusted to their pale skin. People might decide to keep the short hair or decide that the grey looks fine and that it's everywhere on everyone's head."
Shahidha Bari thinks that this understanding about what we're all going through has helped her warm more to colleagues. "I've felt a certain kind of tenderness to my colleagues. I'm watching them at home in their frayed jumpers, with baby food on their sleeve or colleagues who are obviously struggling, as lots of us are, and are wearing their favourite football t-shirt. I've found it humanising."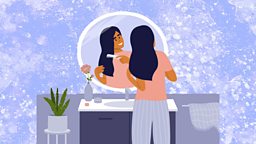 4. Wearing pyjamas all day doesn't work for everyone
The lockdown has brought a realisation for Kate Lister about why she dresses up for work. "To begin with I thought, well, I don't have to get dressed, I can just work from home, I can have zoom meetings in the bath if I want to as long as I remember to turn the camera off. But what I found was that I struggled to get work done if I wasn't dressed for work. So I've actually been getting up early when I know that I've got a full day's work to do and I put my makeup on and I do my hair and I put my work clothes on. And that has really helped."
"I think that level of performativity is actually really important to function. I found I've worked better when I've been dressed for work. I felt like I'm going to work even though I'm just going to the sofa."
5. 'It's made me value the importance of touch'
"I'm really interested in just how much [the pandemic] has made me value the importance of touch and just being around people," says Kate Lister. "I'm Facetiming my mum more than I ever, ever, ever have before. I speak to her every single day but I miss her like crazy because she's not there in person."
"The importance of that touch and of being around people- that's been a real eye opener for me of just how valuable that actually is."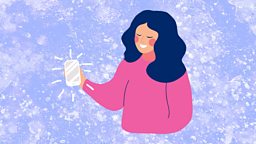 However, what hasn't changed?
For Laura Bates, the pandemic may have changed how some individual women view their bodies, but it hasn't changed the way that society scrutinises them.
These pressures on women haven't gone away just because we've been physically away from the public eye.

Laura Bates
"Unfortunately, we've still been subjected to the usual bombardment of weight loss pressure, body shaming, fat phobia. It's continued unabated, perhaps even amplified, I'd say, by social media."
"Here's a selection of headlines that have come out during lockdown: 'Do you have lockdown body?' 'How to lose weight without going on a diet'. 'Want to leave lockdown looking better than ever?' 'How to lose weight in lockdown'. 'How to tone up'. 'Lose your lockdown love handles'. Many, of course, are illustrated with pictures of chubby women holding measuring tape around their weight. So that shaming hasn't gone away. We've even had multiple articles about the worry that women might get saggy breasts if they dare to go a day without their bras in lockdown."
"The scrutiny of women in the public eye has continued. Every outfit Kate Middleton has worn in lockdown has been detailed. In one article, one celebrity who's recently given birth has seen her postpartum body scrutinised every single day when she goes out for her daily walk."
"So I think we have to recognise that these pressures, which are served up to us and very specifically targeted at us on social media, haven't gone away just because we've been away physically from the public eye."
Laura Bates also believes that for women to be able to properly rethink their bodies, there need to be systemic changes.
"I think the idea that women will have had a few months to rethink things and they'll come out thinking differently about their bodies as if they just need to change their minds...For me, these issues are ingrained and systemic."
"We know that girls are five when they start worrying about the size and shape of their bodies. We know that a quarter of seven year old girls have dieted to lose weight. So the enormous pressures on women, whether you're talking about body image or about their careers, are systemic and they need systemic solutions."
Listen to every episode of Woman's Hour on BBC Sounds or follow us on Twitter or Instagram @bbcwomanshour. You can read more about the Rethink series here.