Main content
Killing the gangster within
Self-confessed "lost child" Dwayne Jack has devised a free online training package – "Killing the gangster within" – to help especially young people on the edge of criminality take a step back from a corrosive and damaging lifestyle.
These days Dwayne is a successful motivational speaker working in prisons and in the community helping young people find a way out of criminality. But it wasn't always like that...
"I was a lost child – left to do as I pleased. I was seeking love and belonging and I found a substitute for that on the streets with all the boys getting involved with crime."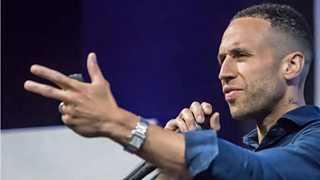 Dwayne was first detained at the age of 13 – "Lonely, dark, I felt like I was on a desert island on my own – just me in this dark room with a bed." A cycle of criminal convictions and prison followed. Looking back on his early life, Dwayne's not at all surprised at what happened.
Circumstances were certainly against him. He'd witnessed his mum go to prison for doing drugs – but then something significant happened. "She turned her life around and came to Christ." Dwayne says that as he got older and wiser he realised that all along he hadn't wanted a wasted life of criminality.
And it appears church and faith had quite a lot to do with it – "I remember seeing my Nan – she used to be getting ready for church putting her hat on – so I remember a few times I went to Sunday school." While he was in prison, this pattern of specifically Christian observance carried on: "I'd go to the chaplaincy on a Sunday and a Wednesday Alpha* Course (a course helping participants understand about Christian faith) and this is where I think my journey began and my relationship with God started. Within these meetings of Alpha I'd pray and I'd get to know a little bit more about faith.
"Prison was my soil – a fertiliser to enable me to grow. Every time I was there I'd be reading the Word and building a relationship with the Spirit of God."
So what about the people who suffered as a result of Dwayne's criminality? Dwayne says he has asked them for forgiveness for his actions… "When I was in that dark place. I don't justify it in any way whether it's childhood or this that or the other, because there is no justification of anything to hurt another."
Dwayne Jack and others involved in prison ministry are featured in Sunday Worship – Invitation to Hope. The service will help anyone trying to understand how Jesus' promise, "Today you will be with me in paradise", made to the thief crucified beside him, can be relevant to life today.

Spiritual journeys on Radio 4
Ethical and religious discussion that examines some of the larger questions of life.