Main content
Airport meet-and-greet companies
There are many different types of airport parking options, but costs can be high. Some airports charge you up to £110 for a two-week stay. In fact, we found the average price for a fortnight's parking at Britain's five biggest airports is a whopping £82, compared to Germany where it's just £67.
An ordinary holidaymaker can pay through the nose for leaving a car at a UK airport. In four out of the country's ten busiest airports, we found parking a small aircraft for twenty four hours to be cheaper than a car.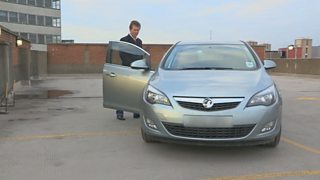 There is also the option of 'Meet and Greet' companies. It's a simple concept, you forget the hassle of finding your own space and an employee meets you at the airport and does it for you. When you come back, they're there to greet you with the keys.
Whilst in their care, your car is supposed to be kept in a secure location, but just because some of these companies promise to keep your car secure, it doesn't mean that they necessarily will.
We spoke to a whistleblower who told us that they'd seen former colleagues picking up other staff members, eating in the cars and in some cases causing damage to the cars in their care.
But that's just one company, one view. What about the others? How many of them are tricking us in to believing our car's secure when it isn't? We've heard from holidaymakers who've left their cars with other meet and greet companies and found damage or even received parking tickets.
Now, there are 'meet and greet' companies out there who operate safely and legitimately.
But how many are not delivering the security they promise?
We decided it was time for our own little survey. We booked six cars in with six different companies, at three major airports.
Each car was fitted with a tracking device which told us whether it actually went to the car park they said it would and crucially, whether it stayed there. Security expert Graeme Dow told us 'You expect to have your car parked in a safe manner, if it's going to be parked by staff which is often the case, you expect it to be parked in an area which is watched by cameras and supervised by staff members, you expect to have that twenty four hours a day'
Sky One Parking Ltd, at Gatwick, offered something else as well as security, a covered car park. We dropped our Ford Fiesta at Gatwick and followed it to a car park, that wasn't covered. In fact, every time we checked on our car the gate was open and the car park was even left unsecure at night.
We then sent a car into a company called RS09 UK Services LTD, also operating out of Gatwick Airport. They promised a 'safe and secure storage area' and stress that 'you can be sure your pride and joy is in safe hands'. Our car was immediately driven to a place with a fence, a gate, and a CCTV camera, but 24 hours later, our car was driven by what we can only assume is an RS09 employee to a residential address in Crawley. It then stayed there for eleven hours overnight, before being taken back to the car park.
So what about the other two airports we tried?
Well, we're happy to report that at Heathrow the two companies we used parked our cars securely just as we were promised.
Then there was Luton. Although we put two cars in with two separate companies, Stress Free Parking Ltd and Swift Airport Parking Ltd, they were both taken to the same car park.
What's more, they each promised their car park would be monitored by CCTV cameras.
But, whilst our cars were in there we couldn't see any cameras, so we sent Graham to investigate. Graeme found 'There is no CCTV here. If it is then it's very, very well hidden and I'd probably put my reputation on there being no CCTV here. The whole point is to have it visible as a deterrent and there is none visible. We've not been challenged on the way or on the way out, the whole place appears to be completely unmanned. If there is anybody present then with the curtains drawn, they're either asleep or not interested. As a piece of waste ground it was fine, as a secure car park, totally inadequate.'
Company responses

Sky One Parking Ltd told us: Sky One Parking is operating at Gatwick Airport for last five years and very well-known and popular amongst its customers. This is our utmost priority to park the vehicles in a very safe manner. Due to the holiday season our parking facilities are over flowed unexpectedly with large number of vehicles. To overcome this issue and to make sure that we provide the uninterrupted service to our valued customers, we acquired an extra yard temporarily to accommodate a small number of vehicles. We make sure that the yard is manned 24 hours a day with strict instructions to keep the gates closed all time.
After your email we have ordered an investigation into the matter and the security staff is being interviewed. if negligence is proved, appropriate action will be taken against the responsible. We take this opportunity to thank you for bringing this matter into our attention.
RS09 Services UK Ltd told us: I can confirm that it was a member of staff that took the vehicle. This person was a new member of staff that was taken on for the busy spring summer season, but we soon found out that he wasn't suitable to work for RS09 and he doesn't and has not worked for RS09 for some time. On the night in question when the vehicle was removed from our secure yard it was done without anybody's knowledge or permission
RS09 do take and store customers vehicles in a secure yard where they do stay until the customers return as you can see your vehicle was taken to our secure storage yard but unfortunately a now ex member of staff took it on himself without informing anyone to use your vehicle to get home and then bring it back to the secure yard the next morning where it stayed until your return, this is totally unacceptable and unfortunately we have no explanation as to why this has happened and RS09 apologise for this.
As stated in our phone conversation as you did not receive the service that you paid for we will be sending you a cheque for a full refund of your payment for the parking services
Once again RS09 would like to thank you for bringing this matter to our attention, we would like to once again apologise to you for what has happened and RS09 would like to assure you that we will do everything we can to prevent this from happening again in the future.
Stress Free Parking Ltd told us: As the UK's biggest provider of meet and greet parking at UK airports, the security of our customers' vehicles is our utmost priority. We were one of five meet and greet companies sharing this particular facility and, although we used it for only a few months as a temporary over-flow solution to our main Luton parking facility, during our short tenure security was never breached, nor did we have any problems nor receive any complaints regarding site security. In fact, our Luton operation won an industry parking award after receiving 'an unparalleled satisfaction rating of 97 per cent'.
We are one of the fastest-growing meet and greet airport parking companies and, due to high customer demand for our services at Luton, we have now moved to a new, larger facility, consolidating our previous main site and this temporary overflow site which we vacated fully at the end of March.
Over the last nine months we have been working with the industry's most reputable meet and greet parking businesses to set up an industry body which will aim to provide more regulation and enhanced customer service and satisfaction – we hope to announce the launch later this year and more information will be available on www.stressfreeairportparking.com.
Swift Airport Parking Ltd told us: They subcontracted the parking of our car to another company. They say their car park is secure, with a manned gate 24 hours a day. The CCTV cameras? They say they hide them, so intruders won't know where they are. And they say they didn't challenge our expert during his visit because he looked innocently lost.