Main content
Why spinning a yarn is a game of two halves
Everyday artist of the week
This might sound like we're spinning you a yarn but this week's Everyday Artist of the Week was so committed to her craft that she took a spindle to a football match. Not just any football game, the FA Cup Semi-Final no less! Rachel Blunden had been seeing people spinning at various craft events for a while and wanted to learn, then she was hooked. She told Get Creative how she got started - after all, it's a game of two halves.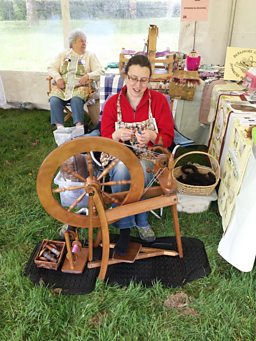 My mum taught me to knit when I was six, one grandmother taught me how to do purl, an aunt taught me cable and Fair Isle stitches and my other grandmother taught me to crochet.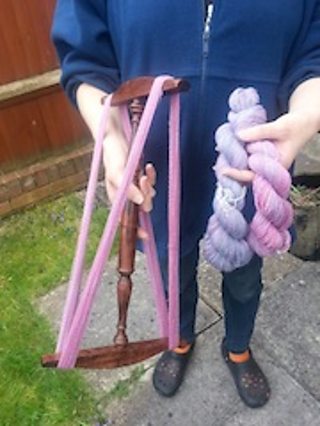 I even took a spindle to Wembley for the FA Cup semi final but it was a bit too windy!
But it was at craft events that I saw people spinning and when I met members of The Berkshire Guild, they taught me to spin, nearly three years ago.
My husband bought me my wheel about two years ago, with some redundancy money. They can cost hundreds, but they are cheaper secondhand and some groups will lend you one to try out.
A great way to start is with a drop spindle, as they only cost a few pounds and are very portable. I've taken one camping, used them when waiting for trains. I even took a spindle to Wembley for the FA Cup semi final but it was a bit too windy!
I've demonstrated spinning at street fairs and craft shows, and taken my wheel into my son's school. The kids all want to have a go. Little boys are keen because it's a wheel and a treadle and it's mechanical, it's the same with men, the mechanical element appeals to them.
I do find it relaxing, and it's a great escape from my work as a computer programmer. Once you get into the zone you kind of lose track of time.
I've collected various fibres in the last three years. Shetland and Portland fleeces, Alpaca, Merino wool, silk. I've collected quite a big stash, my husband sighs when I come home with yet more. There's no more room in the cupboard where it's stored. But I really enjoy my spinning, and only wish I had learnt sooner.
A look back at our artists
A jewellery designer who discovered a love for digital printing and uses it as a way to relax and to cure jet-lag

A dedicated mum and knitter who makes retro tank tops for her rugby- mad son and his friends to add a splash of style to the stands

A stitcher who joined a sewing group to meet like-minded people. She's made tea cosies and draught excluders as gifts and hopes to move to dressmaking

A stroke survivor who has used painting, music and writing to rehabilitate. He shared his first self-portrait using his affected hand with Get Creative

A keen cross stitcher and crafter who uses it as a way to relax and wind down after a day content producing for Get Creative