Main content
Valentine's Day Red Velvet Chocolate Cake
Ingredients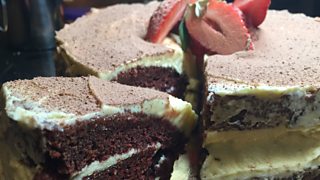 250g butter
200g dark chocolate
500g plain flour
450g caster sugar
25g cocoa powder (keep aside extra pinch for dusting cake)
1 tsp bicarbonate of soda
2 large eggs
200g natural yogurt
200g Raspberries
25ml Red Food Colouring (material)
For the Icing

200g full-fat soft cheese, at room temperature
200g butter, softened
325g icing sugar
2 tsp vanilla extract
Strawberries or Raspberries to decorate
Method

Heat the oven to 160 degrees C
In a bowl add sieved flour, sugar, cocoa powder and bicarbonate of soda. Combine.
To a blender add raspberries, eggs and yoghurt and blend until it is smooth.
Melt the butter and chocolate slowly in a small pot.
Add the food colouring.
Combine everything together and fold gently until you have a red velvet consistency.
Put the mixture into a 10" cake tin that has been greased. Bake in oven for 40minutes.
Allow cake to cool
While the cake is baking make the icing by whisking cream cheese and butter together. Then add sieved icing sugar and vanilla essence.
Slice the cake in three discs and spread a layer of icing in between each layer. Spread icing on top and sides of cake.
Dust with cocoa and decorate with strawberries or raspberries and enjoy.
Brian's tip
Cut just one slice and share and eat from the same plate on Valentine's Day