Main content
BBC Music Day for Children
in 2019 BBC Music Day had even more children's content than ever before. With it's theme of music and wellbeing, BBC Music Day celebrated not only musical creativity, but how music can inspire us, bring us together and make us feel good. So whether it's a Blue Peter badge, singing along at school or at home, or aspiring musicians just waiting to be discovered – Music Day had something for children and young people.
Blue Peter
The Blue Peter badge is truly iconic. This commendation is selectively awarded to 6-15 years old for sending in interesting letters, stories, makes, pictures, poems and good ideas for the programme and also for having appeared on Blue Peter. To celebrate BBC Music Day 2019, Blue Peter launched the first ever Music Badge designed by the UK's biggest music artist and lifelong Blue Peter fan, Ed Sheeran. To find out more about the badge, click here.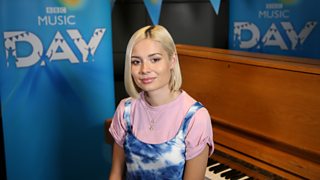 Get Singing
Get Singing encourages school children around the UK to sing together for wellbeing in playgrounds, assemblies and lessons. It's a fun, simple way of celebrating musical creativity and promoting wellbeing. In 2019, 1500 schools and over 300,000 children took part. Find out more here.
"The benefits of singing on health and wellbeing are wide-ranging, with a wealth of research proving the positive impact on physical as well as mental health, from helping you breathe to lowering stress and anxiety and increasing self-esteem. More children and schools should get singing on BBC Music Day because it's a great opportunity to get a feel-good boost from the singing itself and to be a part of a national celebration about the power of music" – Celi Barberia, Sing Up Foundation.
Buzz
CBBC is calling all aspiring 6-12 year old musicians to be part of CBBC's Buzz Band. All they have to do is download the BBC Buzz app, then record themselves playing an instrument and send it in through the app. The Buzz team will have a listen and may add them to the Buzz Band! To find out more about Buzz, click here, and check out their debut single.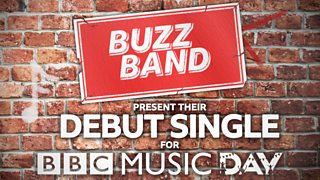 CBeebies
Bedtime Stories has quickly become one of CBeebies most popular features, with A list stars including Tom Hardy, Dolly Parton and Orlando Bloom all animatedly reading short children's tales. BBC Education's 'Bring The Noise', is designed to inspire every child to become a musician and discover the joys of music-making. It has teamed up with Bedtime Stories for a very special episode. On BBC Music Day Grammy Award winning musician and producer, Mark Ronson read John Burgerman's 'Rhyme Crime'.
CBeebies Radio
To celebrate BBC Music Day, CBeebies Radio explored what music means to little listeners and invited them to sing along with Mary Pearce to classic nursery rhymes with a modern twist. Check them out here.