Main content
The BBC Food and Farming Awards 2019 Winners
BEST FOOD PRODUCER The Cornish Duck Company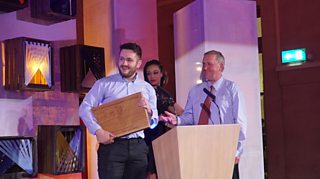 A casual conversation with a local chef struggling to source high quality duck was all the inspiration. Roger and Tanya Olver needed to re-purpose their family farm. They have since spent years crossing traditional breeds to optimise flavour and sustainability. They breed, hatch, rear and slaughter their ducks at Terras Farm, and sell their excellent eggs and meat to local chefs and at farmers markets across Cornwall.
BEST DRINKS PRODUCER Ross-on-Wye Cider & Perry Company
Broome Farm in Peterstow has become a place of pilgrimage for cider and perry makers. There, the Johnson family have been growing apples and pressing them for cider and perry since the 1930s. Father and son team Mike and Albert produce an extensive range of natural ciders and perrys using traditional methods to reflect the unique soil and climate of Herefordshire. The Johnsons walk their orchards until the fruit is ripe, before picking or shaking, handsorting and pressing the juice.
BEST STREETFOOD/TAKEAWAY AWARD Liberty Kitchen
Founded by Janet Boston, Liberty Kitchen works to give men a chance for change. It's a street food social enterprise based in HMP Pentonville. The street food is made and sold by prisoners and ex-prisoners who learn to cook and get the chance to take catering qualifications. They design and produce a London-inspired menu of meat, fish and vegan balls with appropriate accompaniments. All the recipes are created by the men to reflect their own backgrounds.
BEST SHOP Squash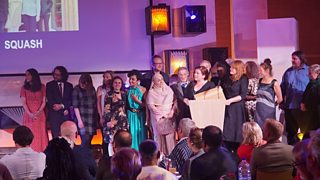 Situated in a modern, eco building designed by the community in Toxteth, an old docklands area of Liverpool, Squash is an ethically sourced food shop, café and garden. Customers can stop for a coffee, buy organic fruit, vegetables and edible plants, or take part in one of many workshops offered. The shop has grown to be a hub for their diverse urban community.
BBC COOK OF THE YEAR Carys Roberts & Carol Mercer
Carol and Carys are two retired nurses who run a luncheon club in their village of Gargrave. Meals-on-wheels had been stopped and they noticed that many elderly people were increasingly isolated. So, fortnightly, they provide hearty hot meals and home-cooked puddings to anyone over 50. They deliver meals when people aren't able to come to the club and any profit they make goes back into their kitchen.
BBC RADIO 4 FARMING TODAY FUTURE FOOD AWARD Mossgiel Farm
Farmer Bryce Cunningham is a third generation tenant farmer at Mossgiel Farm. Faced with losing the farm Bryce decided to move away from supplying the dairy industry, and start selling organic and sustainable milk direct to customers. Bryce claims theirs is the only farm in the UK using no single plastic in the production of their milk.
COUNTRYFILE FARMING HEROES Helen and Nigel Dunn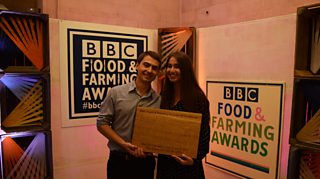 In the past 15 years, Devon sheep and beef farmers Helen and Nigel Dun have fostered 80 young people - from tiny babies to young mums and everything in between. Every foster child who joins the Dunn family live and work a real country life. Some foster children have stayed just a night, others have come to the family for years.
THE PAT LLEWELLYN NEW TALENT AWARD Iain Broadley and Ally Jaffee
Bristol Medical Students Iain Broadley and Ally Jaffee are co-founders of the organisation Nutritank. They found that some medical students are reporting receiving as little as 3 hours of compulsory nutrition training in 5/6 years of medical school. Faced with rising levels of chronic disease, mainly related to poor diet and lifestyle, Nutritank has founded more than 20 medical school societies across UK. The campaign is now feeding into the NHS long-term plan.
DEREK COOPER OUSTANDING ACHIEVEMENT AWARD Fergus Henderson
BBC WORLD SERVICE GLOBAL FOOD CHAMPION AWARD Akshaya Patra