Main content
Here's the truth about The 1975 writing songs for One Direction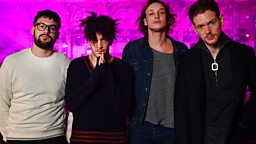 Matty Healy has shared the truth behind claims that he wrote The 1975's hit The Sound for One Direction and sorry, it's kind of underwhelming.
It was reported he 'presented' the track to the 1D boys during a writing session, but basically, that didn't happen.
"One Direction were doing some recording in London, they were really into our album," he told Nick Grimshaw on Radio 1 Breakfast.
"So they invited me to come down and said 'let's work on a tune'."
He says he chose to work with One Direction for all the right reasons: "I was like 'KERCHING', free money!"
(Warning: Third party videos may contain adverts)
"I turned up and I didn't know if I had anything. I was working on the record and I thought, 'what are the poppier demos' so I played them The Sound.
"They were like 'it's alright' but they wanted to do a song that sounded like one of our other songs.
"So it wasn't close to being a One Direction song, but they did hear it and think it was 'mmmm' so that's more of a realistic story."
It wasn't close to being a One Direction song, but they did hear it and think it was 'mmmm'

Matt Healy
Sorry. We did say it was underwhelming.
Matt phoned for bants and mild flirting with Nick from the band's US tour but don't tell his mum, Denise Welch, because most people can't get hold of Matty when he's on the road.
"I don't really do 'having a phone' very much," he admitted.
"It's easier contacting the dead than it is contacting me. My mum is a victim of that a little bit, so I do get a little bit of hassle for that.
"The only people I speak to is, the only thing I do is Facetime with Alan and speak to my mum. I'm quite busy to be honest with you."
Alan is, of course, Matty's dog, who's cute but lacks conversation skills, apparently.
"He doesn't say much, I don't think he cares too much about Facetime," says Matty. "He gets really confused."
The 1975's new single, She's American, is out now.