Main content
The People's Choice Award at RHS Chelsea Flower Show 2022
A Rewilding Britain Landscape, Designed by Lulu Urquhart and Adam Hunt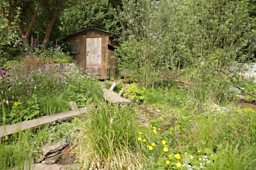 A garden centred around the reintroduction of the Beaver, a native keystone species. Wood sticks, woodchips and tree debris surround a pool and a beaver's lodge, while a brook flows beneath hawthorn, hazel and maple. Nods to Somerset include a winding West Country stone wall, a Neolothic 'Somereset Levels' inspired walkway and native wildflowers.
Alder Hey Urban Foraging Station, Designed by Howard Miller and Hugh Miller
A garden designed to interact with nature through foraging and being in the moment, encouragements to 'leave the path' and get lost in this garden are the focal point. The garden features planting inspired by a number of habitats that were once commonplace including species-rich hedgerow, orchard meadow and bog/ditch habitats. Just off centre, precast concrete 'strands' create a picnic blanket which edible herbs poke out of, ready to be enjoyed.
Brewin Dolphin Garden, Designed by Paul Hervey-Brookes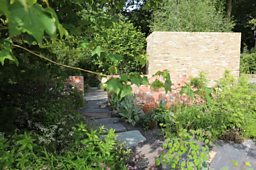 Representing a challenge thousands of homeowners will soon face, the garden is based on a reimagined 1900's industrial site, proving how poor soil and brownfield land can be used to create a greener planet. Trees, shrubs and plants with a higher CO2 absorption rate have been favoured, alongside native pioneer species and endemic plants to rehabilitate the soil and low maintenance shrubs and perennials for pollinating species.
Hands off Mangrove by Grow2Know Designed by Tayshan Hayden-Smith and Danny Clarke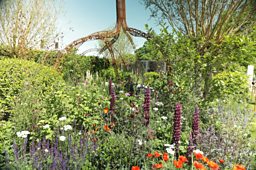 Designed to be relocated to the community and Inspired by the true story of the 'Mangrove Nine' who were tried and acquitted of initiating a riot in the 1970's, nine corten steel roots combine to form a protective sanctuary where communities can reconnect with each other and nature. A central deforested mangrove sculpture is surrounded by pollinator-friendly, edible, ornamental and architectural plants suited to inner-city landscapes.
Medite Smartply Building the Future, Designed by Sarah Eberle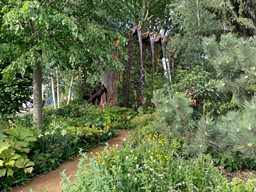 The garden is themed around sustainability and the versatile application of wood construction panels, which have been used to build the structure in the centre, designed to illustrate the future of sustainable buildings. A waterfall cascades across the building and various damp-loving and rare plants surround the waterfall's pool. Most of the garden's trees are native to Ireland, where the wood panels were sourced.
Morris & Co, Designed By Ruth Willmott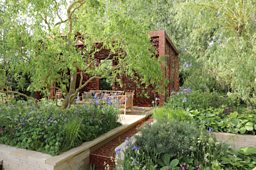 Designed entirely around William Morris's designs, the first pattern Trellis (1862) is reflected in the garden's layout and pathways whilst his Willow Boughs (1887) can be seen in the pavilion design and channels. Plants reflect those used in Morris's designs alongside cottage favourites. His love of colour is clearly seen in the reds, apricots and blues we see here.
RAF Benevolent Fund Garden, Designed by John Everiss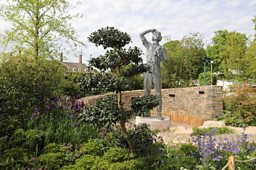 The garden is surrounded by a stone spiral wall, offering protection to a sculpture showing a young pilot gazing up at the sky. Beneath him is a curved seat, intended to direct the viewers' gaze towards what a Battle of Britain pilot would have seen. Scattered around are rusted scraps of rubble with plants slowly covering the remains of battle.
The Meta Garden: Growing the Future, Designed by Joe Perkins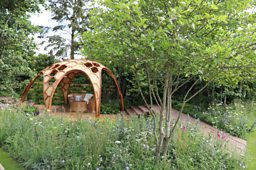 Plants, fungi and woodlands are all connected inseparably, and that is what this garden aims to reflect. The central structure imitates the connection between a mycorrhizal network and tree roots while a woodland edge and meadow back the sunken seating area. Designed as an immersive experience, it's intended to remind us of the urgent need to rebalance our relationship with the natural world.
The Mind Garden, Designed by Andy Sturgeon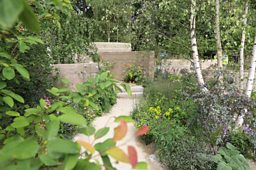 Designed with mental health as the focal point, benches provide a place for contemplation whilst water trickles from spouts into pools. Made entirely out of natural materials, the idea is to encompass a person in swathes of woodland and meadows. After the show, the garden will be transported to a local Mind in England, that provides eco-therapy for people with mental health problems.
The New Blue Peter Garden – Discover Soil, Designed by Juliet Sargeant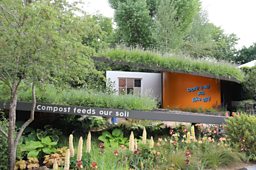 With the message 'Don't Treat Soil Like Dirt!' this garden is hoping to bring the topic of soil preservation to the forefront of conversation. Soil-themed art, including 'citizen art' projects created by the children and people of Salford sit alongside the sounds of a compost heap. In a subterranean observation chamber, watch what happens below ground. Vibrant blue and orange planting reflects the colours of Blue Peter.
The Perennial Garden 'With Love', Designed by Richard Miers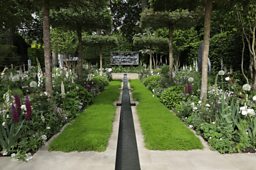 Using a predominantly green palette softened by ground level whites and plums, this classically designed garden uses a combination of hornbeam hedging and eight flat-topped hawthorn trees to provide structure and a feeling of security. It is inspired by and highlights the growers, designers, gardeners, landscapers and ground staff who are offered support and security by Perennial.
The RNLI Garden, Designed by Chris Beardshaw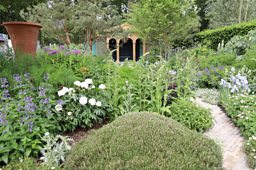 Hundreds of flowering herbaceous perennials create a pastel palette of whites, blues and pinks. Large statement trees, including Ulmus parvifolia (Chinese elm) and Pinus sylvestris (Scots pine) hint at the traditional lifeboat-building materials used when the RNLI was formed in 1824, while a green oak pavilion and arcade back the design.
The St Mungo's Putting Down Roots Garden, Designed By Cityscapes (Darryl Moore and Adolfo Harrison)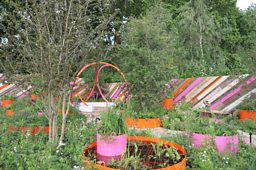 Designed to highlight the ways in which green spaces in urban environments provide personal and social, health and wellbeing benefits, the planting in this garden is focused around green textural foliage with the occasional splash of colour, giving a tranquil feel. A pavilion structure and seating made from recycled materials provide opportunities for dwelling and respite from the pressures of city life.