Main content
"Never were there such devoted sisters….."
The Kardashians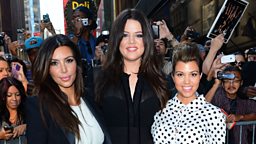 If I'm being very honest, I knew there was something called the Kardashians, but for a very long time I didn't really know what they were. I had to ask a friend of mine, someone who is far more plugged into pop culture, to explain exactly what a Kardashian was.
It turns out that if you enjoy watching one sister clout the other one with a $40,000 handbag because she ruined her selfie, then the Kardashians could be for you. The American millionaire siblings, whose fame was entirely created and sustained by reality TV and the Internet, never feel an emotion they don't articulate ("Kourtney I am, like, so mad with you right now?") and never use a facial expression they haven't tried out previously and photographed. One of them is married to Kanye West. Or possibly all of them, I don't know.
All I know is that if aliens are monitoring us right now, they might be slightly confused by humanity. Although, thinking positively, if they've been watching the Kardashians it might scare them away from invading us.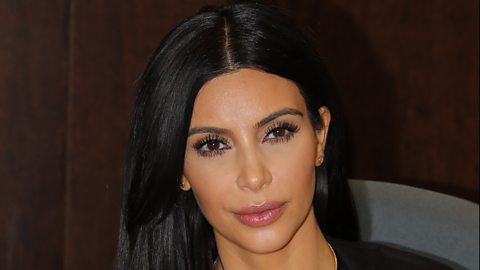 America reports an increase in the speech trend, 'vocal fry'
Serena and Venus Williams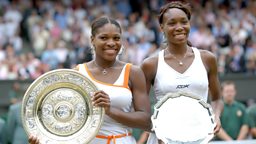 I love tennis. Bloody love it. And if I were to compare myself to any tennis player it would be VenuSerena Williams. Both of them. I'm that good.
I can't play any form of competitive game with my sister. Last time we played Risk I turned the table over when I realised I was losing and screamed, "I hate you!".
Anyone who's come into contact with small children will know that they don't take losing easily, but imagine getting in the way of the Swingball being walloped by the young Venus and Serena Williams. As children, the American tennis champion sisters spent six hours a day playing on pot-holed courts and whacking old tennis balls against walls while their father shouted instructions to them from a tennis manual.
Matches that have pitted the sisters against each other were keenly anticipated. And they're not the only sisters who've stared each other down across the net. Chris Evert-Lloyd played against her tennis player sister Jeanne and reportedly described it as "the worst feeling ever. We were both very competitive and Jeanne wanted to kill me. We couldn't even look at each other."
I can't play any form of competitive game with my sister. Last time we played Risk I turned the table over when I realised I was losing and screamed, "I hate you!". Christmas was slightly strained that year.
Mary I and Elizabeth I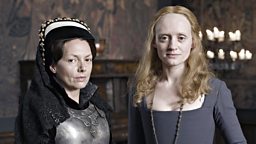 Joanne Whalley as Mary and Anne-Marie Duff as Elizabeth from 2005 BBC Drama The Virgin Queen
I like my sister, most of the time. And she likes me, some of the time. But never in our darkest hours have we ever had the problems that these two women had. I'll admit I once told my sister that I was our parents' favourite child but that was just the truth.
The Tudors were the original soap opera family. In fact, EastEnders would probably consider the story of the two sisters too outlandish a plot for the show. When her dad – Henry – ditched her mum for Anne Boleyn, and a new princess – Elizabeth – turned up, Mary was effectively illegitimate.
When Mary came to the throne in 1553 she got her own back and put Elizabeth in the Tower of London. Elizabeth though had the last laugh, taking the throne in 1558 when Mary died and reigning for 45 'golden' years. When she died, her coffin was eventually laid on top of Mary's in Westminster Abbey - triumphing in death as she had in life.
I like to think that no matter how much I squabble with my sister our relationship will never be that bad. It doesn't matter if it is I suppose, our parents will always take my side.
Jo and Amy March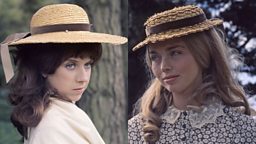 Angela Down as Jo and Janina Faye as Amy in the 1970 BBC Adaptation of Little Women
Little Women is the story of my childhood, but with less consumption.
We were chalk and cheese, or more accurately, mud and hairspray
Rivals for Laurie, tomboy Jo and vain little Amy were frequently at each other's throats. Jo despaired of Amy's obsession with her own nose and curls and Amy sneered at Jo's 'mannishness'. Similarly my sister was thin, pretty and brushed her hair more than once a month, while I was in the garden making a worm sanctuary. We were chalk and cheese, or more accurately, mud and hairspray.
Amy attacked Jo's novel, which renders every right-thinking young reader absolutely furious, including Jo, who completely loses it with Amy in a scene that lifts Little Women above its slightly saccharine moralising. At a tender age, readers identify with Jo and despise Amy, who represents the girl in the class who always looks perfect when most of us wander about looking like badly wrapped-up parcels.
Hurrah for Jo!
Charlotte and Emily Brontë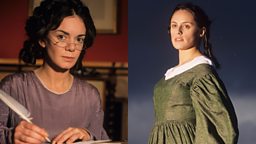 Victoria Hamilton as Charlotte and Elizabeth Hurran as Emily Bronte in 2003 BBC Documentary In Search of the Brontes
Like many schoolchildren of a certain age, I was forced to read the Brontë's novels. Personally I found the repressed, corset-stretching romance rather dull. Stop staring wistfully round the moors love! He's no good for you! Try Tinder, there are loads of blokes on there.
It must have been hard for them though. Charlotte Brontë's Jane Eyre was released within months of her sister Emily Brontë's Wuthering Heights. Charlotte, although the most famous and successful of the family, was fascinated by the topic of sibling rivalry, and explored the 'finding of the self' in her work. Emily by contrast was reserved and painfully shy, but if Charlotte ever had plans to dominate her, she'd have thought twice after Emily, bitten by a possibly rabid dog, calmly walked into the kitchen and cauterised the wound herself with a hot iron. Would you tangle with a woman like that, even if she were your sister?
My sister and I have never written rival novels. But I did once burn myself with her straightening iron when I was pretending it was a lightsaber. So in many ways I'm as bad ass as Emily Brontë.
Susan Calman on Radio 4
If you want familial friendship, rivalry, love and drama turn your attention to the sisters of Ambridge – past and present. It's The Archers.
More comedy features from Funny in Four
What did Miles Jupp learn from his first series hosting The news Quiz?