Main content
Eight things we learned from Martin Freeman's Desert Island Discs
Actor Martin Freeman made his breakthrough as everyman Tim Canterbury in The Office and has gone on to play Dr Watson alongside Benedict Cumberbatch's Sherlock Holmes and the intrepid Bilbo Baggins in Peter Jackson's Hobbit trilogy.
Born in Hampshire in 1971, Martin grew up in Teddington, the youngest of five children. After five years of playing competitive squash, making the national squad as a junior, he realised he didn't have the killer instinct required to be champion and switched to youth theatre instead where he found his true calling.
1. He was inspired to act by Sir Michael Caine
Martin's natural, seemingly effortless performance style is not, he suggests, as straightforward as it might seem. Of his acting he says: "I think it's your job to not show any work. If you wouldn't do it in real life, don't do it in front of a camera or on stage. The people who made me want to be an actor when I was a kid were people who didn't seem to be doing anything. The best of Michael Caine is like he is doing nothing and I believed him."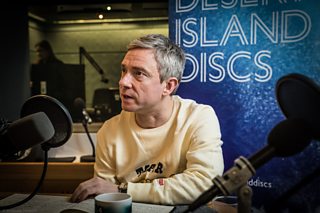 2. Disadvantages in his childhood helped to give him confidence
"I was the youngest of five by a fair way, Jamie the next brother up from me is six years older. By the time I came along, my parents' marriage had pretty much broken down and I was ill, I had a dodgy hip and asthma and eczema and hayfever. I was in and out of hospital occasionally for various things. But I had a sort of confidence, I just had to because I was a little… so like a lot of small people you either fight, probably not going to happen because I'm much smaller than everyone. Or you circumnavigate other ways round it."
3. His original ambition was to play squash
Martin was a talented squash player at junior level, playing for Surrey and in national squads, at one stage he was the number one in his age group. "I thought I was going to be a squash player until I was about fourteen," he explains. "I loved it. Until I started to not love it, because it's a big commitment – a lot of training, a lot of travel. I wasn't competitive enough. I'd be two games to love up and be on a match point and I'd immediately be thinking, 'What's this other guy feeling?' So that tells me, in hindsight, that's much more attuned to being an actor than it is to being a champion sportsman. "
4. He describes two-tone as being like a religion for him
Martin loves music. He has guest presented on BBC Radio 6 Music's Funk and Soul programme and has co-released a jazz compilation album. Two-tone, a genre blending ska and punk, has been hugely influential on him. "There was something very direct about it; I was one of millions of kids in Britain who felt like it was speaking directly to me," he says. Choosing Baggy Trousers by Madness, Martin claims that hearing the song for the first time set him on a path for the rest of his life.
5. He had more fun being naughty than studying
Uninterested in many of his lessons, Martin suggests that he wasn't the best student while he was at school: "I was easily distracted, I was lazy, I was unfocused. I only got three GCSEs which disappointed even me. I was a smart arse and like a lot of teenagers I thought I knew everything."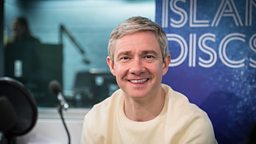 6. He left drama school to do 'very little' at the National Theatre
After a year as a kitchen porter, Martin gained a place at the Central School of Speech and Drama, but left in his third year to play minor roles at the National Theatre. He insists that this was the right decision: "If someone says to you, 'Do you want to come and work at the National Theatre?' you don't say, 'Let me get back to you!' I was doing very little at the National, I was basically set dressing, what they call a 'spear carrier' really. But you were spear carrying at the National Theatre working with Michael Gambon and Simon Russell Beale and Diana Rigg and I realised that as soon as I'd got there that I'd made a good career choice."
7. He's starred in Hollywood blockbusters, but can still remember his TV debut in The Bill
Martin moved into television by following the oft-trodden path of aspiring actors, by auditioning for a host of British soaps and TV series. His first TV role was in The Bill. "I was a man called Craig Parnell… and I was probably quite bad in it, but it was exciting!"
8. He didn't get the part in The Office that he auditioned for
Martin starred as the likeable everyman Tim in Ricky Gervais and Stephen Merchant's sitcom The Office, but he originally auditioned for the part of Gareth, made famous by Mackenzie Crook. After being asked by producers to re-read for the character of Tim, Martin obliged and the sitcom went on to be an unprecedented success. "The success was amazing, because it was off the back of a show that I loved. So to have it then validated by so many people was amazing," he recalls. "For three years we went to award shows and cleaned up everywhere. I felt for a period we were very loved."

More from Desert Island Discs
James Corden, actor and writer of Gavin & Stacey, is Kirsty Young's castaway is the actor and writer.

Kirsty Young's castaway is comedian and actor Rob Brydon.

Singer Sir Tom Jones joins Kirsty Young to choose eight records he would take with him to a desert island.