Main content
Confronting the one per cent: The Glaswegian photographer snapping London's super-rich
14 March 2017
Dougie Wallace is an ex-Army Glaswegian turned street photographer. His mission is to 'shine a wee bit of a torch', or a pair of popping flash guns, on the exclusive streets of Knightsbridge where he snaps the ultra-affluent elite, the facelifts, the designer bags (and dogs) and the millionaire boy racers.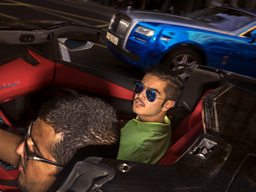 © Dougie Wallace / INSTITUTE
"Welcome to Harrodsburg. Home of the one per cent. Playground of the super-rich... The thing about the money is, it's all out there. It's all on display. It's part of the whole show. So I'm just capturing that really."



The area Dougie Wallace calls "Harrodsburg" is bounded by the luxury department store Harrods in Brompton Road, Sloane Square and the Ritz Hotel in Piccadilly. It is historically one of the richest parts of the country, and Qatar-owned Harrods makes the area particularly popular with Qatari tourists, many of whom rent or own houses there, as well as Saudis and Russians.
When the Doha News ran a story on Wallace's Harrodsburg collection, and how people might cope when confronted by the photographer, it caused quite a stir. One commenter even called him an "English moron", despite his self-penned Glasweegee moniker.
But Wallace says he's simply on a wealth and privilege "safari" in a world where he can "spot the facelifts from the other side of the street". The Harrodsburg project grew out of previous work which juxtaposed photographs of people in taxis and buses in Kensington and Chelsea, and in the Calton district of Glasgow close to where he grew up. The serious point in that image series, made visible by the contrasting effects of deprivation etched on subjects' faces, was male life expectancy in the London enclave is 84; in Calton it is, at 54, the lowest in the UK.
Below, Dougie Wallace selects 10 images from his Harrodsburg collection for BBC Arts, alongside quotes that tell the story of the project.
What Do Artists Do All Day? Dougie Wallace is on BBC Four, Thursday 16 March at 20:30 and available for 30 days on BBC iPlayer.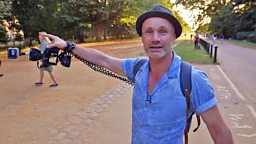 Dougie Wallace in Knightsbridge
All images © Dougie Wallace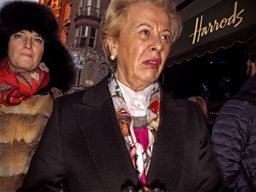 © Dougie Wallace / INSTITUTE
"I've been working on the Harrodsburg project for two and a half years now. I've done about 70 trips up to Knightsbridge, and taken thousands of pictures. But there's always one more to be had..."



© Dougie Wallace / INSTITUTE
"I'm telling you - you wouldn't believe the things you see round here... Knightsbridge is like another world... the people round here... the money. It's unreal."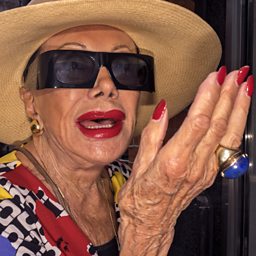 © Dougie Wallace / INSTITUTE
"When people go bonkers at me, the last thing I do is delete it. You just walk on. It depends, sometimes you feel like standing your ground with them. It they threaten to call the police I just say 'on you go, I'll give you the number - 999'".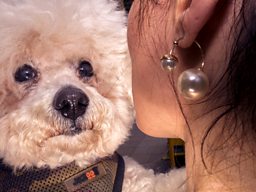 © Dougie Wallace / INSTITUTE
"Something might happen and it's just out of the corner of your eye, and that's when you get the good picture."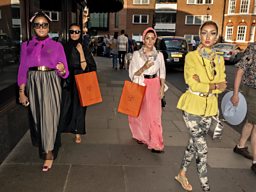 © Dougie Wallace / INSTITUTE
"You have to be able to get near people to take good pictures. There's a point when you're in the picture. When you get that close, you're in it. Rather than standing back looking at it, you become in it."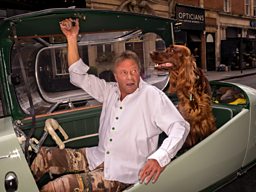 © Dougie Wallace / INSTITUTE
"The new money people in their Ferraris and Bugattis, they seem to hate getting their picture taken. They certainly don't stop and chat. Some of the local eccentrics that I snap though, they don't seem to mind so much."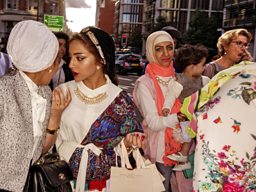 © Dougie Wallace / INSTITUTE
"There's a lot of human theatre and drama on the streets. So I just kept coming back, shooting and shooting and shooting."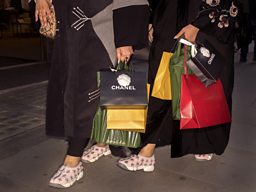 © Dougie Wallace / INSTITUTE
"They come here and spend their money, it's alright. I'm not bothered about them displacing the local residents, traditional residents, whatever you want to call them, with the mustard chinos and all that... I'm not going to bleed purple pish out my heart for them, you know what I mean? I'm just showing what's happening, just shining a wee bit of a torch on things, you know? Don't shoot the messenger."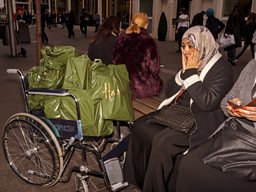 © Dougie Wallace / INSTITUTE
"The area is changing – the Sloanes and the old money, they're all dying out. And there's a new breed coming in, and they've got even more money. It's crazy."



What Do Artists Do All Day? Dougie Wallace
This film follows Wallace as he finishes acclaimed photography series Harrodsburg
From iconic moments of World War One to the polarising work of Martin Parr... take the quiz.

Britain in Focus presenter Eamonn McCabe on the football match where everything changed

Photographer Dennis Morris on capturing the punky reggae party in the late 1970s