Main content
The darker side of apps we all have on our phones
In the Beyond Today podcast, we've been hearing from BBC journalists from around the world about how the apps we all use can have far-reaching, sometimes deadly consequences for some users.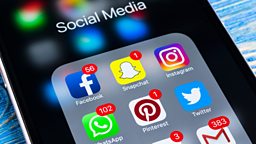 How much do you know about the apps on your phone?
1. An Instagram post could get you killed
"There are two Iraqs," says the BBC's Mina Al -Lami who grew up in the country. "You would be surprised to see bustling malls and young Iraqi girls following the latest fashion." But she says, "When people start posting their lifestyle and their freedoms on social media and they get a following, it becomes a bit dangerous."
It was deadly for Tara Fares, a 22-year-old Iraqi model and social media influencer with millions of followers on Instagram and Snapchat. Tara was murdered in broad daylight in 2018 when two motorcyclists opened fire at her car in central Baghdad.
Her death was one of four killings of young female social media stars in Iraq in a matter of months. In the podcast, Mina explains how Iraqis are speculating that these killings are connected in some way.
Listen to Instagram famous: how dangerous can it be?
2. WhatsApp is a political weapon in some places
More than 50% of Brazilians are on WhatsApp, and the social media platform was used to spread fake news during the country's recent election. Some people say the app helped propel President Jair Bolsonaro to victory.
"There are a number of factors why he won in Brazil," says BBC reporter Juliana Gragnani. "WhatsApp may have helped, and there are a number of specialists who say WhatsApp has some configuration and characteristics that help spread misinformation."
WhatsApp is owned by Facebook and its boss Mark Zuckerburg says the app protects its users from misinformation because of its end-to-end encryption. But in our podcast, the BBC's Kim Gittleson says these security mechanisms actually make it more effective for disseminating fake news. "When it comes to figuring out who is posting messages and how they are being spread, it's much more difficult," she says.
3. Facebook posts are inciting violence in Nigeria
Police in Nigeria say violent images shared on Facebook are inciting ethnic violence and even lynchings in an ongoing conflict between Muslims and Christians in the region.
BBC reporters Yemesi Adegoke and Charlie Northcott have been investigating an increasing number of such incidents in the country, all which have been linked to false images spread online.
"The way that these social media posts were labelled, the police and the army believe, and all of the locals we spoke to, contributed to calling people to arms," explains Charlie.
"When you hear about people living every single day in fear, I would hope that people will think before they start sharing stuff," says Yemesi.
Listen: Does Facebook really care about fake news?
4. Saudi Arabia owns 10% of Uber
The young and charismatic Saudi Crown Prince Mohammed Bin Salman is a divisive figure in Riyadh and beyond. He has most recently been linked with the murder of journalist Jamal Khashoggi.
Before that he took a business trip to the US, including a visit to Silicon Valley.
"Saudi Arabia under MBS is looking at diversification beyond oil and that includes technology big time," says the BBC's Amira Fathalla.
Nobody knows exactly how much money Saudi Arabia has, but economist and BBC presenter Darshini David explains that the kingdom's future plans include multiplying its vast oil wealth by investing it in technology.
"It's reckoned that about 10% of Uber is owned by Saudi Arabia and it doesn't look like this money is going to go away," says Darshini. "In fact, you've got one of Saudi Arabia's investment fund people on the board of Uber now as well. That's how interlinked they are."
5. Instagram is influencing how we travel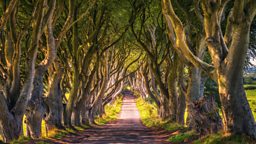 Game of Throngs? A tunnel of beech trees in County Antrim, known as the Dark Hedges, has become a major tourist attraction.
"There are people lying down in the road trying to get a selfie because you want to get the trees up above you. Everyone is just trying to get the most amazing shot."
That's BBC journalist Jordan Dunbar describing the scene on a small country lane near where he grew up in Northern Ireland. Bregagh Road blew up as a tourist hotspot after it was featured on Game of Thrones and it's an example of how viral popularity online can have unexpected and sometimes devastating effects on real places.
"There are people lying down in the road trying to get a selfie"

BBC journalist Jordan Dunbar
Author and presenter Timandra Harkness explains that this new reality is born out of people feeling that something hasn't happened unless they've shared it.
Timandra says efforts are being made to bring people into the moment and away from their phones, but she also notes that the world around us is changing as a result of the technology. "Museums are now designed so you go and take selfies… so that's part of the presence of the city or museum or gallery or whatever, to be photographed and shared on social media."
Listen: What happens when we #travel for the gram?
6. Tumblr is banning porn
Tumblr's decision to ban all pornographic content is emblematic of a larger move towards limiting access to porn on the internet. There is also a new law which will come into effect next year in the UK which will force porn sites to verify that their users are over 18.
The implementation of these new rules will be problematic though, says BBC economics reporter Kim GIttleson. She explains that age verification technology doesn't really exist yet in ways that will comply with the new legislation. But, she says, there are some interesting ideas of how to do it:
"Some solutions are really far out there. One involves using artificial intelligence to essentially scan your face and figure out if you're above a certain age. So you don't actually have to use any forms of ID – your wrinkles can say that you are above the age of 18!" she says.

We're looking at what news is or what it should be in the Beyond Today podcast. So we're trying to ask questions that get to answers that will change our perspectives. Have a listen to our podcasts with Stacey Dooley and George The Poet too.