Main content
How life for women changed during World War One
Set in Great Britain during World War One, many of the stories in the audio drama Home Front focus on the fortunes of women. The drama tracks the lives of characters from August 1914 through to November 1918, a period of time which saw huge changes to female life. As part of the Hear Her campaign, key female empowerment storylines from Home Front, which are rooted historical research, are collated here.
Employment
According to Lesley Hall, an historian and research fellow at the Wellcome Library, "the biggest changes brought by the war were women moving into work, taking up jobs that men had left because they had been called up."
Between 1914 and 1918, an estimated two million women replaced men in employment. Up until the outbreak of World War One, women had typically worked in the home - either their own or someone else's. Lesley Hall explains, "Women were earning more than they would have done in their roles before the war. And in their war work roles they were much less constrained than they would have been in jobs like domestic service."
In Home Front, during the early days of the war, women take up voluntary roles such as caring for Belgian refugees. Meanwhile, energetic Jessie notices that opportunities that are open to her peer Adam aren't available to her.
Home Front's Tynemouth-based seasons focus on the Marshalls factory which becomes a munitions works. Despite initial reservations, in 1915 the factory's owner Geoffrey Marshall starts employing women on the factory floor. And as more and more men leave to fight, the factory cannot run without its female workforce.
Dubbed munitionettes, these women worked with toxic chemicals. There were deaths from TNT poisoning as well as long-term health implications for others. Before long, the munitionettes become organised; a union representative is appointed and a football team forms. Then in 1917, with industrial unrest sweeping the country, the women go on strike.
Munitionettes in Home Front
Football
During World War One football was encouraged among women working in munitions factories to counter the unhealthy working conditions. The women's game flourished over the course of the war, with some matches drawing tens of thousands of spectators.
By 1917 there were enough teams in the North East of England for a women's tournament. Known as the Munitionettes Cup, the competition was open to any women's team in the Tyneside area. According to Patrick Brennan, author of The Munitionettes, it was the organisers of this contest that hit upon the idea of putting on an international women's match.
In Season 12 of Home Front, the fictional Marshalls Munitionettes team compete for the Munitionettes Cup and some of its players go on to play in the first ever women's international fixture.
The First Women's International
On Boxing Day 1917 two teams of women, one from England and one from Ireland, played football. It is the earliest record of an international women's match and yet it has not gone down in history.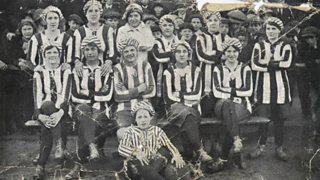 The Football Association (FA) lists a 1920 fixture as the first women's international. An FA spokesperson said the 1917 match may have been overlooked because it was not recognised by an official governing body.
Read more: The forgotten first international women's football match
Politics
At the outbreak of World War One, the well-known suffragette Emmeline Pankhurst added her voice to the campaign encouraging men to join the armed forces. In its first season, Home Front recreates a speech Mrs Pankhurst gave while visiting Folkestone in September 1914. Played by Dame Harriet Walter, Mrs Pankhurst says the suffragettes would suspend their militancy now the country was at war.
Listen to Home Front's dramatisation of Mrs Pankhurst's visit to Folkestone.
During the World War One some munitions factories were devastated by accidental explosions. These disasters were typically under-reported at the time as newspapers held back on publishing anything that suggested a weakening in the country's war effort.
In Season 9 of Home Front an explosion at the Marshalls factory kills a large number of its workers, which by this point are predominantly female. In the days and weeks that follow, the friends and families of those who died are stunned by the lack of recognition of the loss of life. Local woman Edie and journalist Dilys both fight to change this.
What Freya learned from Home Front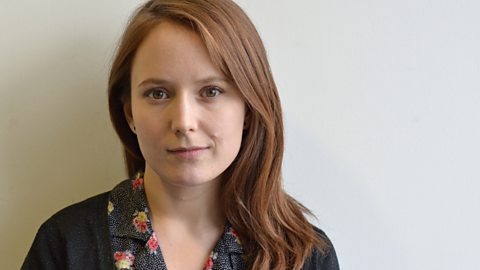 Freya Parker on playing munitionette Martha and the dangers of factory work in WW1
Morality and Sexuality
By 1918 women were not only working in Britain towards the country's war effort they could also be stationed abroad with the British Army's Women's Army Auxiliary Corps (WAAC). Up until this point women had only been part of the British Army as nurses.
Concern grew over the proximity of the WAAC women to enlisted men. So much so, that the journalist F Tennyson Jesse, known as Fryn, was commissioned by the British Government to write a report on the WAAC to dampen the rumours of promiscuity. In Season 13 of Home Front, which explores morality and sexuality in 1918, Fryn explains the conclusions of her report.
Venereal disease (VD) was a big concern to the Army – one in nine soldiers were said to have an infection. In attempt to combat VD, Regulation 40D was brought in under the Defence of the Realm Act. It stated that women could be arrested on suspicion of transmitting VD to a member of His Majesty's armed forces.
Adeline's Story
The personal story of Adeline Lumley embodies a significant development in women's empowerment during World War One. In 1915 the asylum that Adeline was in was requisition by the British Army, forcing her family to face up to their 20-year-old secret. She had been sent their by her mother after becoming pregnant while unmarried.
Over the course of the World War One attitudes towards unmarried mothers began to shift. "This was out of sympathy for women bearing the children of brave boys at the Front", said Lesley Hall, "It's presented as 'khaki fever' but it's more likely that a lot of it was women sleeping with their boyfriends who normally anticipated that if she became pregnant they would hurry up the marriage but now that's not possible with him either at the Front or actually killed."
Adeline, not wanting anyone else to go through what she had to, becomes part of the movement to provide support to unmarried mothers. Listen to key Adeline episodes here.