Main content
Nine Lives: The horrors of the asylum process laid bare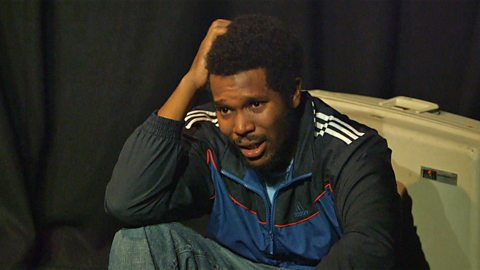 Zodwa Nyoni's play explores the life of Ishmael, a young Zimbabwean recently outed as gay.
About the production
"This letter says I'm a reference number. I'm an applicant. I'm circumstances. I'm categories. I'm outcomes. But it doesn't say that I'm real. It doesn't say that I exist… It doesn't say that I'm a person." These are the words of Ishmael, the central character in Nine Lives.
Written by Zimbabwe-born performance poet and playwright Zodwa Nyoni, the play explores the life of Ishmael, a young Zimbabwean man recently outed as gay in his own country and forced to flee. Dispersed to Leeds, Ishmael waits to find out if his application for asylum has been accepted.
Initially commissioned by Oran Mor for its A Play, A Pie and A Pint season, Nyoni was drawn to the subject of what was actually involved in the asylum process and "what happens when you live in hope, and that gets cut out".
Prompted by further research into the subject and by a blog highlighting the invasive questioning and dehumanising procedures endured by LGBT applicants where "you begin as guilty and work your way up to innocence," Nyoni produced a play which blends a talent for dialogue, dramatic naturalism and a capacity for unexpected humour which Lladel Bryant (playing all but one character) vibrantly brings to life.
Nine Lives was performed by Lladel Bryant, written by Zodwa Nyoni and directed by Alex Chisholm. The play was performed as part of the Platforma Festival Upstairs at the Western, Leicester and was presented by Leeds Studio in association with West Yorkshire Playhouse.