Main content
Bastille's most life-changing cover versions
Bastille are about to grace our eyes and ears with their presence in the Live Lounge and we are beyond looking forward to it. Like, sitting on the floor rocking back and forth excited.
So of course, like the true obsessives we are, we wanted to take a trip down memory lane and prepare ourselves for their set by listening to the other most amazing covers Bastille has ever done...
Ok, only Bastille can cover Miley Cyrus and make us ask ourselves if it's better than the original. Miley put her stamp on We Can't Stop...hard. The guys make it sound kind of Eminem-esque mixed with stings and piano drama with a classic Bastille sound.
We literally can't stop...listening.
Sozzle.
Warning: Third party videos may contain adverts
Er, one of the best dance songs of all time made into a tambourine-filled, indie gem? We'll take it. The lads played a Halloween Vevo show back in 2013 and wowed the crowd with Corona's Of The Night. Win.
Earth Song vs Common People
Bastille performed a mix of Michael Jackson's Earth Song and Pulp's Common People in the Radio 1 Live Lounge and pretty much cemented their places as kings of the mash-up. Bow down.
Warning: Third party videos may contain adverts
Perhaps one of their best and most amazing cover they've done is City High's What Would You Do? Throwing everyone back to 2004 and showing off their rap skillz, the guys made us all dream for their hip hop career ahead.
We can dream.
Warning: Third party videos may contain adverts
Whoever decided to make one of TLC's most iconic tunes No Scrubs acoustic is a total Einstein. Oh wait it was Dan and co. YAASS.
We're off to hang out the passenger side of our best friend's ride and put this on repeat.
Killer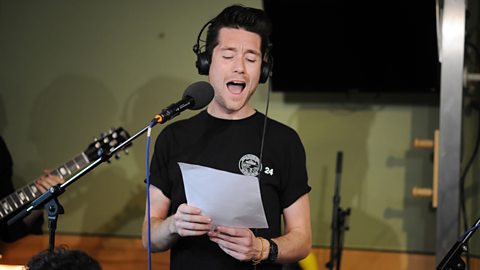 The band strip back Adamski and Seal's 1990s classic hit in the Radio 2 Breakfast studio.
Warning: Third party videos may contain adverts
Check out every single artist you'll be treated to for Live Lounge Month

Usher....we bow down to you and your epic Live Lounge session

We challenged Olly Murs to draw us his own single cover and here's how he did...