Main content
3: Al zoo
At the zoo
Uncle Manu takes Charlie and Quique to the zoo where they meet Marta, one of the zookeepers. Teresa tells a story about Ramón el Ratón looking for his friend with the help of Gael el Gorila and Uncle Manu sings about some of the zoo animals. Vocabulary includes animals and colours and grammar includes the gender of nouns and adjectival agreement with singular nouns.
Dual transcript / translation for Clips 9 - 12 (pdf) with links to the online audio files
Clip 9: Al zoo
At the zoo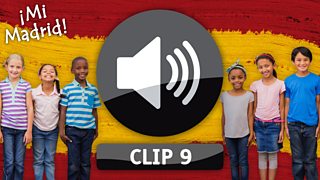 Charlie, Quique and Tío Manu go to the zoo where they meet Manu's friend Marta, a zookeeper. Marta talks to them about their favourite animals and Charlie finds out how to pronounce j in Spanish.
Clip duration: 04 56
Clip 10: Cuento: ¿Dónde está mi amiga?
Story: Where is my friend?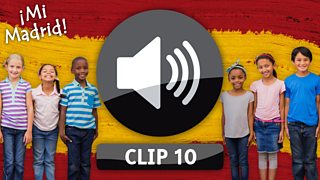 Ramón el Ratón lives in the zoo manager's house and goes out at 6pm every evening to play with his friends. This evening he can't find Josefina la Jirafa and asks for help from Gael el Gorila.
Clip duration: 04 52
Themes, Vocab and Grammar
| Themes and vocabulary | Grammar and pronunciation |
| --- | --- |
| animals | es |
| colours | gender |
| describing size | adjectival agreement with singular nouns |
| - | pronunciation of ge / gi / j (rojo, jirafa) |
| - | animal sounds |
Clip 11: En casa
At home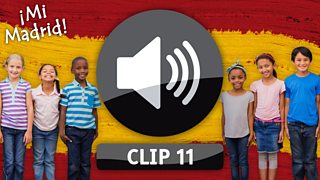 Sofía and Quique help Charlie with her g and j sounds. They also help her with the names of different animals and how to describe them using adjectives. Charlie is surprised to find that animals speak Spanish too!
Clip duration: 03 20
Key vocabulary: los adjetivos 1
| Spanish | Enlgish |
| --- | --- |
| activo | active |
| alto | tall |
| bajo | short (in height) |
| feliz | happy |
| gordo | fat |
| grande | big |
| largo | long |
Clip 12: Canción - Animales en el zoo
Song - Animals in the zoo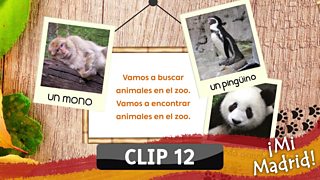 The song reprises the story of Ramón el Ratón and his search for his loyal friend Josefina la Jirafa.
Clip duration: 02 14
Key vocabulary: los adjetivos 2
| Spanish | English |
| --- | --- |
| peligroso | dangerous |
| pequeño | small |
| preferido | favourite |
| ruidoso | noisy |
| simpático | nice |
| travieso | naughty |
| tranquilo | calm |