Main content
Citizen Kane: More than a great movie?
6 May 2015
On the centenary of Orson Welles' birthday, WILLIAM COOK reveals some things you probably don't know about Welles' first and classic film Citizen Kane. Revisit cinematic greatness with four clips from the film below.

Orson Welles and Joseph Cotten in Citizen Kane, 1941
Inspired by the life of American media tycoon William Randolph Hearst, Citizen Kane was Orson Welles' first feature film.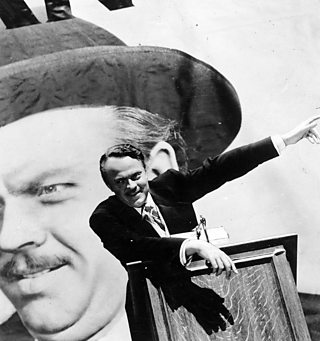 Orson Welles in Citizen Kane, 1941
It was the best movie he ever made, and it still tops all sorts of polls as the greatest feature film of all time. Welles not only starred in it, he also co-wrote and directed it, at the age of just 25.
'I began as a star,' he used to say, 'and I've been working my way down ever since.'
So what makes it so good? All sorts of things. Welles' direction is intensely dramatic and his central performance is utterly compelling, as Charles Foster Kane, the man who conquers America but forsakes his soul.
However Welles' directing and acting never eclipse the story. As a reporter sets out to find the meaning of Kane's dying words, 'Rosebud,' a morality tale unfolds which encapsulates the history of the USA.
'Welles has shown Hollywood how to make movies,' reported Esquire, when the film was released, in 1941. 'He has made the movies young again, by filling them with life.'
Contrary to popular belief, it wasn't just a one man show. Despite Welles' co-writing credit, the script was almost entirely written by journalist turned screenwriter Herman J Mankiewicz.
Though Welles' direction was innovative, the look of the film owed just as much to Gregg Toland's groundbreaking cinematography.
But you probably know that already. Unless you're a Welles obsessive, here are a few things you may not know…
• Citizen Kane was originally entitled American.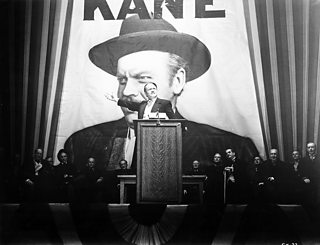 Orson Welles in Citizen Kane, 1941
• Kenneth Tynan once sat through the entire film with his eyes shut, 'to prove to myself that the sound track was expressive enough to be listened to in its own right.'
• Gore Vidal claimed that Rosebud was the nickname Hearst gave to the clitoris of his lover, the actress Marion Davies.
• Hearst was so upset by Citizen Kane that he tried to buy the negative from the studio, RKO, in order to destroy it.
• What upset Hearst most wasn't Welles' portrayal of him as Kane, but the depiction of his mistress, the movie actress Marion Davies, as a dim, talentless chorus girl.
• Citizen Kane cost less than $700,000 to make. Yet, in spite of nine Oscar nominations, due to the negative publicity of Hearst's papers, it made a $150,000 loss on its first run.
• Behind his back, the cast called Welles Monstro (after the whale in Pinocchio) but as an actor he was charming. 'Welles,' observed the great film critic Pauline Kael, 'has an almost total empathy with the audience. It's the same kind of empathy we're likely to feel for smart kids who grin at us when they're showing off in the school play.'

• To prepare for his debut as a film director, Welles watched John Ford's Stagecoach 45 times. He drove his cast and crew even harder. 'I'd work all day – he'd make an appointment for eight o'clock to run rushes,' recalled James G Stewart, Citizen Kane's dubbing mixer. 'He'd show up at midnight. No apologies… We'd work to three or four AM.'
• Welles was willing to shoot and reshoot until he got a scene just right. 'He shot more film than anyone in the history of the cinema,' recalled Paul Stewart, who played Kane's butler. 'One day he shot more than three thousand metres of film. He got up to the hundredth take.' He didn't use any of them. Next day, he got the scene in two takes.
• Stewart had the film's first line: 'Rosebud? I'll tell you about Rosebud. How much is it worth to you?' Welles made him rehearse that one line for two and a half hours. When Joseph Cotten (who played the part of Kane's best friend) played the scene in which he falls asleep over his typewriter, Welles had been working him for 24 hours nonstop.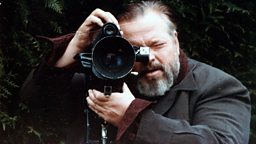 Orson Welles
Orson Welles at 100
The films and career of Orson Welles, including Touch of Evil and his own favourite Falstaff: Chimes at Midnight

BBC Arts collects the series of talks by film director Orson Welles, illustrated by his own sketches
More films

Film features & archive from BBC Arts plus reviews and more from around the BBC