Main content
The Brutalist divide: Concrete monsters or architectural icons?
12 October 2018
The architectural style of Brutalism, with its bold swathes of exposed concrete, has won over a new generation of admirers after dividing opinion for decades. A new book collects 850 examples from around the world, many of which were once dismissed as 'monstrosities'.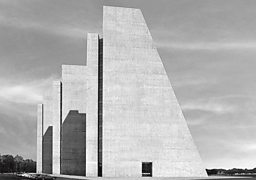 College Life Insurance Company Of America Headquarters, Kevin Roche John Dinkeloo & Associates, Indianapolis, Indiana, USA, 1972 | Picture credit: Courtesy of Kevin Roche John Dinkeloo and Associates
The vast grey structures of Brutalism, a style named after the French 'beton brut' meaning raw concrete, are often associated with post-war architecture and gained traction in the 1950s as towns and cities rapidly rebuilt after the destruction of the war.
However Brutalism isn't a uniquely British or even European architecture style. Buildings following Brutalist principles are seen across the world, from churches in Canada to accommodation in Amsterdam, gymnasiums in Japan and hotels in Puerto Rico. As Phaidon's new book The Atlas of Brutalism puts it: "Never has an architecture travelled so far, so fast."
It has even reached North Korea, where the concrete pyramidal structure of The Ryugyong Hotel reaches 105 storeys into the sky. Once the tallest building in the world, work has stopped multiple times since it began in 1987. Glass panels were added to the vast concrete structure but it remains incomplete and unopened, the tallest unoccupied building in the world.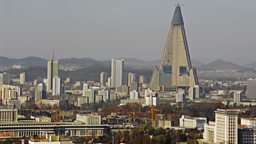 Ryugyong Hotel under construction in the DPRK | Picture credit: Anthony Asael/Art in All of Us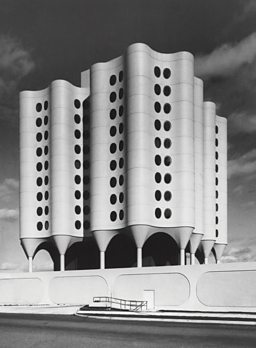 This American hospital complex features a nine storey tower with the 260 beds clustered in groups around nursing stations, an initiative that helped to modernise hospital care. The whole structure is also earthquake resistant as the columns absorb shocks. St Joseph's Hospital, Bertrand Goldberg Associates, Tacoma, Washington, USA, 1974 | Picture credit: Goldberg Family Archives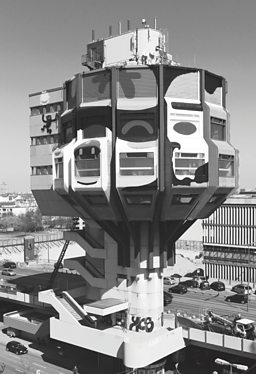 Commissioned to build a new U-Bahn station and motorway intersection in Berlin, the architect team added the Bierpinsel to the complex. A polygonal structure inspired by a tree, it has housed a restaurant, bar and nightclub. In 2010 it was painted in bright colours for a festival, which the architects didn't care for. Following a burst pipe and insurance issues it has remained abandoned, going up for sale in late 2017 for 3.2 million euros. Bierpinsel, Ralf Schüler; Ursulina Schüler-Witte, Berlin, Germany | Picture credit: Sueddeutsche Zeitung Photo/Alamy Stock Photo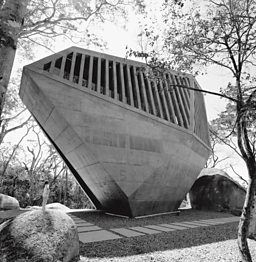 The site chosen for this burial chapel in Mexico contained an immovable boulder. Rather than lose ocean views to the rock, the architects created an elevated two-floor building. A vestibule and crypt are at ground level with the raked cast-concrete seating on the chapel top floor optimising views of the setting sun over the sea for mourners. Sunset Chapel, BNKR Arquitectura, Acapulco, Mexico, 2011 | Picture credit: Esteban Suarez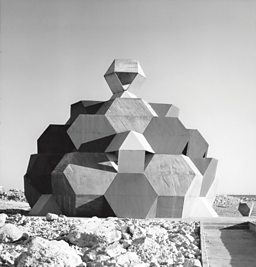 Sitting in a desert wilderness, this synagogue is made from three types of concrete polyhedral units stacked together. The triangular openings formed between the shapes are used for stained-glass windows, bathing the interior in warm yellow light. The building also provides water to nearby housing, as it sits over a cistern. Synagogue, Officers' Training School, Zvi Hecker; Alfred Neumann, Mitzpe Ramon, Israel, 1968 | Picture credit: Henry Hutter/Zvi Hecker Architect
Brutalism is divisive. In the documentary Bunkers, Brutalism and Bloodymindedness: Concrete Poetry Jonathan Meades describes Brutalist architecture as being "in reaction to the smooth, sleek, elegant work which had preceded it. It didn't seek to be pretty, it didn't seek to soothe. And it was soon the object of loathing. Monstrosity had a new word to prefix it – concrete."
Buildings were derided as ugly, voted the worst buildings and, despite being only decades old, demolished. Meades argues: "We don't expect films or novels or paintings or sculptures to be pretty so why should we expect buildings to be pretty? There are other qualities we seek. Nightmares are more captivating than sweet dreams, more memorable too."
Tricorn Centre was voted Britain's ugliest building in 2001 and after English Heritage decided not to list the building Portsmouth City Council staged a radio competition for the winner to set its destruction in motion by a gigantic bulldozer called the Cruncher.
Other icons of Brutalism that fell foul to the wrecking ball included Owen Luder's Trinity Square Car Park, the Smithsons' Robin Hood Gardens and Bertrand Goldberg's Prentice Women's Hospital in Chicago.
Now there is an increasing appreciation for the buildings, not just for their bold facades but their clever interiors. "In the midst of this demolition binge, a new generation is learning to appreciate the extraordinary visual appeal of these buildings – as well as their laudable social ambitions," says the Atlas.
Websites like sosbrutalism.org provide a platform for campaigns to save Brutalist buildings, with a colour-coding system to show if buildings are endangered or saved. Ongoing high-profile campaigns include the Save Our Sirius - to keep Australia's Brutalist apartment block with views of Sydney Opera House - and Save Dunelm House, the concrete student union at Durham University.
The rise of Instagram has also renewed interest and appreciation of these buildings, with nearly half a million images tagged with the English word #brutalism alone.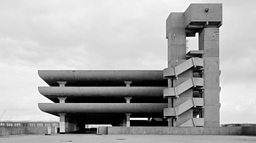 Tricorn Centre in Portsmouth | View Pictures/UIG via Getty Images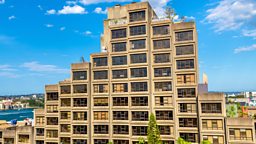 Sirius apartment block in Sydney | Leonid Andronov/Alamy Stock Photo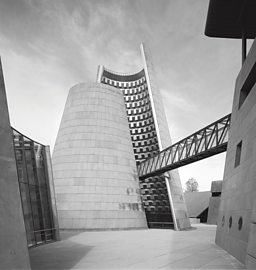 This French building houses a museum in an extinct volcano at an altitude of 3,280ft. The conical structure is clad with volcanic stone and contains two amphitheatres and an exhibition hall, with a second conical element providing a viewpoint for simulated magma below the site. Vulcania, Hans Hollein Architekt, St-Ours-les-Roches, France, 2002 | Picture credit: Christian Richters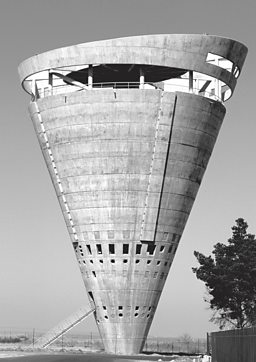 Rising on an axis with the town's central boulevard and providing water supplies to the growing region between Johannesburg and Pretoria, this water tower is both an urban sculpture and a vital facility. At 131ft it is designed to house museum facilities, a restaurant with panoramic views and 6.5 million litres of pressurised water. Grand Central Water Tower, GAPP Architects & Urban Designers, Midrand, South Africa, 1996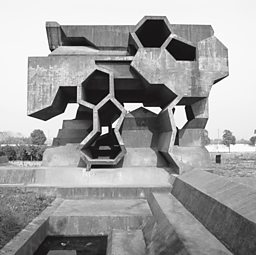 In 2002 16 architects were invited to design pavilions for a park in China in memory of poet Ai Qing. Herzog & de Meuron transformed a pattern into a 3D structure using a computer programme, taking the most rational human-scaled formations to create their reading pavilion, with various nooks and crannies for thinking, reading or playing. Reading Pavilion, Jinhua Architecture Park, Herzog & de Meuron, Jinhua, China, 2006 | Picture credit: Addison Godel
More Brutalism on the BBC
Elain Harwood argues that the movement was one of innovation, ambition and social purpose.

Peter Chadwick, author of This Brutal World, tells Dan Damon why he finds concrete so appealing.

Art inspired by the children's playgrounds that accompanied Brutalist architecture.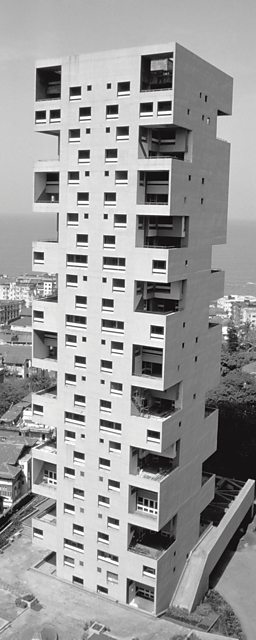 Buildings in Mumbai that face the sea also take the full brunt of extreme weather. This apartment block uses a solution found in traditional Indian bungalows – the veranda, which provides protected outdoor space . These apartments each have one or two recessed double-height garden spaces. Kanchanjunga Apartments, Charles Correa Associates, Mumbai, India, 1983 | Picture credit: © MIT Libraries, Rotch Visual Collections, courtesy of Peter Serenyi

The Soviet (now Russian) Embassy in Havana relates to Fidel Castro's Soviet-backed regime, expressing the muscle behind the superpower with the tallest of all the embassies (443ft), set in a 10-acre compound. While the raw concrete exterior looks like a sword, the interior is marble-lined and decorated with snowy Russian landscapes. Soviet Embassy, Aleksandr Rochegov, Havana, Cuba, 1987 | Picture credit: Carol M. Highsmith Archive/Library of Congress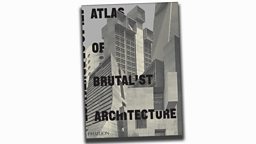 Atlas of Brutalist Architecture, published by Phaidon